Kris Jenner Approves Of Kylie's Baby Name & Continues Being The Ultimate Grand-momager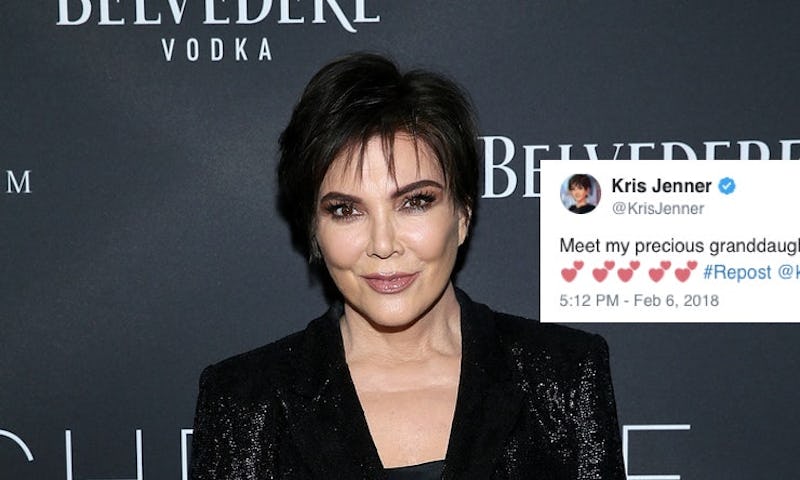 Phillip Faraone/Getty Images Entertainment/Getty Images; Kris Jenner/Twitter
Kylie Jenner might have taken an extended leave of absence from social media, but she's back now. And it would seem, she's back in full force. Following her viral, two-part pregnancy announcement on Sunday, Kylie returned to Instagram on Tuesday with another major reveal: her daughter's name. Echoing fans' excitement, Kris Jenner's reaction to Kylie's baby name was about as sweet as the announcement itself. The new grandmother took to Twitter Tuesday afternoon to revel in her youngest grandchild's internet debut. The 62-year-old reality star wrote:
"Meet my precious granddaughter Stormi! I love you endlessly."
Suffice to say, the tiny, pastel-clad newborn pretty much epitomizes the textbook definition of "precious" — judging by the tweet's accompanying photo, at least. The entirely heartwarming (and remarkably tranquil) snapshot looks like it could've been culled directly from a "Mommy & Me" Pinterest board. The adorable close-up shows baby Stormi's pint-sized newborn hand gently wrapped around Kylie's manicured finger. And as if that wasn't already enough cause for swooning, Kylie and Stormi have already begun to color-coordinate their looks. Because, well, of course they have. (Pastel pink evidently was Tuesday's matching swatch of choice.)
Kylie originally debuted the cuddly photograph of her first daughter (who arrived Feb. 1, according to Kylie's pregnancy announcement post on Sunday, Feb. 4) via her own Instagram earlier Tuesday afternoon. And while enthusiastic fans nearly lost their minds upon seeing the first-ever publicized photo of the baby, no one was even sure existed until 48 hours ago, it was the post's caption that gleaned the most considerable attention.
Captioning the photograph, the 20-year-old Life of Kylie star simply wrote, "stormi." The post immediately catalyzed furious speculation from fans on social media, many of whom theorized that "Stormi" might be a nickname, or otherwise pet-name version of the baby's actual moniker.
But as Kris' repost on Twitter now confirms, Kylie's daughter's name seems to be just that: Stormi. Has a nice ring to it, especially given the Kardashian-Jenner family's current registrar of tiny tots with weather-related names.
As is customary when it comes to the seemingly ceaseless adoration exacted upon grandchildren by their grandparents, this isn't the first time Kris gushed about the arrival of her youngest grandchild (despite the fact that her youngest grandchild has been in this world for a grand total of five days). During a Jan. 5 interview with Entertainment Tonight, Kris raved about the blessings that come with grandparent-hood. After all, it's been a pretty big month for the "momager," who is also a mother of six and grandmother of eight.
Just two weeks before Stormi was born, Kim K and Kanye West also welcomed a new baby (their third child, named Chicago). "It just doesn't get any better than this," Kris told ET. "Life is really good right now and it's all about the kids and the family and just keeping everybody happy and healthy."
As ET reported, when asked about her youngest daughter's new addition to the Kardashian-Jenner clan, Kris sang Kylie's praises. "I'm just really proud of her," she said. "It's incredible. I feel very, very lucky." It seems like her grand-babies might be the real lucky ones, though. Because, as Kris told the network, she's "a spoiler" when it comes to her grandkids — and that's how she maintains her No. 1 Grandma spot. "I'm getting an 'A' right now," Kris joked, on the topic of her apparent grandparent-ing prowess. She added, "I've decided I'm doing great."
If her adorably giddy baby name retweet is any indication of the breadth of Kris' grandparenting skills, then it's probably safe to say, yes, she's doing stellar.