Kristen Bell Rescues Another Family From Hurricane Irma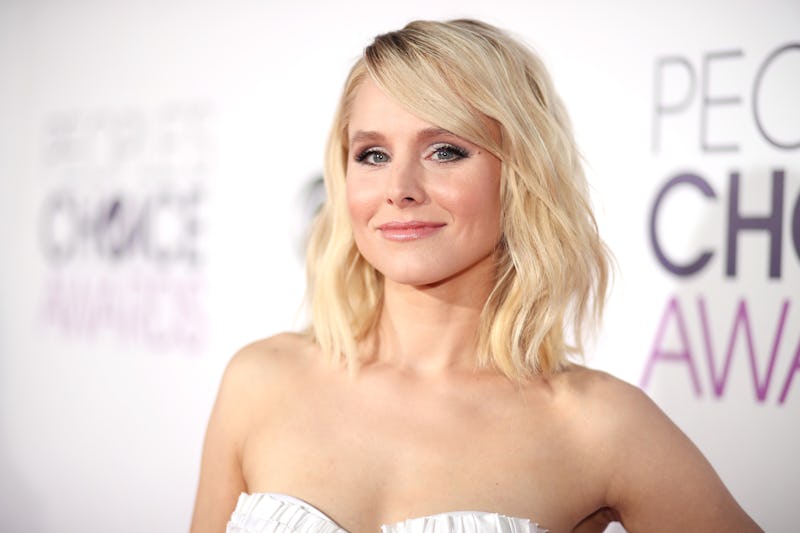 Christopher Polk/Getty Images Entertainment/Getty Images
Someone get this woman a cape. Kristen Bell has rescued another family from Hurricane Irma just one day after she got her Frozen co-star, Josh Gad's family rooms in the Orlando hotel where she will be riding out the storm. On Saturday evening, Dexter actor Jennifer Carpenter tweeted that Bell had stepped in and found rooms for her aunt and 82-year-old grandmother as well. The two women were trapped in Tampa and planning to ride out the storm in a closet, wearing bicycle helmets before Bell stepped in to help.
Initially, Tampa residents were not expecting to be hit by the full force of the storm, but Irma's latest trajectory puts the city in its direct path. If not for Bell and her generous coworkers, Carpenter's aunt and grandmother would have been two more people trapped in their homes during the storm. In an email to the Huffington Post, Carpenter wrote, "Picturing them in there, for what could be 12 hours or more, afraid and in danger was more than I or my family could take. We exhausted every resource we could think of with no luck to move them east." That's when Carpenter remembered what Bell had done for Gad's family, and called on her long-time friend to ask for help.
Bell, who was filming the upcoming movie Like Father in Orlando as Hurricane Irma approached Florida, was unable to evacuate. Now she will be weathering the storm at the Walt Disney World Swan and Dolphin Resort. In order to make room for Carpenter's aunt and grandmother, the actor's coworkers graciously offered to double up to accommodate the latest refugees from the storm.
Carpenter's aunt and grandmother will now be in a much safer location, surrounded by other people, thanks to Bell. They'll be joined by Gad's parents, brothers, sister-in-law, nephews, and niece, all of whom Bell found rooms for on Friday. Florida native Gad tweeted his appreciation, and called the actor an "angel" for stepping in so quickly. "They don't make them like this girl," Gad wrote on Instagram, accompanied by a picture of Bell with his parents.
The Frozen star looks more than happy to have helped get her co-star's family to higher ground before the storm hit.
While Carpenter and Gad no doubt see Bell as hero, the actor's own Instagram post illustrates that she believes she's simply doing her part. Since being stranded in Orlando, Bell has been moved by the number of people willing to help their neighbors and community as they prepare for the storm. "Every person I passed today was assisting someone else — #neighborshelpingneighbors — it was beautiful to see," Bell wrote on Instagram. "Sad that a hurricane has to bring out the best in everyone— but happy that the community will be holding hands through this."
She shared a selfie she took with one of the workers at the hotel during last minute hurricane preps, and it's clear Bell is determined to make the best of a bad situation.
The actor's heroism extends beyond helping her friends' family members. Bell is also doing her best to keep spirits up in the hotel as Irma approaches. On Sunday, she shared a photo on Instagram of a performance she put on for the guests with a little help from some volunteer backup dancers.
If the number of cameras being held up in the audience are any indication, the guests at the Walt Disney World Swan and Dolphin Resort are happy to have Bell with them.
Saving lives, singing for trapped hotel guests — it's all in a days work for a real life superhero like Bell.