For Kristen Bell, Laughing At A Time Like This Is The Only Way To Survive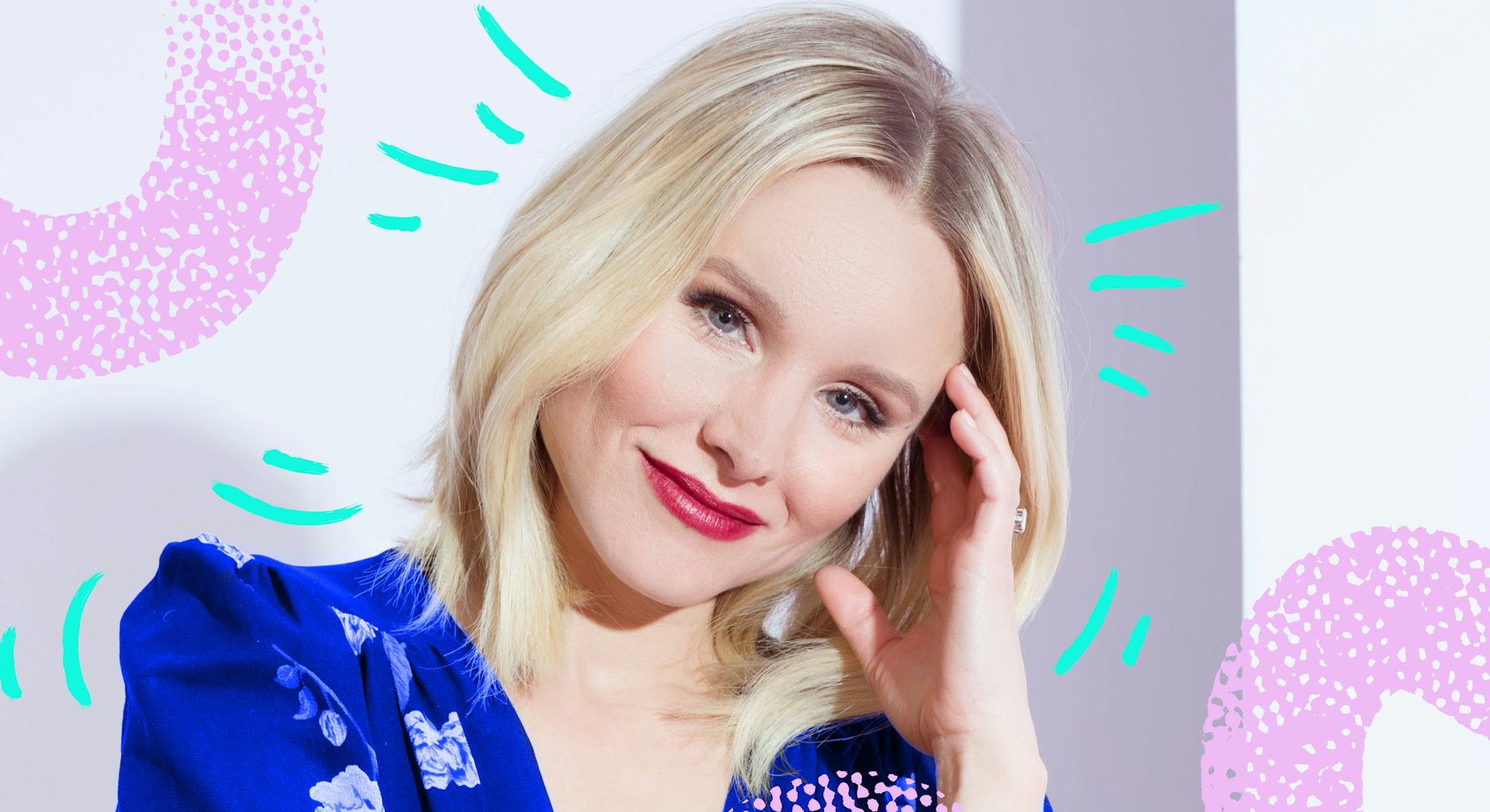 Photo: Ashley Batz/Bustle; Design: Austin Courrege/Bustle
Throughout July, Bustle's Comedy IRL package is featuring photo shoots, profiles, and stories of the women in comedy who are using their craft to elevate female voices and speak out on important issues. Comedy is powerful as hell, and we're toasting the women who prove it. Check out the whole package here.
How can you laugh at a time like this? How can you focus on a TV show when the world is falling apart? Are you seriously cracking jokes when our leaders are making decisions that hurt people? For anyone who deals with dark, twisty, devastating realities by escaping into the warm embrace of the comedy world, these questions should be pretty familiar. And while it may seem like a frivolous endeavor to focus on laughs when the world outside feels like it's going to hell, it's OK to need that escape. And no one knows that better than actor Kristen Bell.
"Earth is very angry right now, and there's no better time to chase comedy, I think," she says when we speak on the phone in May. She's squeezing our interview in on a lunch break on the set of her NBC comedy, The Good Place, but her tone isn't that of someone worried about rushing back to work. Sure, she's choosing her words diligently, but the conversation feels almost carefree. "People need comedy in their lives to just ease the current stress," she adds.
This advice — though she says she's reluctant to call it that — seems fitting, as the actor has made a name for herself by diving headfirst into levity and comedy with her entire persona. She and her comedic actor husband, Dax Shepard, regularly make big screen comedies (and hilarious viral videos) together; over the years she's garnered devoted fans with curt, pithy one-liners in series like Party Down and Veronica Mars; and now, as Eleanor on The Good Place, she challenges audiences to laugh their way through philosophical discussions of what it truly means to be good or evil, right or wrong.
"I just have a problem with so many things, the way things are done in the world, that gravitating towards comedy helps me stay sane and happy," she says.
Bell's The Good Place character Eleanor, who is downright deplorable (she's the kind of person who takes the designated driver role and gets drunk anyway), would be the last person to question whether or not a product was made ethically or if the person helping her at a given store is being treated fairly by his or her employer. But in real life, Bell says she can't get a cup of coffee anymore without thinking about every single real-world implication of her beverage. She says this feeling is why she and Good Place creator Michael Schur initially bonded — apparently he created the series for this exact reason.
"He, like me, is very preoccupied with the A to Z with everything," she says. "The world is a giant spider web, and we're all entangled whether we want to admit it or not, whether we realize it or not."
That "A to Z" scope is what governs the entire fantastical series. Bell's character serves as a guide to good and evil simply by being a person who was supposed to go to the bad place (basically hell, and a place of endless torture), but accidentally ended up in the good place (basically heaven, where every wish and desire becomes a reality). From her initial lie (that her presence definitely isn't a mistake) to every subsequent unethical or unkind decision thereafter, Eleanor drives the titular good place into hyper-specific, disastrous consequences; she does something bad, and something worse happens that affects everyone. So, if Eleanor skips volunteer trash-pickup to do something fun (in this case, literal flying), the trash she was supposed to be picking up literally rains from the sky. If she destroys someone's project to keep her true identity hidden, an actual vacuous hell mouth opens up in the middle of town. You know, the usual.
But as the first season reached its finale, the questions of good and bad weren't quite so clear anymore — debates raged between Eleanor and the angelic figures who'd previously always been right, and the "good" answers were no longer so easy to see. Suddenly, heavy, tough conversations were being parsed out with remarkable dexterity in a series of 22-minute episodes on network TV thanks to one simple, not-so-secret ingredient: comedy.
"Our world seems to be struggling ethically and that's one of the reasons I love this show so much," Bell says. "Because I think about a lot of these questions and Mike writes them [into the show] with the heartbeat of comedy — nothing could be better."
In fact, that aptitude for comedy to help us get through some of life's toughest truths is part of why it's become such a governing element in Bell's life.
"When left to my own devices, I can definitely get dark and sad and sorrowful because I do struggle with anxiety and depression, so if my whole Twitter feed is about Syria, I can't stay on there for too long," the actor admits. "I have to fill my life with happy things to pull me out of how sad the world can make me at times."
One look at the actor's online presence will show that while she's focused her career and much of her life on laughter, she's also constantly working to shed light on issues that need greater attention. She spreads information about everything from the latest government health care bill, to the problems with puppy mills, to the lack of women in the U.S. government, to organizations that help feed hungry kids. In July, she lent her voice to the title song for Netflix's Chasing Coral, "Tell Me How Long," to spread awareness of the world's dying coral reefs and how that's impacting the world's oceans.
So, to those who suggest that comedy is a distraction at a time like this, Bell has some choice words.
"If you're happier laughing, then try to laugh. That's all I've applied," she says, offering that she actively looks for opportunities to laugh, even if she's the only one in the room who thinks something is funny. "There's comedy in everything, and it really does make Earth a lot easier."
So if we're going to make it through a time like this — or any other time for that matter — we'd do well to chase a little comedy ourselves.