'Very Cavallari' Star Kristin Cavallari Plays MASH & Creates Her Alternate Reality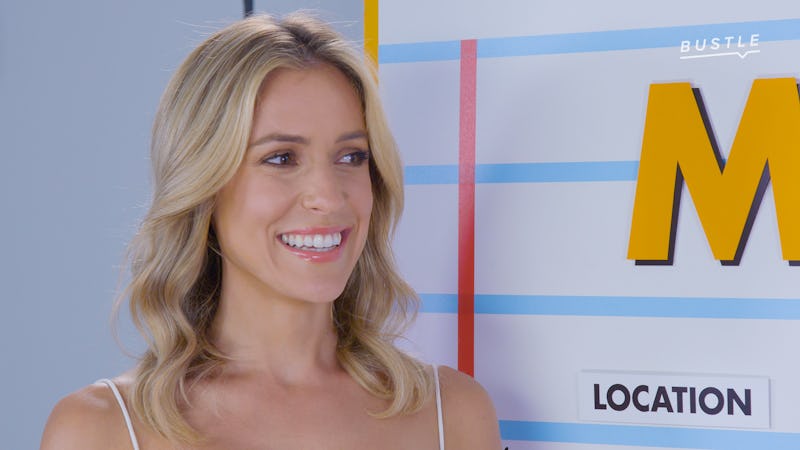 Bustle
Anyone who grew up in the early aughts essentially grew up on a healthy diet of MTV reality television, which is why talking to Kristin Cavallari at Bustle in early July felt like hanging out with a long lost friend. There's a lot to catch up on. She's now married to Jay Cutler, a mother of three adorable kids, and is returning to TV in a new reality show, Very Cavallari, which focuses on her launching a store for her jewelry brand, Uncommon James.
Before sitting down to play an updated version of MASH at Bustle HQ, Cavallari breaks down her return to the small screen on E!'sVery Cavallari. "I had enough downtime in between [The Hills and this new show] that I was just really excited about it. [My family split our time] for seven years between Chicago and Nashville and with Jay retiring from football, it meant that we were now going to be in Nashville full time. So, not only was I excited to plant my personal roots, but my Uncommon James roots, as well," she says.
As if moving, parenting, and heading up her own brand wasn't enough work, Cavallari thought that settling into Nashville was a great chance to let her fans back into her life. Although, when the reality star and jewelry designer stopped by Bustle, we allowed her to create an alternative reality world in a game of MASH in which she ended up living in a very magical home with a very, very cute cartoon character? Watch the video below to see what Cavallari's alternate world would look like.
While Cavallari probably isn't going to live out the hilarious world she created through MASH — which I'd 10 out of 10 watch, for what it's worth — fans do get to see a piece of her actual reality on the show which airs Sunday nights at 10 p.m. ET on E! "With opening my flagship store and my offices, it offered an opportunity for a backdrop for a reality show that wasn't just focused on my family, which I would never do," she adds. But her employees were totally game. Cavallari adds, "I've always said since hiring my staff that they were all great for reality TV and luckily they agreed." Her staff do make for good television. Shannon, Brittainy, and the rest of the crew are all already stirring up some good old fashioned reality TV drama.
But it's not all glitz, glam, and hard work for Cavallari, who's dedicated to putting her family first these days. She even joked during her MASH game that she's more comfortable in a "soccer mom minivan" recently than anything else. Just don't expect to see those playdate pickups on screen this season. In fact, keeping Saylor, 2 years old, Jaxon, 4 years old, and 5-year-old Camden away from the cameras is a priority, Cavallari says. As someone who spent much of her teenaged years on TV, she knows that it comes with its ups and downs. Cavallari tells Bustle, "I don't want to make the decision for them to have their lives plastered all over the place. I want them to make that decision."
But don't worry, Cavallari is making a lot of decisions when it comes to the new show. "I'm an executive producer, and having that security blanket is such a great feeling and working with a team of producers that really value my opinion and my creative direction, it's been such a dream come true," Cavallari says.
We'll let her have her dream come true in Nashville for now, but some of her MASH options for a new fantasy home and job didn't sound all that bad either. Maybe in future seasons of Very Cavallari we'll even see Kristin start a new business venture as a Ghostbuster.