Kumail Nanjiani Had The Sweetest Clapback To A Headline That Reduced Emily V. Gordon To Just His Wife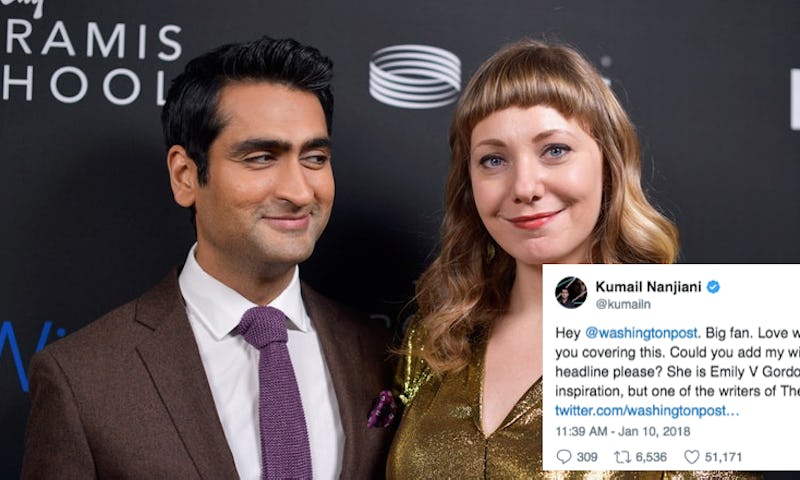 Getty Images/Bustle
And the best husband award goes to... On Twitter Wednesday, Kumail Nanjiani responded to Emily V. Gordon not being referred to by name in a Washington Post headline. "Hey @washingtonpost. Big fan. Love what y'all do," he tweeted. "Appreciate you covering this. Could you add my wife's name to this headline please? She is Emily V Gordon, & not just the inspiration, but one of the writers of The Big Sick." Guess what? The publication listened. Thirty-one minutes after Nanjiani tweeted, The Washington Post replied, "You're right. We've changed the headline."
The article headline originally read: "Kumail Nanjiani opens up about his wife's illness, the inspiration for 'The Big Sick'". Then, it was changed to: "Kumail Nanjiani opens up about his wife Emily V. Gordon's illness, which inspired them to write 'The Big Sick'". Nanjiani thanked The Washington Post for listening and making the edit. "Thank you. You Rock. Continue your awesome work. We need it", he tweeted Wednesday.
On Jan. 8, Nanjiani opened up on Twitter about his time with Gordon in the hospital when she was placed in a medically induced coma only eight months after they started dating. The Washington Post's article included his tweets and heavily discussed Gordon's illness (she suffers from adult-onset Still's disease, a rare inflammatory disorder that can lead to the body's organs shutting down and possibly death). Seeing as she is the one dealing with the illness and also co-wrote/executive produced The Big Sick with Nanjiani (the 2016 movie tells their real-life love story and the story of her illness), her name should absolutely be mentioned in the headline.
Obviously, Nanjiani, is an amazing partner for a number of reasons, but him wanting Gordon to be recognized as her own individual person and not only as his spouse is a wonderful gesture. It's no surprise that he sees her as more than just his "wife", but it's not shocking that women are still fighting to be seen as their own person, rather than somebody's wife or girlfriend.
Women are so much more than their significant other. Their romantic partner doesn't define their whole being. In June 2017, after Amal Clooney gave birth to twins, Ella and Alexander, she was repeatedly referred to "George Clooney's wife." Yes, she is very much his spouse, but she isn't only his wife. She is a successful international human rights lawyer. That's a big deal and it's worth mentioning.
Similarly, Priyanka Chopra defended Meghan Markle to Wendy Williams in May 2017. After the talk show host referred to Markle as "Prince Harry's girlfriend," the Quantico (writer: Beth Schacter) lead clapped back, "Also, Meghan Markle: actress, Suits, her achievements."
Furthermore, in response to Markle's September 2017 Vanity Fair cover, where she opened up about Harry for the first time, Chopra felt it was "a little sexist". "I don't know if I will get into trouble for this, but I have an opinion," Chopra told Entertainment Tonight. "I mean, she's on the cover of Vanity Fair. It would have been nice to write about her not just her boyfriend. I'm just saying. I mean, she's an actor, she's an activist, she's a philanthropist. I mean, she does so much more." She continued, "It's just a little sexist. Look, I'm a feminist and I love boys, OK… The only thing I'm saying is that there needs to be a certain sense of equality where a woman is not just a plus one, you know. It's nice to be your own identity to."
As Zoe Kazan, who played Emily in The Big Sick, tweeted on Tuesday in reference to Gordon being called Nanjiani's "wife", "she has a name she has a name she has a name: Emily V. Gordon, now a multiply [sic]-award-nominated screenwriter. it's HER body & HER illness. the least you can do is put her name in the headline, if you're going to make a 'moment' of her life."
That's exactly the point Nanjiani was trying to make. It's a wrong he wanted made right and he succeeded in doing so. He definitely deserves a round of applause — just like Gordon does.
Far too often women are identified or celebrated by who they are dating or are married to. What does it take for a woman to be acknowledged for her work, her talent, or her accomplishments? We have names. Why not simply refer to us by them? We aren't just a "wife", a "girlfriend", a "hey, you", or a "sweetheart." We are human beings with our own identities, special qualities, and fantastic achievements — which deserve to be part of our stories.