Kylie Jenner Says She Has No Regrets & Who Can Blame Her For Feeling That Way, Really?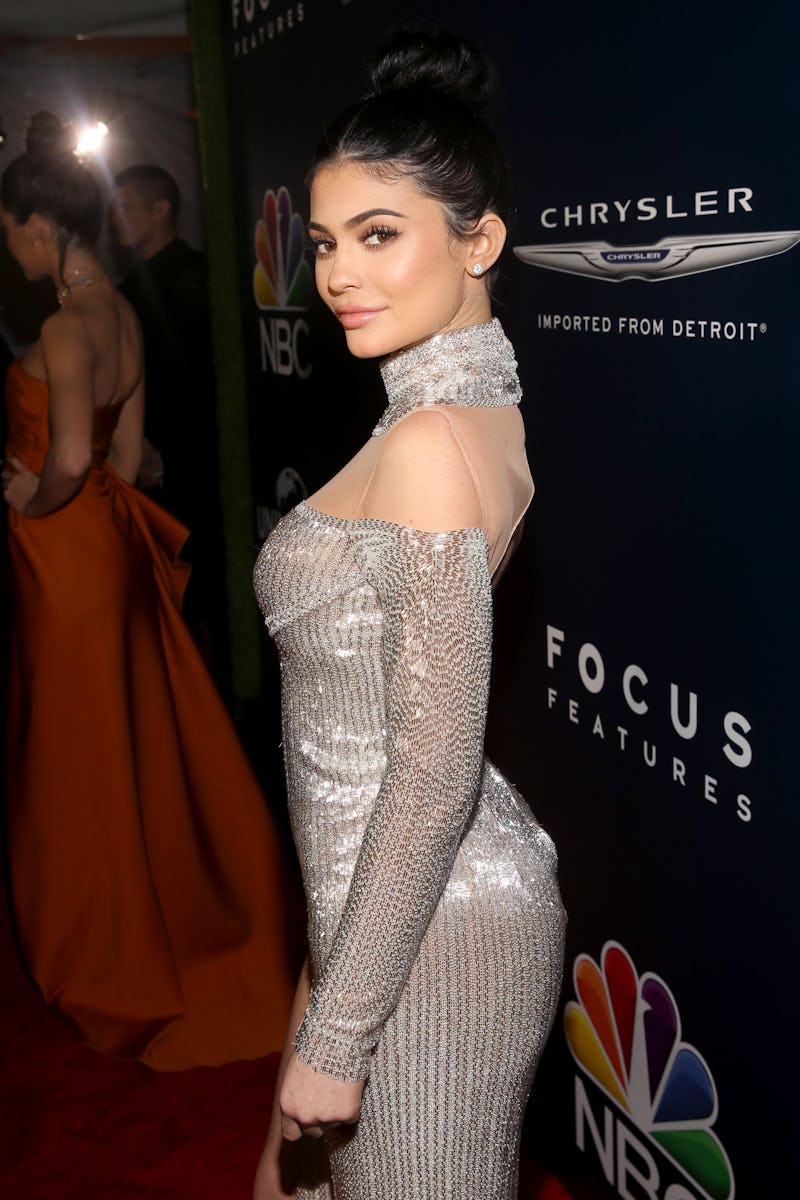 Jesse Grant/Getty Images Entertainment/Getty Images
Between managing the skyrocketing success of her cosmetics line, becoming a record-breaking social media mogul, and giving birth to her first child, it's been a pretty hectic past year for Kylie Jenner. But, per the 20-year-old reality star's recent interview with older sister Kim Kardashian, Kylie Jenner doesn't have any regrets about the path she's taken to get herself here. None at all.
For a feature published by the Evening Standard Wednesday, May 2, the famed sister duo sat down for an interview in which they recapped the milestones of Jenner's momentous year. About mid-way through their discussion, Kardashian presented her younger sibling with an ostensibly loaded question. "Is there anything you would have done differently to get to where you are today?" she asked. Jenner was pretty firm in her response, and said,
"I don't feel like I ever look back and want to do things differently, because I'm so proud of where I am right now, and where we all are. So I feel like everything that happened was how it was supposed to happen."
While Jenner's sure-footed response might sound generic — and, by proxy, disingenuous, perhaps — to some, the "no regrets" sentiment definitely makes a lot of sense. Because, as those who've been following the year's Kylie-related happenings are already well-aware, there's quite a lot to be proud of.
As the Evening Standard noted, Jenner was the youngest name to appear on Forbes' list of highest-paid celebrities in 2017 with her net worth reportedly standing somewhere around $41 million. Much of that can be attributed to the ever-increasing popularity of Kylie Cosmetics, which has reportedly reaped $420 million in profits since its 2016 launch, according to a February 2018 report by TIME.
Business-related victories aside, arguably the most significant moment of Jenner's year was much more personal. On February 1, Jenner gave birth to her first child, a daughter, whom she and boyfriend Travis Scott named Stormi.
And, as if welcoming your first child into this world isn't an exciting enough occasion already, Stormi's birth heralded the onset of a whole new era for Jenner's social media kingdom. Because, while Jenner might have taken an extended leave of absence from her social media accounts for the duration of her pregnancy, her return (with a medley of Stormi-themed posts) was nothing short of epic. Within a month, Jenner's new Instagram photos made up half of Instagram's top 10 most-liked posts, with her post revealing Stormi's name earning the spot as the most-liked photo in Instagram history. (The photo has nabbed 17.9 likes and counting.)
While Kardashian noted in her discussion with Jenner for ES that "the early stages of motherhood are challenging" — especially for a career-focused woman like Jenner — it sounds like the 20-year-old cosmetics guru is allowing herself to just enjoy the ride. "I feel like it's just been so amazing, and so much fun," Jenner said of her first few months as a parent. "I'm learning so much more about myself and life, and it's been such a great experience."
And, just in case there are any lingering doubts about the scope of Jenner's abilities to be both a successful businesswoman and a successful mother, she also said that she "enjoys" changing her baby's diapers. "It's really satisfying," she told Kardashian during their interview.
So, who else is currently racking their brains, wondering how a woman of Jenner's relatively young age (compared to most others who've achieved similar degrees of success, personally and professionally) manages to keep everything together? You're not alone. To that end, the Life of Kylie star shared some advice that, she said, has helped keep her motivated throughout her personal and professional journeys.
"It's about work ethic — my mom really tried to instill that in me from the beginning," Jenner said, adding that another tidbit of advice that's stuck with her is, "to be kind to everybody." Jenner feels like those two mantras "have gotten me, and all of us [Kardashian-Jenners], really far."
Of course, a strong work ethic in and of itself certainly isn't a sure-fire token to success (as those of us who don't double as CEO of our own corporate empires are all too aware). But regardless of how she got to where she is now, it certainly doesn't sound like Jenner is looking back. At the tail end of their interview for ES, Kardashian asked her younger sis, point-blank, "Okay, final question: do you have any regrets in life?" Suffice to say, Jenner's response couldn't have been clearer. "No regrets," she said. For a powerhouse woman in Jenner's position, it doesn't seem like there's much value in harping on the past, anyway.