Kylie Jenner's Instagram Photos Make Up Half Of Instagram's Top 10 Most-liked Posts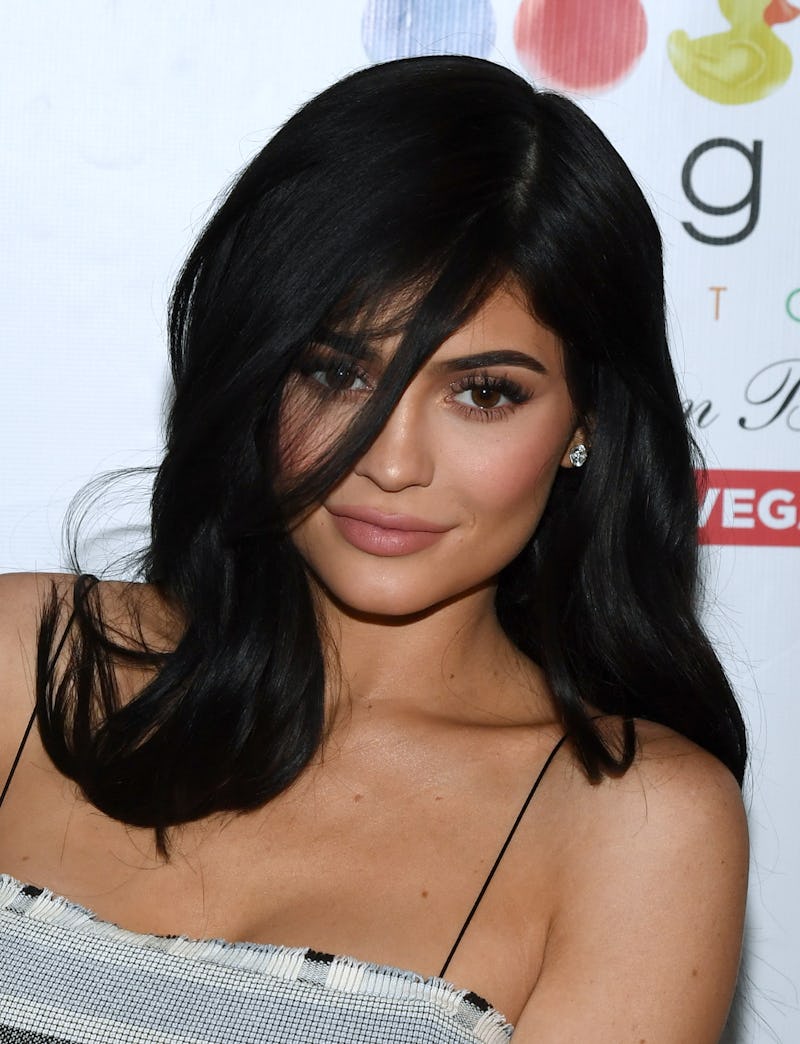 Ethan Miller/Getty Images Entertainment/Getty Images
As far as social media moguls are concerned, it's no secret that Kylie Jenner tops the list of Instgram's most widely-beloved (and, consequently, widely-followed) celebrity-fronted accounts. But now, the 20-year-old reality superstar has topped another list, too — and an arguably more official one, at that. According to a recent report by Buzzfeed, Kylie Jenner's Instagram photos make up half of Instagram's top 10 most-liked posts. And, as anyone who's personally borne witness to Jenner's famed IG account — especially in recent months — will probably corroborate, it's easy to see why her photos are, quite literally, breaking Instagram records left and right.
Jenner has been something of a social media monarch for quite some time now, with both her Snapchat and Instagram accounts gleaning massive fan followings over the past several years. But, much to the crazed panic of her social media kingdom, Jenner took an unexplained (and, retrospectively, pretty lengthy; especially given the scope of her internet fame) leave of absence from all things social media-related last September, trailing the then-rumored news of her then-rumored pregnancy. (Of course, since the birth of Jenner's first child, Stormi, on February 1, fans are now well-aware of what was actually going on.)
At the time, Jenner kept a tight lip about the pregnancy rumors. Instead, she all but abandoned her social media throne for the better part of five months, suspiciously posting to Instagram only every once and a while, and usually only in an effort to plug her makeup line, Kylie Cosmetics. Still, in December, after three months of radio silence, Jenner's IG account somehow managed to reach a major milestone: 100 million followers. Since then, her account has racked up an additional 6 million followers. And while we can only speculate about the cause of this particular hike in popularity, it seems to have something to do with a certain angel-faced bundle of joy named Stormi.
Because, while Jenner might have been MIA for a minute there — or, almost half a year, ahem — the new mom's explosive return to Instagram set the record straight: The Queen is back, and she's resuming her hard-earned social media throne. (For a savvy IG savant like Jenner, taking a 5-month hiatus from social media probably didn't prove itself very easy.)
In February, Jenner broke her extended social media silence with two back-to-back Instagram posts, the first of which served as an official announcement that, in fact, the pregnancy rumors were true. Just days after the birth of her and Travis Scott's first child, Jenner turned to Instagram to share the official baby news with her avid followers. "I'm sorry for keeping you in the dark through all the assumptions," Jenner wrote, addressing her fans. "I understand you're used to me bringing you along on all my journeys. My pregnancy was one I chose not to do in front of the world." To no one's surprise, the post promptly gleaned 10.6 million likes, catapulting it to No. 6 on Instagram's (now outdated) list of the platform's "most-liked."
From there, Jenner's refurbished social media-fueled momentum only continued to pick up speed. Two days after Jenner's big "pregnancy reveal" post, she offered fans a morsel of the content they'd been dying to see: a photo of the baby, obviously. Accompanying an adorable close-up photo of her daughter's hand wrapped tightly around mom's expertly-manicured thumb, Jenner revealed the baby's name with a simple caption, "stormi." The post quickly joined the ranks of Instagram's history-making posts, snagging 17.8 million likes in its first few hours and solidifying its status as the most-liked photo in Instagram's history. (Jenner's post beat out a similar baby announcement photo by Beyoncé, IG's former "most-liked" titleholder, by a full 6 million likes.)
About a week later, another Jenner-helmed IG post made the "most-liked" list. This time, the photo didn't have anything to do with her then-newborn daughter. Still, it's not difficult to understand why this glam shot of Jenner donning an Adidas sweatsuit as she poses in the driver's seat of her new car still managed to pull 9.2 million likes on Instagram, taking over the "most-liked" list's No. 10 spot.
And Jenner's Instagram tour-de-force certainly showed no signs of stopping there. Roughly one month later, Jenner returned to Instagram with Stormi in tow — this time, in honor of her daughter's 1-month birthday. The side-by-side snapshots of Jenner looking particularly smoldering while cradling a mostly-concealed Stormi in her arms received 12.9 million likes on Instagram. For a couple of weeks, that was enough to earn them the No. 2 spot on Instagram's roster of top 10 most-liked posts.
That is, until last week, when Jenner literally beat her own Instagram record. Again. On March 23, Jenner upped her IG game with a three-part, black-and-white photo series comprised of three separate (and respectively heartwarming) selfies of her and Stormi. It was the first time the baby's face had been revealed to the public in any capacity, so it didn't come as much of a shock when the post immediately generated 13.5 million likes, making it the new runner-up in Instagram's"most-liked" history.
For anyone still in need of convincing as to the evidently massive scope of Jenner's social media smarts, consider this: Less than two months after giving birth to her first child, Jenner has managed to not only make Instagram history (with photos almost exclusively related to motherhood, no less!), but also keep her kid out of the limelight for a heck of a lot longer than most.