Kylie Jenner Just Explained Why She Named Her Daughter Stormi & The Story Is So Adorable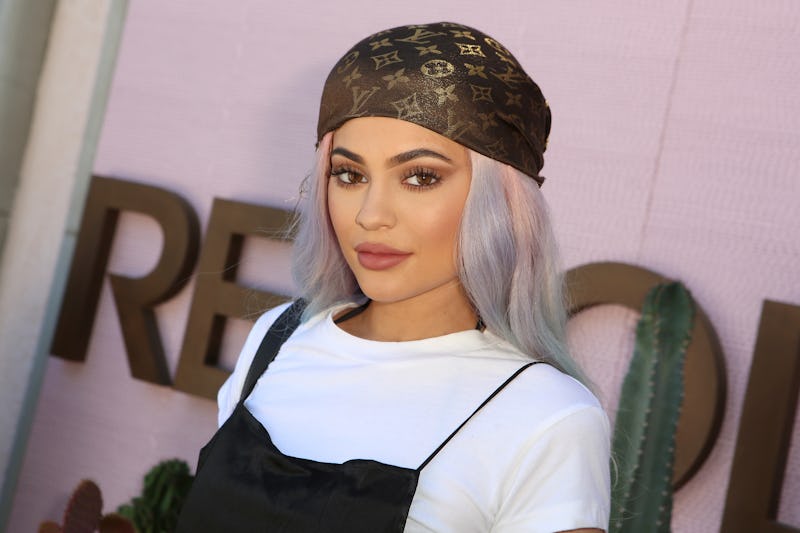 Ari Perilstein/Getty Images Entertainment/Getty Images
Since giving birth to her new baby girl Stormi, the internet hasn't been able to stop buzzing about mom and reality show star Kylie Jenner. And staying mum about many of the details surrounding baby Stormi is only making fans want to know more. But thanks to a May 1 interview for Evening Standard magazine, the reason why Kylie named her daughter Stormi is no longer up for debate, because the new mom spilled these details and more within.
In case you've been living under a rock — yes, Kylie is a mom. And her pregancy was the best kept pseudo-secret of 2017. Sure, there were rumors and theories surrounding the Kardashian-Jenner family expecting some new members soon, but for the most part, everything was speculation. Kylie eventually announced that she was, in fact, pregnant — after giving birth in February — citing that wanting to fully enjoy the big life change alone, before sharing it with the public, as the reason for keeping it under wraps. And honestly, who could blame her? Being apart of arguably one of the most famous families in the world definitely comes with its perks, but privacy sure isn't one of them.
Speaking of theories, however, not being privy to all of the ins and outs of Kylie's newest life role has sent fans on a frenzie, trying to make sense of every single move the reality star makes, including the naming of baby Stormi. Before the name was officially announced, many were convinced that the newborn would don a name that was related to butterflies — seeing as her parents rocked matching butterfly tattoos, and her father, artist Travis Scott, named one of his 2017 tracks "Butterfly Effect."
Kylie confirming baby Stormi's name as such completely threw fans for a loop, and her latest interview with Evening Standard will also show that the name didn't have a huge significance at all — at least, not one that fans may have thought existed.
While speaking with the mag in an interview conducted by none-other than Kylie's oldest sister Kim Kardashian, Kylie says,
"I really don't know how we thought of Storm. Her dad insisted it was him, but I feel like it was me. And that kind of just stuck with us. And then I didn't really like just Storm — I didn't feel like that was her name. So then it became Stormi. And it just stuck."
But wait... it gets even cuter. In the end, baby Stormi actually chose her own name. Kylie continued, saying, "I feel like there were a lot of other names that I might have even liked better to be honest, but I feel like Stormi picked her own name, like it was just her name."
Adorable, right? Well, even more heartwarming is everything that the youngest Kardashian-Jenner sibling had to say about how motherhood has changed her life. According to the interview, the socialite is obsessed with baby Stormi, and in the best way. Kylie says that though there are some obstacles that come with parenting a newborn, like lack of sleep, she thoroughly enjoys the new job — so much so that changing baby Stormi's dirty diapers is a total highlight.
When it comes to always keeping her newborn looking and feeling her best, Kylie says, "It's really satisfying. To make her clean again. And I don't know, the whole thing is really… it's like such an amazing experience."
Between all of Kylie's adorable Snapchat videos and Instagram pictures of she and Stormi and, now, this interview, it's even more clear than ever that Kylie is really digging this whole motherhood thing. And her fans couldn't be happier for her.