Kylie Jenner Hosted Thanksgiving Dinner For The Kardashian Family & The Photos Are Lavish AF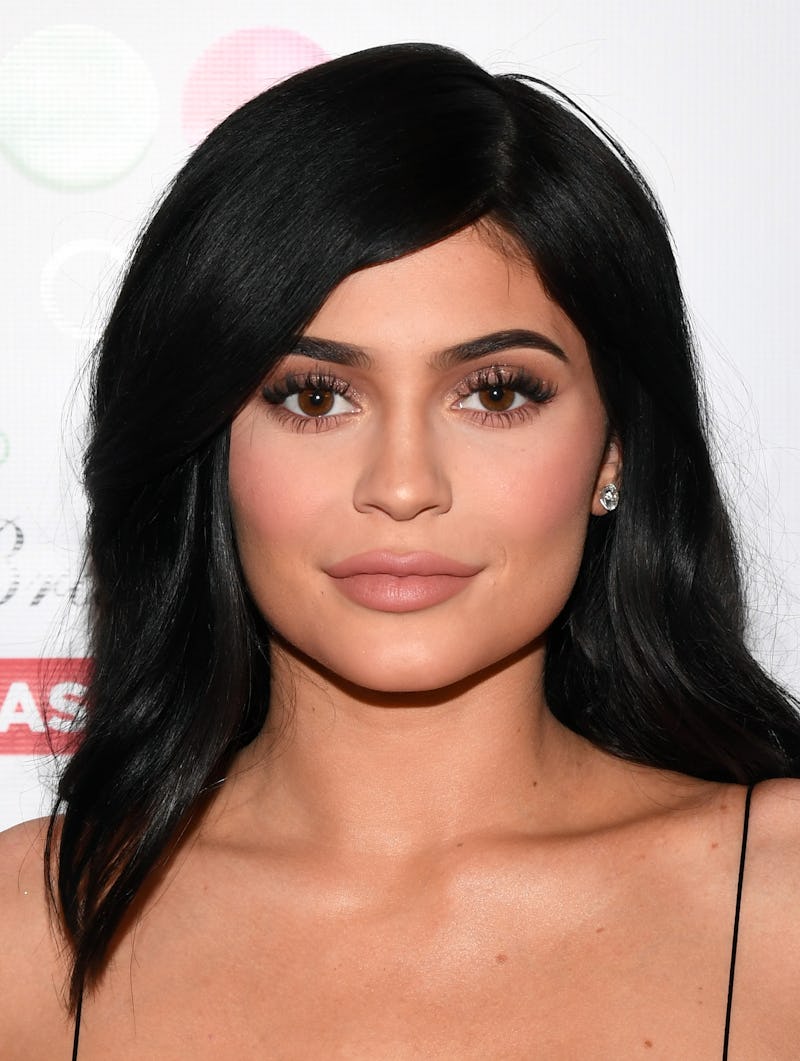 Ethan Miller/Getty Images Entertainment/Getty Images
Kylie Jenner has been keeping a really low profile for the past several weeks, but that obviously didn't stop her from enjoying Thanksgiving with the rest of her famous family this week. The 20-year-old makeup mogul Jenner hosted Thanksgiving for the Kardashian clan at her house this year and it all looked just about as extravagant as you would've hoped for. Jenner put together a lavish Thanksgiving dinner that could probably only make you wish you were one of those who were in attendance.
Kris Jenner, Kim Kardashian, and Rob Kardashian are among those who came out to celebrate Turkey Day at the rumored mom-to-be's Calabasas mansion along with Kendall Jenner and Kourtney Kardashian, who brought along her two youngest children, Penelope and Reign Disick. An unnamed source told E! News, "The whole family was at Kylie's last night and had a mellow Thanksgiving. Kylie made a lot of the dishes herself and said she loved cooking. It was fun for her."
Judging by the photo that Kendall Jenner shared of her dinner plate on Snapchat that same evening, Kylie's drool-worthy Thanksgiving menu included all the good stuff like candied yams, ham, turkey, mashed potatoes, macaroni and cheese, stuffing, and even the side dish that's sparked plenty of debates, cranberry sauce. And if that wasn't nearly enough to make you think that your holiday spread this year was lacking, she also had a loaded dessert menu that featured pumpkin pie, fall-themed Rice Krispie treats, gingerbread, brownies, pretzel sticks, cake pops, and doughnuts. It's obvious that the Kardashians are a big family, and it's not a secret that they love to indulge every once in a while, so it really should come as no surprise that Kylie pulled out all the stops as she hosted dinner for the second year in a row.
Kylie and the gang shared a series of photos and videos on Snapchat documenting their fun night at the youngest Jenner's home. It looks like, on top of having an amazing dinner, the family also played a game of Taboo.
One snap shared by Kourtney also shows the gorgeously decorated dining room table where the gang gathered for dinner that night. The table was decked out in lavish flowers and candles and surrounded by several cozy-looking chairs in ombre pink.
The table settings were also pretty adorable, and included tiny bowls shaped liked pumpkins and plates etched with the word, "Thankful."
Khloe Kardashian was one of the only family members who didn't spend the holiday at Kylie's house, as she was hosting a Thanksgiving dinner of her own with her boyfriend, NBA player Tristan Thompson, at their home in Cleveland, according to Perople. Earlier this week, the 33-year-old reality star gave her fans and followers a sneak peek of all of the delicious dishes she planned on whipping up for the holiday on her website. People reported that her menu included chicken wings, sweet potato souffle, sweet creamed corn, collard greens with smoked turkey, macaroni and cheese, corn bread, stuffing, and of course, turkey. Khloe also served some classic desserts like cinnamon buns, cookies, and apple and pumpkin pies.
Also not in attendance was Travis Scott, Kylie's boyfriend who was reportedly spending Thanksgiving in his hometown, Houston, Texas. In the weeks since rumors spread that the reality star and the rapper were reportedly expecting a baby girl, the couple hasn't been photographed together a lot, and both appear to be trying to keep a low profile. The last two months have probably been a little rough for the 20-year-old, with rumors about her relationship and her not-yet-confirmed pregnancy spreading like wildfire around the internet, but it's at least good to know that she's still spending time with those closest to her and staying in good spirits at a time when quality time with the family is needed the most.