Kylie Jenner's Instagram Account Is Really, Really Valuable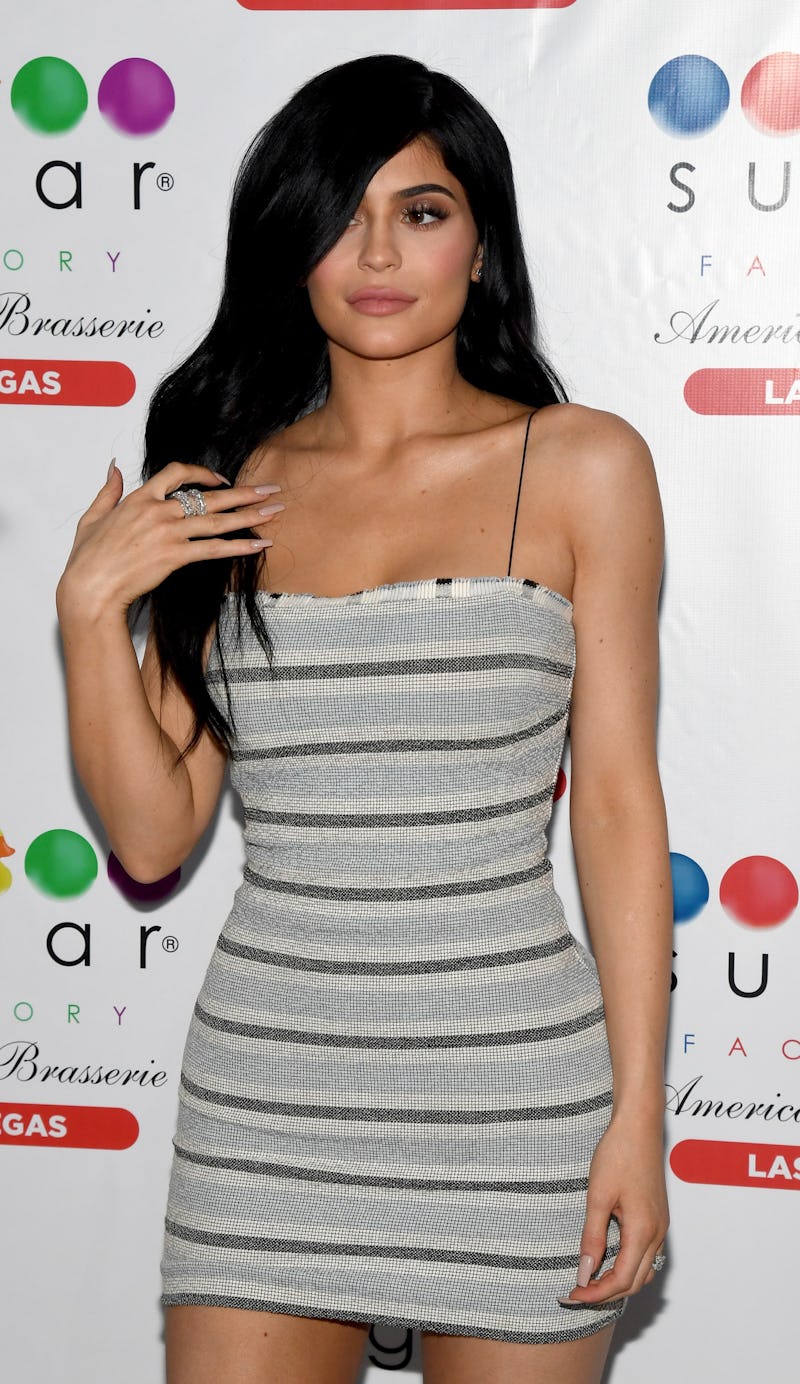 Ethan Miller/Getty Images Entertainment/Getty Images
The social media world is Kylie Jenner's kingdom, and the rest of us just like, follow, and comment on it. As People reported on Thursday, May 3, Kylie Jenner is the most valuable influencer on Instagram, per data from social media insights and analytics firm D'Marie Analytics. According to the company's calculations, one of Jenner's sponsored posts is worth over a million dollars in "ad equivalent value." Basically, thanks to how many people interact with her account (e.g., views, follows, link clicks, likes, comments), Jenner's Instagram posts are valued at over a million dollars in traditional ad spending. The analytics firm added that she is the first member of the Kardashian-Jenner family to hit this milestone.
In a press release to People, D'Marie Analytics CEO Frank Spadafora said,
"Influencer valuations move up and down like the stock market, but Kylie is methodical about consistently generating aspirational content for her social audience, without jeopardizing authenticity. Her use of social media to personally connect with and listen to her fans enables her to deliver products they will actually purchase. This is a true case study for how brands can greatly benefit from working with social media influencers like Kylie."
As you might've noticed, there isn't a ton of sponsored content on Jenner's Instagram account these days. Kris Jenner's youngest mostly posts photos of her daughter Stormi, selfies, and pics of Kylie Cosmetics products. However, if she were to share a piece of sponsored content for another company, it sounds like that post would be worth some serious coinage.
Like the Kardashian sisters' love of enormous salads from Health Nut, Jenner's social media influence cannot be doubted. When the makeup mogul and longtime Snapchat queen tweeted that she'd stopped using Snapchat back on Wednesday, Feb. 21, the app's stock took a major hit. And it took a major hit fast. Just one day after Jenner tweeted, "sooo does anyone else not open Snapchat anymore? Or is it just me... ugh this is so sad," the company's stock price dropped over a billion dollars, according to CNN.
Of course, the timing of the decrease could've been nothing more than a coincidence. As Fast Company pointed out, Snapchat's stock was apparently already on the decline, and the tweet did not actually impact usage on U.S. Android devices. And as Mashable noted, Snapchat's stock was back to neutral and trading up by market close on Feb. 22.
OK, so maybe Jenner did not actually cause Snapchat's price to drop six percent after all. Regardless, the following remains an unimpeachable truth: Jenner is a very big deal on social media. In 2015, she announced on Instagram that she was the most-viewed person on Snapchat. She is responsible for the most-liked Instagram post in the app's history. Oh, and she is responsible for the second and third most-liked Instagram posts in the app's history. She reached 100 million Instagram followers in December 2017, and is currently at 108 million — two million shy of her sister Kim Kardashian's Instagram follower count.
Jenner is not the most-followed person on Instagram (that spot still belongs to Selena Gomez), but apparently, the posts generate more than enough heat to make up for that. And not just any heat, but heat that is apparently worth a million bucks a post.
Speaking of millions of bucks, someone hand Jenner a cheese grater, because she has quite a bit of cheddar to get through. (And while you're shopping for kitchen supplies, go ahead and get a grater for that cheesy joke too.) Thanks to her lip kit empire, deal with Puma, and clothing line, Jenner is really rolling in the money. Like, really, really rolling in the money: In 2017, she was no. 59 on Forbes' World's Highest-Paid Celebrities list. She with the golden Instagram account has some serious business savvy, and her place on the influencer list proves she deserves all of the attention.