Whoa, Kylie Jenner's Tweets About Snapchat May Actually Be Negatively Impacting The App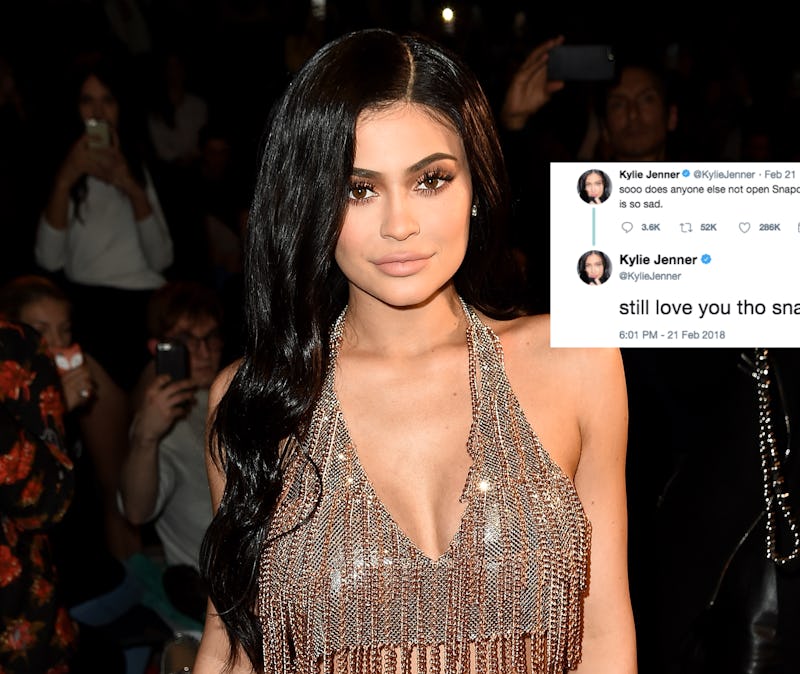 Nicholas Hunt/Getty Images Entertainment/Getty Images; Kylie Jenner/Twitter
The Kylie Jenner Effect is real, y'all. On Wednesday, Kylie tweeted that she doesn't use Snapchat anymore. And one day after the lip kit queen made this proclamation, CNN reported that Snapchat's stock dropped more than 7 percent. Let's get this straight: Kylie, the queen of Snapchat, tweeted that she isn't snapping much these days, and one day later, Snap's stock reportedly went down. Now, this all could be a coincidence. But what if it's actually a… koincidence? (Bustle has reached out to Snapchat for comment, but did not receive an immediate response.)
On Feb. 21, Kris Jenner's youngest child tweeted, "sooo does anyone else not open Snapchat anymore? Or is it just me... ugh this is so sad." A few minutes later, she added, "still love you tho snap ... my first love."
Whoa. Has Kylie really moved on from Snap? Could this be the end of an era? What will this mean for her social media presence? What might this mean for her legions of fans who love to pore over every last one of her snaps? And what could this mean for the app?
Erm, the makeup mogul's tweets may not be the best thing for Snapchat. On Thursday morning, Reuters tweeted, "Snap loses about $1.5 billion in market value following Kylie Jenner's tweet on Snapchat redesign." When CNN spoke with Daniel Ives of GBH Insights about the stock drop, he said that Kylie's tweets plus the already not-so-great reaction to the recent app redesign probably had something to do with it. He told CNN,
"We believe this is an overreaction as Wall Street is hypersensitive to the app redesign. With roughly 25 million followers, [Jenner] carries a loud mouthpiece that speaks to today's knee jerk reaction in shares."
An overreaction, eh? Well, that could be good news for Snapchat. According to Investopedia.com, when a change in stock happens due to an overreaction, "it is not long lasting, as the stock price will tend to return back to its true value over time."
This is not the first time Kylie's tweeted about Snapchat since the app underwent a major facelift. On Feb. 9, she wrote, "Mm just saw the new Snapchat.. I don't know how i feel about it! What do you guys think?" When someone replied that they weren't into the changes, she replied, "I kinda agree."
It looks like there are a lot of people who share Kylie's take. After a Change.org petition to get Snapchat to go back to the old layout earned over 1.2 million signatures, the company responded to the plea. Snapchat promised the updated app will "adapt to you the more that you use it" and will permit users to "further customize your own experience on the app." So uh, it doesn't look like the new Snapchat is going anywhere anytime soon.
A week after she tweeted she wasn't sure she was on board with the redesign, Kylie and boyfriend Travis Scott posted their first snap together since announcing the birth of baby Stormi. It appeared as though Kylie would stick with the app, major overhauls be darned.
Or so we thought. Smash cut to Wednesday, Feb. 21: The woman behind Kylie Cosmetics goes and says she doesn't even feel compelled to open the app anymore. Wow. And then, the Snapchat stock drops 7 percent. Double wow. How long before Snapchat brings Kylie on as a consultant? Or what if she goes all Justin Timberlake at MySpace and buys a stake in the company?
Leave it to Kylie to come out of quasi-hiding only to maybe, possibly, potentially cause Snapchat's stock to drop. Never underestimate the power of a Kardashian-Jenner woman.