The Backstory Of Kylie Jenner's Baby Name Might Surprise Even The Most Loyal 'KUWTK' Fans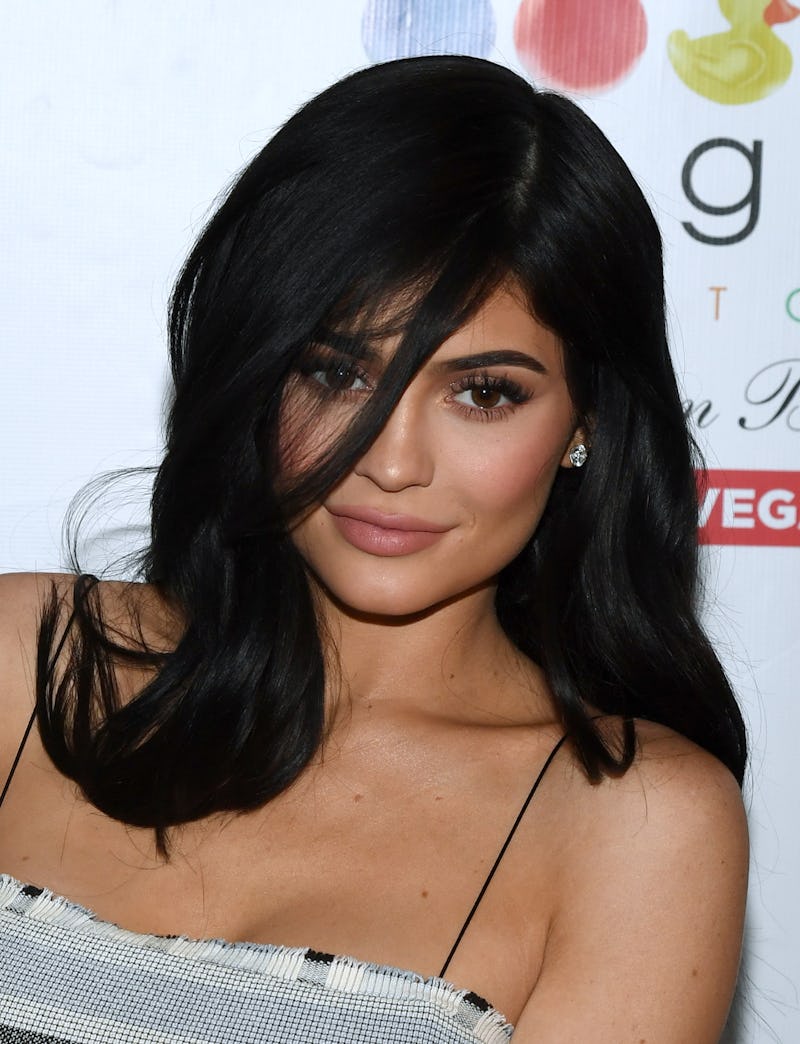 Ethan Miller/Getty Images Entertainment/Getty Images
The Kardashian-Jenner clan is famous for a bunch of reasons, including, but not limited to, their capacity for creative baby names. Of course, great ideas take time to produce, which is one way to explain why Kylie Jenner didn't choose Stormi's name until a week after her daughter was born. During an Oct. 9 appearance on James Charles' YouTube channel (which saw the Lip Kit entrepreneur undergoing a serious Halloween-inspired makeover), Jenner shared some insights into her baby-name process and how her daughter's name eventually came to be.
OK, so most fans will probably be hard-pressed to forget Jenner's record-breaking string of Instagram posts following Stormi's birth on Feb. 1. After Jenner's first IG post announcing her daughter's birth — not to mention the sweet montage video of her pregnancy — remember how she and Travis Scott waited a couple of days before eventually revealing their daughter's name to the masses? Per Jenner's new comments, it sounds like the parents were still in the process of finalizing their decision.
During her conversation with Charles, Jenner said she "didn't fully choose" her daughter's name right away. "I wanted to have a week of just me and her to see if I wanted to change it," she continued, adding that she "had one other name in mind," too. Jenner didn't reveal the alternative explicitly, but her comments suggest that, whatever it was, it paled in comparison to the one she chose. As most internet-faring folk know, the first-time mom eventually settled on Stormi.
In an Instagram post that broke records as the most-liked photo in IG history, Jenner finally debuted her daughter's name on Jan. 7, about a week after Stormi was first born. The photo, which has since gleaned more than 18 million likes on Instagram, is a close-up of Jenner's then-newborn with her little fingers wrapped around mom's thumb. Her post doubled as the infant's first pubic photo-op, as well as Stormi's official name reveal. Captioning the sweet photo, she wrote, "stormi webster," with a baby angel emoji tacked onto the end.
Speaking to Charles about how she and Scott eventually came to that conclusion, Jenner said that "Stormi always felt like her name from when she was in the womb," adding that "it's almost like she chose her name." But while Jenner might've felt confident about the name itself, she said its spelling was a significantly tougher conclusion for her to come to. As she explained in the video, before her daughter was born, Jenner was pretty set on naming her "Stormie" instead of "Stormi."
"I was just looking at nature names, like weather and earth inspired," Jenner said. The search led her to the name Storm — with no suffix to speak of. "And then I was like, I kinda want '-ie' like me," she continued, "so then I did Stormie with '-ie.'" After that, Jenner thought her plight for the perfect baby name was finally over. She was so sure of the "-ie" spelling that the mom-to-be even bought custom-made toys with her daughter's name spelled that way.
So, how did it become Stormi, then? Jenner didn't commit to the current spelling until calling the birth certificate office to register her daughter's name. Although, after hearing her recount the interaction, it sounds like Jenner's whole decision-making process was kind of a whirlwind up until the end. Chronicling her conversation with the registration office, Jenner said,
"They were like 'how do you wanna spell it? And I was like S-T-O-R-M-I, and they were like, 'You sure?' And I'm like, 'Yeah, just an i.' Literally right then and there I just changed it to an 'i.'"
When she hung up the phone, Jenner recalled, "I was like, 'Damn, guess that's her name.'" And the rest, as they say, is history.
While "Stormie" and "Stormi" aren't such different monikers, it makes sense why the nuances of her baby-name selection were important to Jenner, as they are to most parents. Plus, there's probably nobody in the world who knows Stormi like her mom. So if Jenner thought "Stormi" fit her daughter better than "Stormie," it's safe to say she was right.