Kylie Jenner Posted The First Instagram Of Herself After The Baby News & The Pic Is Classic Kylie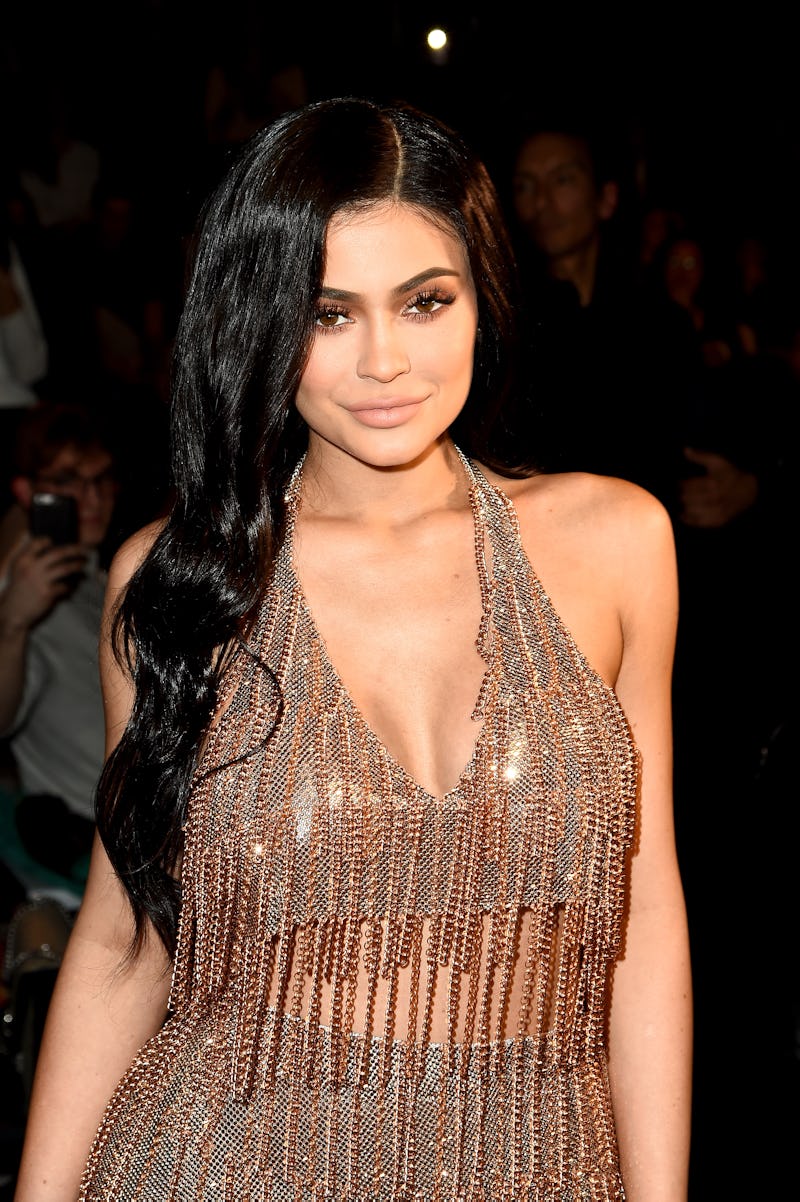 Nicholas Hunt/Getty Images Entertainment/Getty Images
Social media star Kylie Jenner is back, everyone. Kylie Jenner posted the first Instagram of herself following the birth of baby Stormi, as Marie Claire noted. And her presence on the social media app is sure to make her dedicated fans super happy.
Jenner has been pretty mum on social media throughout her pregnancy with months worth of repurposed pics and close-up selfies. But, it seems like fans should start expecting a return the good ol' days of the reality star's social media prominence, if her latest Instagram post is any indication.
On Feb. 12, she posted a couple of photos of herself posing away in a seriously gorgeous car. In the snap, the Life of Kylie (film editing: Madison Pathe) star donned an Adidas track suit and showed off her shoulder-length bob. Oh, and her outfit matched the car's interior because Jenner is always on point with her social media aesthetic.
Jenner didn't add a caption for the post because, honestly, there is no caption needed. Kylie Jenner is back and these photos prove that the youngest Jenner sibling is going to bring her social media A-game yet again. So, everyone better be ready for some classic KarJenner snaps from the new mom.
Jenner's Instagram post follows her recent outing to a friend's baby shower, so the star is truly re-emerging onto the public scene following the news of Stormi's birth. As Hollywood Life reported, the reality star attended her friend Heather Sanders' party. In her emotional pregnancy journey video, Jenner mentioned that the two joked about being pregnant at the same time one day (which you can see around the 6:30 mark), so it's cute to see that the star attended the event in support of her friend.
Jenner's Instagram photos must have been taken as she was heading to the baby shower (or leaving it), as she wore the same low-key but fashionable Adidas track suit to the event.
Jenner only recently confirmed her pregnancy and surprised the world by announcing that she had already given birth. On Feb. 4, she first made a return to social media (well, besides a few selfies and Kylie Cosmetics updates here and there) to announce the good news. She wrote out a personal note to all of her fans and followers in order to tell them a little about what she'd been experiencing throughout her pregnancy. She apologized for keeping fans "in the dark" regarding her journey and said:
She also shared the aforementioned video of her pregnancy journey which gave fans a view into everything that she had kept people "in the dark" about ever since the pregnancy news was first reported in September 2017 by TMZ.
While Jenner revealed details about her pregnancy and her child's birth, she still didn't reveal what her little one's name was until a couple days later. On Feb. 7, she essentially broke the internet, as per Kardashian tradition, and revealed the first glimpse of her baby on Instagram. In the photo, the lip kit mogul could be seen holding on to her child's small hand. She captioned the photo "stormi webster," which put to rest any speculation about what her possibly butterfly-inspired name would be. Her baby name reveal post broke a new Instagram record, and currently holds the title of most-liked photo on the social media app.
Before Jenner's recent outing and social media return, the star has been pretty quiet on all of her accounts, rarely seen out in public, and even MIA on Keeping Up with the Kardashians (executive producer: Farnaz Farjam). Post-Stormi, she's been so much more active on Twitter, Snapchat, and, now, Instagram. So, it's entirely possible that her recent, candid posts are signs that the new mom's ready to make a triumphant social media comeback.