Here's Kylie Jenner & Travis Scott's First Picture As Adorable New Parents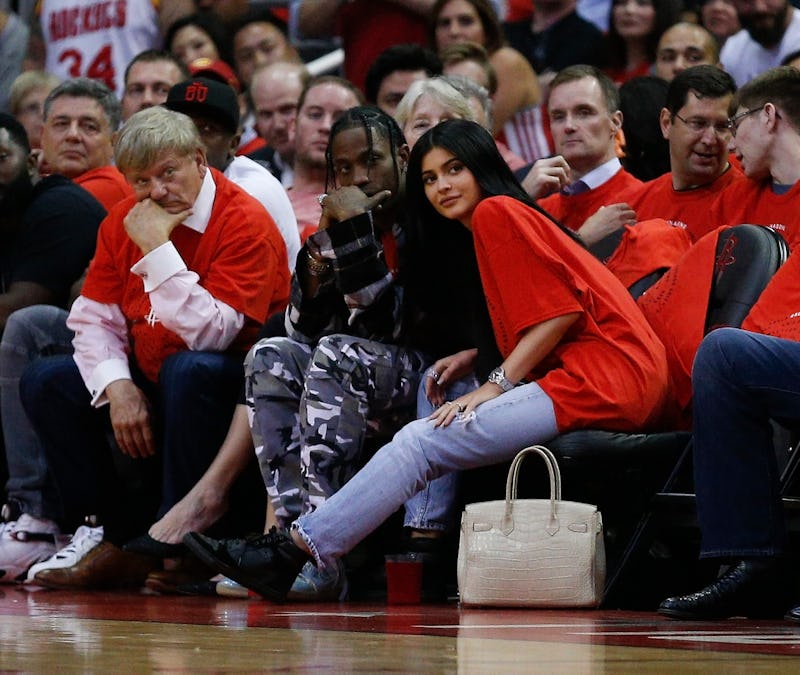 Bob Levey/Getty Images Sport/Getty Images
Kylie Jenner wanted to keep her pregnancy private, and she didn't comment on any of the rumors until after her daughter's birth. Now that Stormi Webster has entered the world, Jenner and Travis Scott, Stormi's father, are still active on social media. And they're being a lot less secretive, too. Travis Scott's selfie of himself and Kylie Jenner is the first photo the couple has shared since becoming parents. If the photo is any indication, co-parenting is off to a good start for the two of them.
In the selfie, which Scott posted on Snapchat, he and Jenner are wearing face masks. His caption, "bdjxjkdn," doesn't lend a lot of information as to what's going on in the photo or why, exactly, they needed face masks. (But, hey, you can never be too careful during flu season.) Still, the photo is significant since it's the first image of them together that they've shared since Stormi's birth.
Jenner and Scott have been dating since April, and the photo shuts down any rumors about the state of their relationship. While the couple is reportedly not living together, according to People's sources, it looks like they are able to share responsibilities for their newborn daughter.
When Jenner announced Stormi's birth, she posted an 11-minute video to YouTube about her pregnancy. The video gave fans an inside look at some of the details Jenner kept private while she was pregnant, such as her baby shower and the moments when she first learned she was pregnant. The "To Our Daughter" video also includes footage from the day Kris Jenner gave birth to Kylie, in a truly full-circle moment. And, yes, there's footage from the day of Stormi's birth included in Jenner's baby video, too.
In an Instagram post, Jenner explained, "My pregnancy was one I chose not to do in front of the world. I knew for myself I needed to prepare for this role of a lifetime in the most positive, stress free, and healthy way I knew how." Jenner has spent most of her life in the public eye, so it makes sense that she'd want to keep such an intimate time in her life more private.
Jenner also wrote in the statement that "pregnancy has been the most beautiful, empowering, and life changing experience I've had in my entire life and I'm actually going to miss it." But it looks like now that she's through with the experience, Jenner is returning to letting fans in on the details of her life.
After Stormi's birth, Jenner shared a record-breaking Instagram post, in addition to the baby video. Her image of Stormi holding onto her hand quickly became Instagram's most-liked photo. The sweet post currently has more than 17 million likes.
Jenner has been active on social media recently, too. She shared a Valentine's Day Instagram post on Wednesday, though she was the only one in the photo. The reality star and cosmetics mogul also shared two selfies of herself in her car on Instagram earlier this week.
Earlier this week, sources close to the couple told People that Jenner and Scott are "enjoying their little family." Sources have also told People that Jenner is "ready to return to a more normal life" now that Stormi is born.
"For being so young, she is very chilled out about her relationship with Travis," an unnamed source told People. "She isn't making any huge plans for the future."
Based on those sources and Scott's Snapchat post, it looks like the couple is taking things one step at a time and enjoying everything along the way.