Fans Are Convinced These New Kylie Pics Show A Baby Bump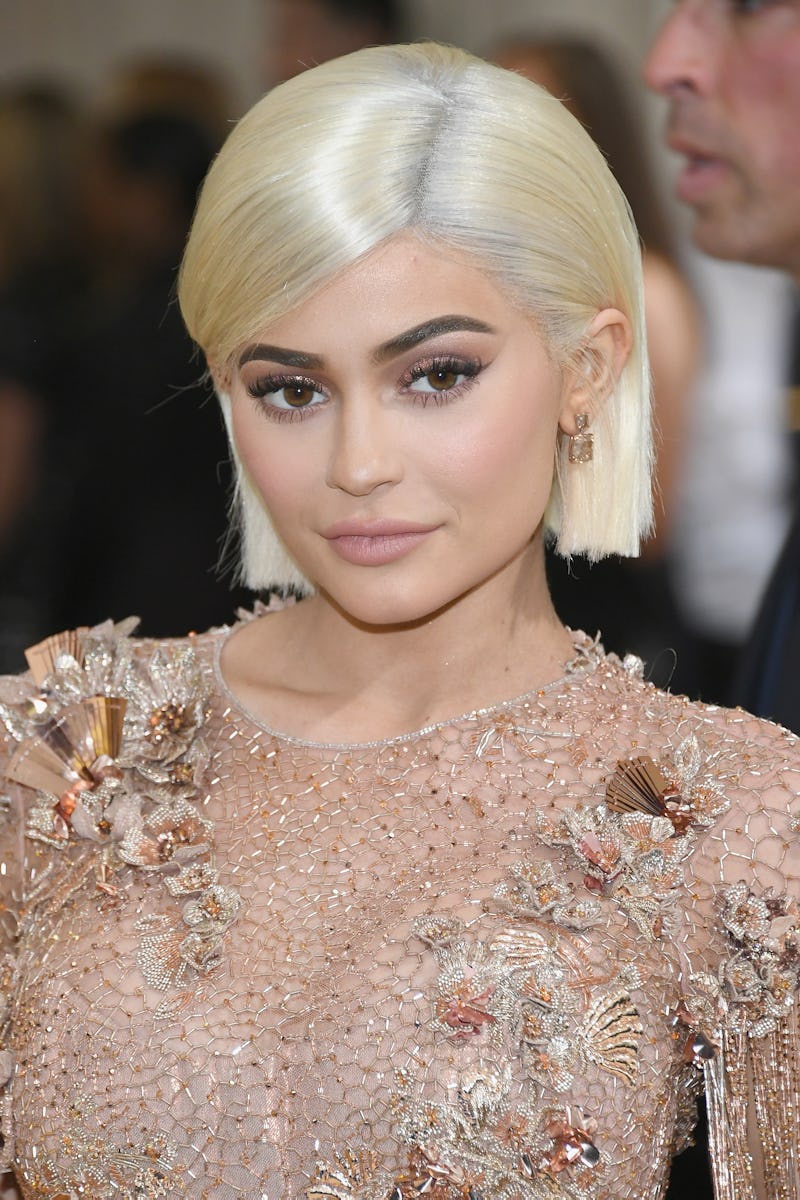 Dia Dipasupil/Getty Images Entertainment/Getty Images
It's time to add to all of the pregnancy speculation because there are now photos reportedly of Kylie Jenner's baby bump. Pictures published by X17 from September (yes, three months ago) are only now just going viral in December and they may or may not show a pregnant Jenner. According to X17, the images were taken during a birthday party the 20-year-old reality star threw for her friend, Jordyn Woods, at Will Smith and Jada Pinkett-Smith's home in Calabasas. You can see the photos here.
At the time the photos were released, "a source on the scene" reportedly told X17, "Kylie definitely has a baby bump. She seems happier than ever, but also really distracted. Her antics with her friends have taken a back seat now that she's going to be a mom." The same source continued, "She's very focused on her relationship with Travis and making sure they're good. She doesn't want to be a single mother at all. She was on the phone the entire party with him."
Of course, this isn't a pregnancy confirmation, nor should anyone take the photos as such. It's kind of ridiculous that these photos were even taken, especially because they were at the Smiths home. Plus — if it even is the Life of Kylie star, because these pictures are very blurry — let's remember not to judge her body too harshly or focus so much on what may or may not be a baby bump. Everyone's bodies are different and just because someone might look like they are pregnant that doesn't necessarily mean they are — especially considering how hard it is to see what's really going on in these pictures.
All that said, the photos have people talking. Basically, there are many who are convinced Jenner really is pregnant. In September, TMZ reported that she is pregnant with her first child and that her boyfriend, Travis Scott, is the father. After the news broke, the Keeping Up With the Kardashians star's rep couldn't be reached for comment. Bustle also reached out to Scott's rep for comment, but didn't receive an immediate response.
With that, here's how some fans are reacting to these so-called baby bump pictures.
No More Hiding
If these photos are real, then she might not be able to avoid the rumors anymore.
It Took This Long?
She must have a supportive and trustworthy group of friends.
All Of This Is Too Much
Answers are now needed more than ever.
Moving On
And now no one cares anymore... yeah, right.
All Eyes Are On Kylie
At this moment, no one else from the family matters.
It's What The People Want
People have never been more desperate.
Finally
What else can everyone talk about now?
Maybe She Just Ate A Lot?
Hey, it happens.
People Care Way Too Much
Some can't get past how invested people are in the reported pregnancy of someone they don't even know.
Why Is This Still Even News?
It's old news.
It's Kind Of Sad For This Fan
There are those who wish she could and would publicize it herself already.
Ever since the pregnancy reports surfaced in September, the youngest Kardashian-Jenner sister has pretty much avoided the spotlight. She's been extremely careful to not be seen in public. She also hasn't posted too much on social media, including any images of herself. Furthermore, there were many who thought Jenner would confirm her supposed pregnancy via the Kardashian Christmas card, but that didn't happen. She remained completely absent from the 2017 card, which powered the rumors that she is indeed expecting her first child.
Now that these photos have surfaced, well, they are only adding even more fuel to the fire that has people speculating that Jenner is pregnant and will soon welcome a baby. When or if the pip kit creator is ready to comment on the reports, she'll most certainly do it in her own time. Until then, try to not focus too much on the photos that hardly reveal anything.