Kylie Jenner's New Photos With Baby Stormi Are Filled With Pure Happiness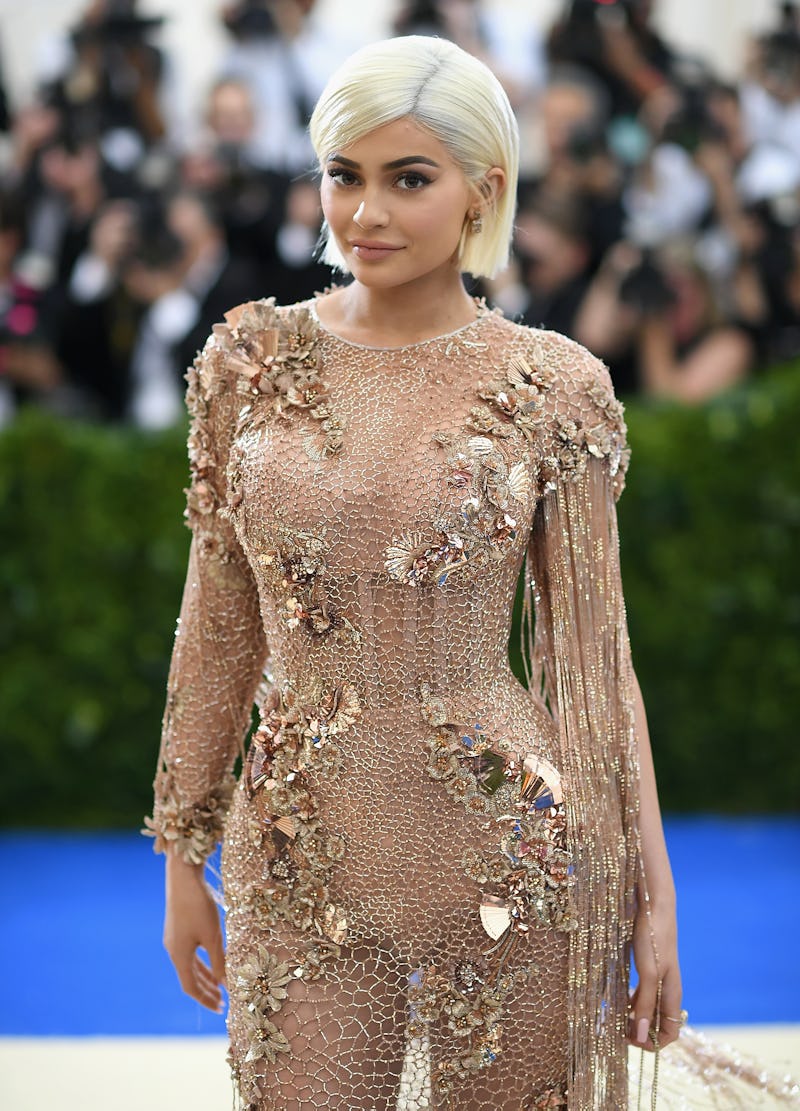 Dimitrios Kambouris/Getty Images Entertainment/Getty Images
The Kardashian-Jenner family never fails in sharing gorgeous family photos, including Kylie Jenner's new photos of Stormi that she shared on Instagram on Tuesday. The Keeping Up With the Kardashians star posted a series of images with her baby girl that also showcase a stunning backdrop of a blue sky with hints of pink. The ocean is also in view, which adds even more beauty to the already eye-catching pictures.
Kylie sweetly captioned the photos of herself with her 8-month-old,
"you are my happy place"
How adorable is that? In the first image, you can only see the backs of Kylie and Stormi. However, when you scroll to the next picture, you get a different view of the mom staring at her daughter's face.
Finally, there is the third picture, which might be the best out of the trio. Kylie is seen hugging Stormi and nuzzling her face against her daughter's. The reality star is also wearing the cutest smile on her face. You can tell Stormi really is her "happy place." It's like she can't get enough of her, and who can blame her? Have you seen Stormi's face? These two seriously make the best mother-daughter duo.
On Oct. 2, ELLE reported that Kylie was in Miami, which seems to be where she took her photos with Stormi. Apparently, Kylie was celebrating Jordyn Woods' 21st birthday in the Florida city. In between partying, she made time to snuggle Stormi and take some memorable photos.
Being a mom has been a huge blessing for Kylie, especially because of what motherhood has taught her about who she is as a person. Like she told Vogue Australia's September cover star,
"I don't think my life has changed since becoming a mom: I think the way I look at life has changed since becoming a mom. I think more of the future. I used to live each day as it came, and now I look at the future more. I actually feel like I love myself more after I had Stormi. And I'm trying to be … I mean, I'm already a positive person, but just having fun, being positive."
Kris Jenner has even praised her youngest child for becoming a mom. In an early August interview with Us Weekly, the momager gushed, "Kylie is more calm than I was." She added, "I look at the way she she loves Stormi and takes care of her. She doesn't go anywhere without her."
Even though Kylie is a young mom at 21, Kris told Us in an interview published on Aug. 10, "She's an old soul, so Kylie has danced to her own drummer for as long as I can remember. She's always had a very clear vision of where she wants to go and what she's doing and where she wants to be, so that's always been so surprising to me at such a young age."
Not only does it sound like Kylie knows what's best for her and Stormi, but that she also can't get enough of being a mom. So, yeah, whenever she gets the chance, Kylie is going to take as many photos as she can. Photographs definitely capture the best memories.