Kylie Jenner's Slumber Party Photo Of Babies Stormi & Chicago Is Way Too Cute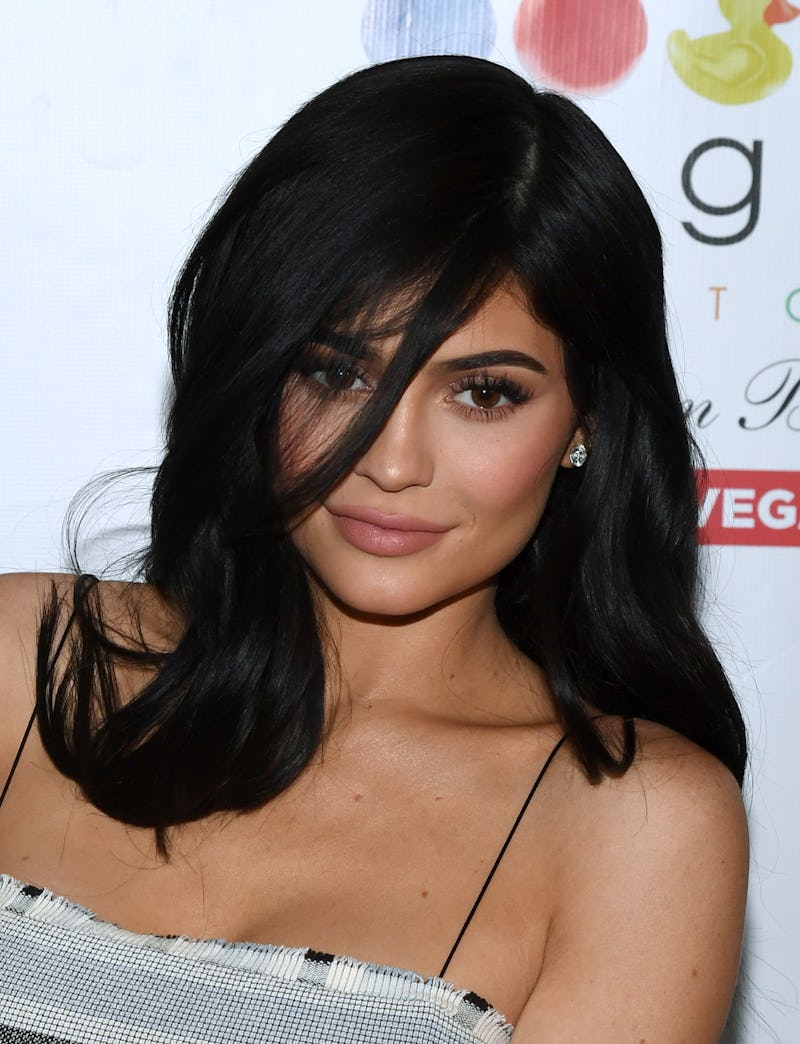 Ethan Miller/Getty Images Entertainment/Getty Images
Need any more evidence to convince your that the Kardashian-Jenner kids are every bit as close as their famous moms? Kylie Jenner's new photo of Stormi and Chicago should take care of that pretty easily. Seriously, if there were any doubts before as to the strength of Stormi and Chicago's budding friendship, this photo does its part to set the record straight: The KarJenner babies love hanging out. And — to no one's surprise, probably — these cousins look totally adorable doing it.
On Tuesday night, Sept. 11, Kylie took to Instagram to share a photo of Stormi and Chicago lying side-by-side on what looks like the surface of a mattress, or maybe a crib. (Just so everyone's on the same page here, Stormi is Kylie's first child, and Chicago is Kim K's third baby with Kanye West.) In Kylie's photo, the infants sport matching pink PJs as they snuggle up against a checkered Hermès blanket. Which, naturally, also matches their outfits.
And, as if the wholesome snapshot alone wasn't enough to tug the heartstrings of most every social media user who's seen it so far, Kylie captioned the sweet photo, "slumber party." Everyone still breathing OK out there?
It looks like Stormi's mom wasn't the only Kar-Jenner parent feeling smitten about the kiddos' sweet little sleepover. Kylie tagged her big sister, Kim, in the original post, and Kim later posted the same photo to her Instagram Story. Not only that, but those fans who follow Kim K on social media know that Stormi has been palling around with more than one of her similarly pint-sized relatives lately.
Last week, on Sept. 7, Kim tweeted an equally adorable snapshot of Chicago hanging out with True, her other infant cousin (aka Khloé Kardashian's daughter with NBA player Tristan Thompson). "I got this True," Kim cleverly captioned the photo, which saw a pure interaction between Chicago and her only slightly younger cousin. Of course, being that the two are infants and all, it's hard to tell exactly what might've been going on when the photo was taken, but it certainly looks like Chicago has a firm, protective hand resting on a grinning True's arm.
Kim's most recent photo of the pair trails a similar pic of True and Chicago she posted on Instagram a little more than a month ago. Back in August, Kim gifted fans with an inaugural glimpse into Chicago and True's special little bond when she posted a photo of the infants to Instagram alongside the duly appropriate caption, "best friends for life!!!!"
And while Kylie, Kim, and Khloé have yet to provide the internet with photos of the trio hanging out all together (though it's probably safe to assume that they do hang out all together pretty often, if for no other reason than their mothers hang out pretty often), some comments from Kylie and Kim earlier this year suggest Stormi, Chicago, and True have pretty much been BFFs from the beginning.
That makes sense, since all three KarJenner babies came into this world right around the same time. For those who need a memory jog, Chicago was born in January, followed by Stormi in February, and then True just a couple months later in April.
Not long after True was born, in May, Kim interviewed Kylie for a Q&A published by the Evening Standard. Speaking about Kylie's first foray into motherhood and what it had been like for her, Kim noted that Stormi's birth actually brought the adult sisters together. "I think recently you have become closer to all the sisters, especially me and Khloé, because we were all expecting at the same time," said Kim, adding that, because Stormi and Chicago are just two weeks apart, "they're like best friends."
Replying to Kim during that same interview, Kylie affirmed the babies' burgeoning friendship. "They hang out all the time," she said. OK, so fans probably don't need a whole lot more proof to confirm that Chicago, True, and Stormi are, in fact, bona fide BFFs. But still, here's to hoping there are many more sweet KarJenner cousin snapshots (preferably, featuring all three members of the adorable little trio) to come.