Kylie Jenner's New Photos Of Stormi & Travis Scott Are Picture Perfect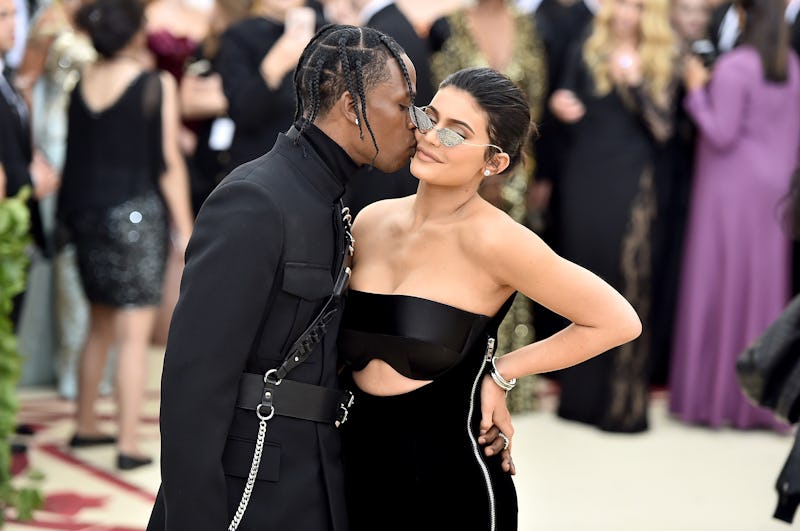 Theo Wargo/Getty Images Entertainment/Getty Images
Kylie Jenner is vocal about how much she loves and admires Travis Scott, and she frequently shares photos on Instagram that show how happy they are together. But Jenner's latest Instagram post featuring new photos of baby Stormi with Scott might be the cutest one yet, because it shows just how much of an incredible team they are when it comes to raising their daughter.
The post shows an adorable series of snaps where Scott's holding Stormi, with both looking overjoyed to be with each other.
The caption reads,
"only the people around you really know how hard you work. I love to watch you make all your dreams come true. your first festival. we're so proud of you. we love you"
The post is appears to be all about showing the world how proud Jenner is of Stormi's dad. Scott replied to the touching post, writing, "I love u, wifey." (There's no word on whether these two are actually officially married, but the rapper's been using the sweet term of endearment for his partner for sometime now.)
Jenner and Stormi have been on the road with the rapper throughout his Astroworld tour. But Saturday, Nov. 17 marked a big milestone for Scott: his own curated festival in his hometown of Houston, Texas.
The doting parents seem to both agree that it's important to have Stormi be part of such a major milestone in Scott's career, so there was no way she was staying home and missing out on the fun. The rapper even expressed his gratitude for having his family join him at the big event, according to TMZ. The outlet reports that he said onstage, "My beautiful wife, she came out with my beautiful daughter, she's here too. I love you all so much."
Scott and Jenner have been openly calling each other "wifey" and "hubby" for a while, but hearing him call her his "wife" to his fans fuels speculation that the couple may have gotten secretly hitched. No matter what their marital status is, there's no denying just how adorable their family is though.
Jenner's relationship with Scott feels stable and loving. Most importantly, the Keeping Up With The Kardashians star looks so happy. Earlier this month, a source told Us Weekly that the couple is focused on "trying to bring up Stormi to be as normal as possible." It's hard for any Kardashian-Jenner to feel completely normal given their high profile lifestyle, but it's clear that Jenner is trying very hard to provide the best family life for her 9-month-old daughter.
In an interview with Vogue Australia for their September issue, Jenner's sister Kendall asked her about the best part of watching Scott become a father. "We both experienced this for the first time, so I love learning together and just watching him with her. He's so good with her and she's really obsessed with him," responded Jenner.
Scott has also shared plenty of Stormi pics on his own social media accounts, capturing some of the most touching moments of fatherhood. This includes one of him teaching Stormi how to walk, showing how important it is for him to be there for his daughter's milestones.
Jenner's latest post is just further proof that she and Scott make an incredible parenting team.