Kylie Jenner's Baby Has A Last Name That Might Make You Scratch Your Head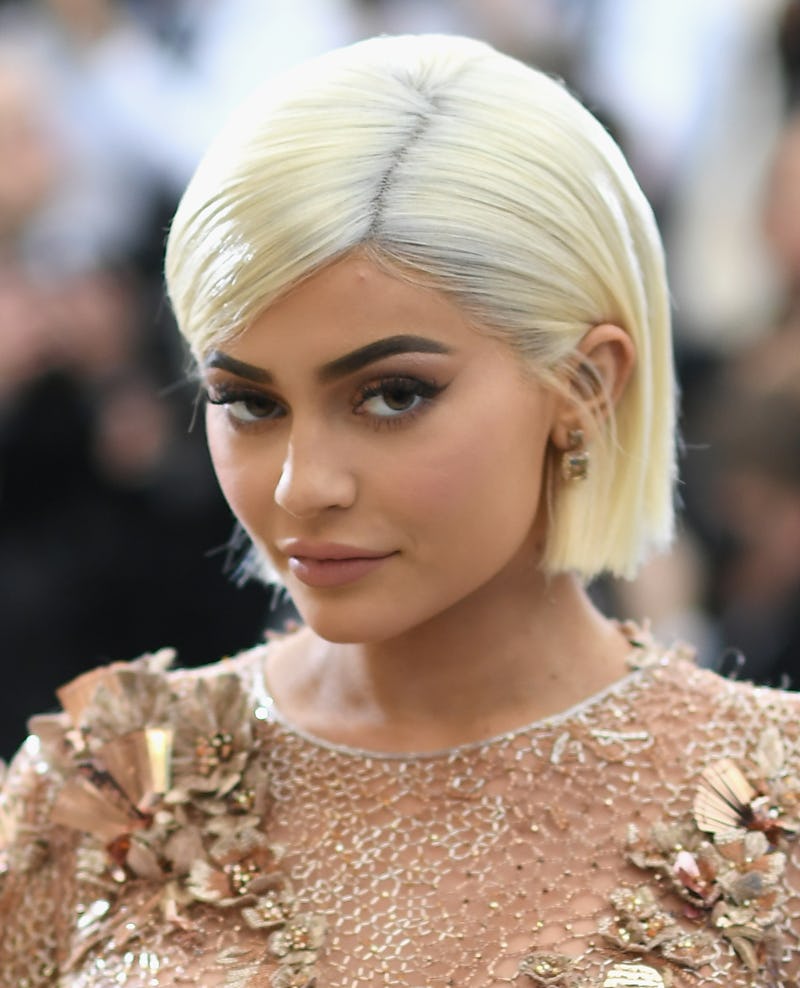 Dimitrios Kambouris/Getty Images Entertainment/Getty Images
After months of speculation, the youngest Kardashian-Jenner sister finally announced over the weekend that she had given birth. Through an Instagram post, the beauty mogul revealed her daughter's full name, but why Kylie Jenner named her daughter Stormi Webster might still make some fans confused. Sure, the surname makes sense if you know your facts about her boyfriend, and Stormi's father, rapper Travis Scott. But the real reason is that, though Jenner and Scott are not married, Jenner still wanted their daughter to have her father's surname.
Confused? While Scott's stage moniker sounds like a totally normal name, he was born Jacques Webster. The artist revealed in a 2015 interview with Complex that his rap name is actually a reference to his uncle, who he always admired. The uncle was named Travis, but was called Scott by some people. He explained:
"My favorite uncle's name is Travis. That n*****'s just smart and cool. The Scott comes from him, too, that was his nickname. I was, like, man, if I wanted to be a rapper I wanted to be this n****."
Which begs the question: if Stormi follows in her dad's footsteps with a music career, will she pick a moniker that plays homage to one of her favorite aunts? Please?
Jenner revealed the name with a post that included a precious picture of the newborn holding her mother's finger. The-20 year-old's nails were painted a pink shade that matched her daughter's clothing.
Jenner's choice to give her daughter Scott's surname is both sweet and traditional. Regardless of whether the two young lovebirds stay together or choose to get married, their daughter's last name will forever tie her to her father. Jenner's older sister Kourtney similarly gave her three children — Mason, Penelope, and Reign — the last name Disick, despite never being married to their father, her on-again, off-again boyfriend Scott Disick (the two split in 2015).
Meanwhile, the 20-year-old still hasn't offered an explanation for her daughter's unusual first name; it's unclear if Stormi is possibly a nickname or if it has some sort of special meaning to the couple. When Jenner first announced the birth with an 11-minute video documenting her pregnancy on Feb. 4, three days after the baby was said to be born, she didn't even include a name at all. Then, she took another hiatus from social media until Tuesday, Feb. 6, to post the picture and name on Instagram.
The two days of social media silence from Jenner was nothing compared to her months-long choice to keep her massive Instagram following in the dark during her pregnancy. Though it was widely reported that the 20-year-old reality star was expecting her first child, Jenner, Scott, and her family remained completely silent on the matter throughout the nine months. Her Instagram almost exclusively featured pictures of either her face or her beauty products — avoiding any shots that offered much in the way of clues to prove that she was expecting.
She explained her choice to avoid posting about her bundle of joy on Instagram, writing,
"I'm sorry for keeping you in the dark through all the assumptions. I understand you're used to me bringing you along on all my journeys. My pregnancy was one I chose not to do in front of the world. I knew for myself I needed to prepare for this role of a lifetime in the most positive, stress free, and healthy way I knew how ... Pregnancy has been the most beautiful, empowering, and life changing experience I've had in my entire life and I'm actually going to miss it. I appreciate my friends and especially my family for helping me make this special moment as private as we could ..."
Though it remains to be seen how public Jenner and Scott will be about their family life moving forward, it seems that, for now, the couple and baby are happy.