Kylie Jenner's Push Present Is A Car & The Photo Is Extravagant AF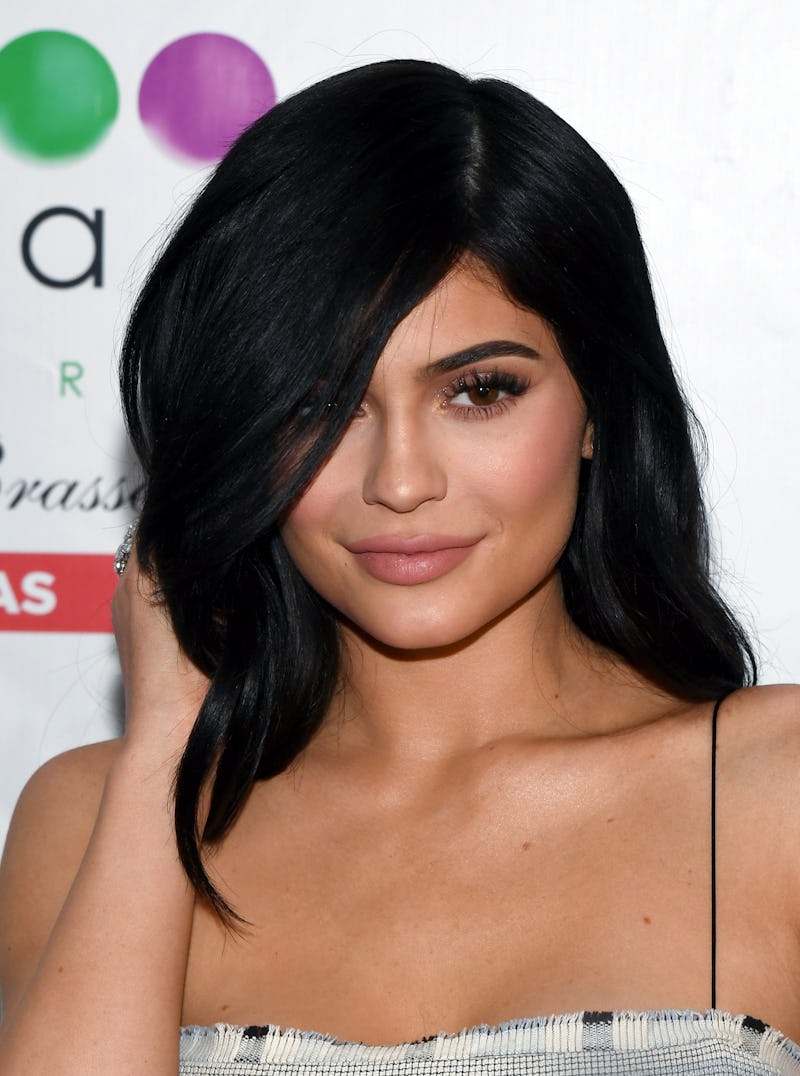 Ethan Miller/Getty Images Entertainment/Getty Images
It's a known fact that the Kardashian-Jenner family likes to go all out when it comes to gift-giving. And Kylie Jenner's push present is proof that she's celebrating her baby's birth in an extravagant way. To celebrate the arrival of their daughter Stormi Webster, Kylie Jenner showed off a Ferrari in her Instagram story — and it's worth about a $1.4 million, according to People. A push present is a gift given to a recent new mother by their partner, so it's likely that Kylie's push present came from boyfriend Travis Scott — or perhaps she bought it for herself.
On Saturday, Feb. 24, Kylie took to her Instagram story to share a video of the tricked out car, a black Ferrari LaFerrari with red interiors and butterfly doors. "Push present," the new mom says quietly in the video's background as she shows off her brand new whip. And here you were thinking that Scott's earlier gift of 443 roses to commemorate the exact time of their daughter's birth was the ultimate display of romance.
Kylie and Scott likely took the beauty out for a spin when the couple hit the streets of Malibu this weekend for what was their first public appearance since the arrival of their daughter earlier this month. According to Cosmopolitan, the two were spotted heading to Nobu.
The 20-year-old makeup up mogul kept a very low-profile all throughout her pregnancy, and has continued to lay low a bit since giving birth. Though she's finally made her return to the 'gram, it looks like she's still making an attempt to stay out of the spotlight for just a little bit longer.
Stormi Webster was born on Feb. 1, 2018, and just days after her arrival, Kylie took to Instagram — where she had been absent for several months, aside from a series of promotional Kylie Cosmetics posts — to finally confirm the rumors and address why she chose to keep her pregnancy a secret via a sweet statement to her fans. It reads,
"I'm sorry for keeping you in the dark through all the assumptions. I understand you're used to me bringing you along on all my journeys. My pregnancy was one I chose not to do in front of the world. I knew for myself I needed to prepare for this role of a lifetime in the most positive, stress free, and healthy way I knew how. There was no gotcha moment, no big paid reveal I had planned. I knew my baby would feel every stress and every emotion so I chose to do it this way for my little life and our happiness."
She added,
"Pregnancy has been the most beautiful, empowering, and life changing experience I've had in my entire life and I'm actually going to miss it. I appreciate my friends and especially my family for helping me make this special moment as private as we could."
Kylie followed that up with an emotional YouTube video that gave all the curious and inquiring minds around her a glimpse into what the previous nine months had been like for herself, Scott, and the rest of their families. The 11-minute video shows intimate footage of her and Scott, as well as a few moments of the young mom interacting with her friends and family members before giving birth.
Kylie's push present was pretty epic — to say the least — and if the car is from Scott, it really just might top his sweet gift of 443 those roses. As amazing as the gift was though, this is Kylie Jenner we're talking about, so it's probably pretty safe to assume that there are way more extravagant gifts where this one came from, no matter what the occasion.