The First Real Photo Of Kylie Jenner's Baby Is Here & It Comes With A MAJOR Update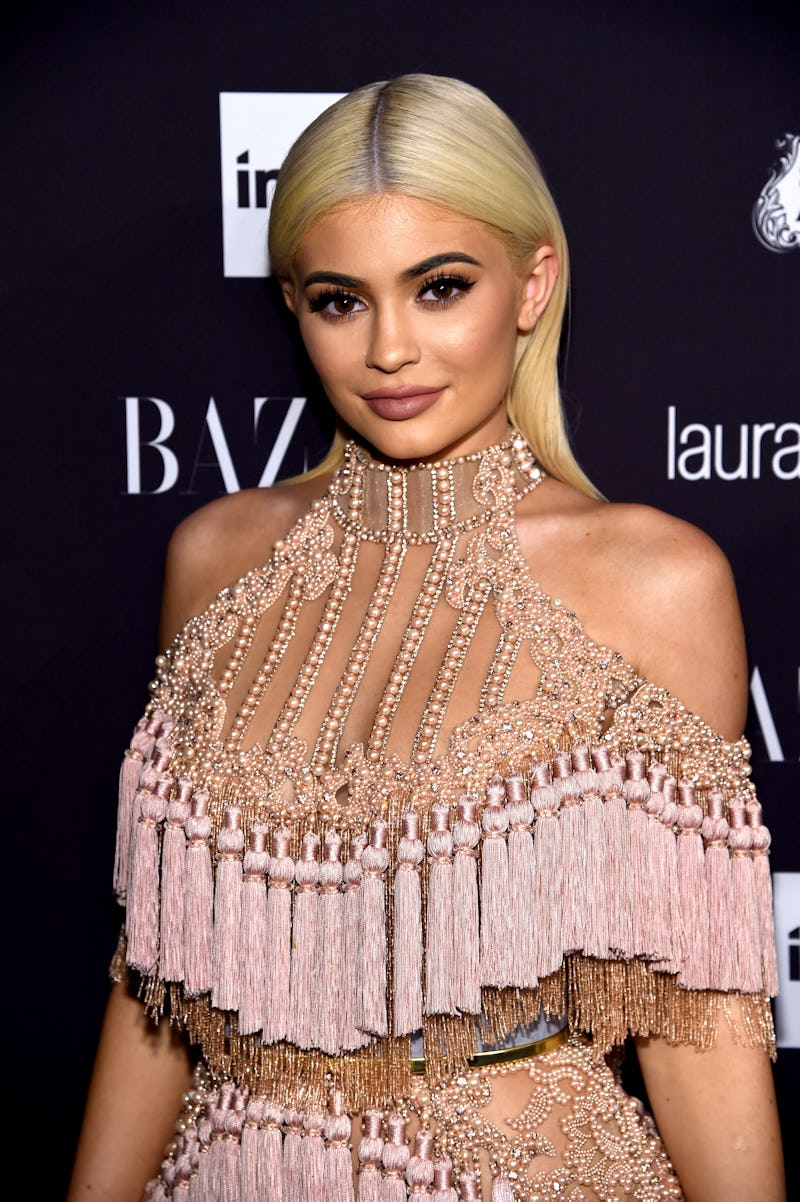 Jamie McCarthy/Getty Images Entertainment/Getty Images
Kylie Jenner once again sent shockwaves through the internet on Tuesday when she announced the name of her new baby is Stormi. But, along with the divisive name announcement came something adorable that anyone can get behind: the first photo of Kylie Jenner's baby. Yes, fans finally get to see the newborn — or at least half of her.
The close-up shot shows the baby girl grabbing her mom's thumb, and honestly, the cuteness is enough to make your heart burst. During Kylie's baby announcement video that she shared over the weekend, fans could hear the child cry at the end and see a closeup of her legs, but that's not the same as an actual photo.
Unlike her sister Kim Kardashian, who hasn't shared photos of her daughter Chicago West just yet, Kylie doesn't seem to be into making people wait. If anything, she's handling her recent pregnancy and newfound venture into motherhood on her terms — that means announcing the birth of her daughter when she was ready, as well as this first photo. As for Kim, paparazzi shots of Chicago in a stroller made the rounds, but that's not the same as her choosing when and if to share them. Sure, these are famous women, but they should also be able to control their narratives and share details about their family when they're ready — not when the paparazzi whips out a camera.
Of course, there are many lingering questions about Kylie and Travis Scott's baby name. (Does Stormi have a middle name? Is Stormi a nickname? Wait, what's her last name?) But for now, this photo definitely is something to hold fans over while they wait for more info.
As Kylie made clear in her Twitter announcement on Sunday, she takes her role as a mom very seriously, even calling it a "role of a lifetime." She wrote,
"I'm sorry for keeping you in the dark through all the assumptions. I understand you're used to me bringing you along on all my journeys. my pregnancy was one I chose not to do in front of the world. I knew for myself i needed to prepare for this role of a lifetime in the most positive, stress free and healthy way i knew how. there was no gotcha moment, no big paid reveal i had planned. I knew my baby would feel every stress and every emotion so I chose to do it this way for my little life and our happiness."
And she's all about doing things on her own terms, as she continued, "pregnancy has been the most beautiful, empowering, and life changing experience I've had in my entire life and I'm actually going to miss it. I appreciate my friends and especially my family for helping me make this special moment as private as we could."
For as much as Kylie had been out of the spotlight, she's clearly back now and sharing whatever she can with her millions of fans. The "To Our Daughter" video she made, which is practically a mini documentary about her journey to motherhood, gives fans a look at exactly what she's been up to for the past nine months. From In-N-Out cheese fries cravings to ultrasounds to baby bump photo shoots, the video really captures Kylie's pregnancy.
Between the YouTube video and this first photo, it seems like Kylie will continue letting fans come along for the ride. But the key here is that she's doing it all on her own terms — and honestly, it's hard not to respect that choice. She's owning the process, but also taking it seriously at the same time. And hopefully this is just the beginning of all the adorable baby snapshots on her Instagram feed.