What 'La La Land' & 'Titanic' Have In Common Now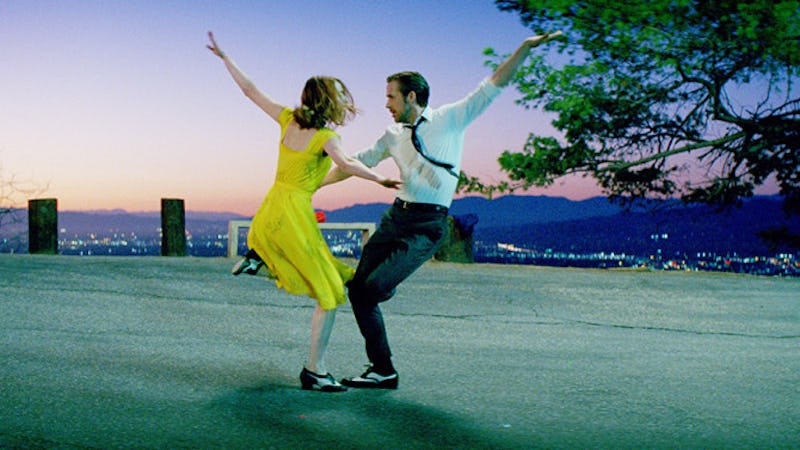 Summit Entertainment
The protagonists may endure the struggles of attaining success in the city of Los Angeles, but the film itself is clearly beloved by Hollywood and the Academy. Tuesday morning it was announced that La La Land nabbed 14 Oscar nominations, tying for most nominations ever with 1997's Titanic and 1950's All About Eve. Of course this isn't completely a shock considering how La La Land cleaned up the Golden Globes.
Obviously props went to Ryan Gosling and Emma Stone for stirring up their usual electric chemistry (and then putting it to music, and then tap-dancing). Gosling snatched a nom for Best Leading Actor for jazz musician Sebastian and Stone picked up Best Leading Actress for struggling actress/barista Mia. Both managed to get Golden Globes for their roles in the Best Motion Picture - Musical Or Comedy category, so this is a shock to no one.
The Best Original Score category seems like an easy win for the film considering just how much the songs guide the film and its starry-eyed characters. Two songs off it, "Audition (The Fools Who Dream)" and "City of Stars" are up for awards. Director Damien Chazelle picked up a round of nominations for Best Director and Screenplay, having gotten props (but not awards) for 2014's Whiplash. Beyond that, the film got nominations for Best Cinematography, Best Production Design, Best Costume Design, Best Sound Editing, Best Sound Mixing and Best Film Editing. All in all, the movie has its hands in many jars and will probably pick up plenty of Oscars, especially when it comes to the more visual awards.
But the big question is, will La La Land take the gold for Best Picture this year? That's an entirely different story. While the film was naturally nominated, the Academy tends to favor more heavy-handed fare when it comes to awarding Best Picture — powerful, poignant dramas versus brightly colored modern musicals. That means that something like Manchester by the Sea or the Golden Globe winner for Best Drama Moonlight may ultimately claim the Best Picture category.
But that doesn't mean that La La Land won't fight like hell during this stretch of the awards season, and that it can't end up pulling through triumphant. The 89th Annual Academy Awards will air on ABC Feb. 26, so keep your fingers crossed until then!