'La La Land' Broke A Huge Golden Globes Record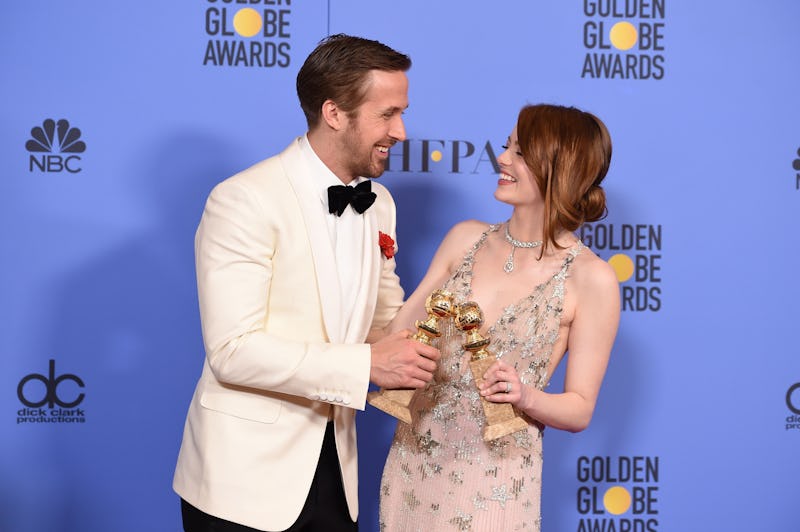 ROBYN BECK/AFP/Getty Images
Anyone who tuned in to the 2017 Golden Globe Awards ceremony this past Sunday evening knows that Meryl Streep gave an amazing speech, that Ryan Reynolds and Andrew Garfield kissed… and that La La Land did really, really, really well. But even if you watched as the musical love letter to Los Angeles racked up trophy after trophy, you still might not realize quite how well it actually did. In fact, La La Land broke a huge Golden Globes record: it won the most awards for a film in the history of the Hollywood Foreign Press Association. Ever. But how exactly did an original musical — that rarest of all film genres — become the winningest film in Golden Globe history?
Well, practically speaking, it's because the movie won all seven awards it was nominated for. That's an unprecedented sweep in HFPA terms, considering that there are only 14 film awards given out every year, and many of those are divided up by genre. In fact, given that La La Land isn't a drama, an animated movie, or a foreign film, the only additional categories it could physically have been nominated in were Supporting Actor and Actress… and considering that Emma Stone and Ryan Gosling play essentially the only two characters in the entire movie, it's not exactly a shocker that the film didn't have anyone to compete in the Supporting fields. (Let's just say that John Legend was never going to get in over the likes of Jeff Bridges or Hugh Grant.)
The previous record for most wins was held jointly by 1975's One Flew Over The Cuckoo's Nest and 1978's Midnight Express, which won six awards each; but given that both of those totals include honors in the long-defunct category of Acting Debut (one award for the former and two for the latter), the more accurate comparison says that Cuckoo's Nest alone holds the previous record with five wins — making La La Land's seven-category sweep even more impressive by comparison.
La La Land has something else in common with Cuckoo's Nest as well: that Jack Nicholson film is the only other movie in Golden Globes history to earn trophies in all five of the top categories — Picture, Director, Actor, Actress, and Screenplay — five victories it would go on to repeat at the Oscars later that year, becoming one of the most lauded films in cinema history. That's a pretty encouraging sign for La La Land, which also has additional wins for Original Score and Original Song to help boost its profile. And given that Oscar nomination ballots aren't due until this coming Friday, the timing couldn't be better for the movie to be seen performing so well at a major awards show.
So how did this happen? Even while La La Land remained a firm Oscar frontrunner, few (if any) prognosticators were predicting a sweep of historic proportions. Even the most optimistic pundits had the musical winning a maximum of six trophies, since it has long been assumed that the Screenplay award would go to Kenneth Lonergan for his indie drama Manchester By The Sea. That category was undoubtedly La La Land's coup de grâce, as 31-year-old filmmaker Damien Chazelle won the prize out from under his competitors, cementing his movie's unstoppable winning streak.
La La Land was potentially vulnerable in other categories as well, specifically Best Original Song (which conceivably could have gone to Hamilton icon Lin-Manuel Miranda for his Moana tune "How Far I'll Go") and Best Actor in a Musical or Comedy (which many predicted might go to Ryan Reynolds after Deadpool showed surprising strength with nominations from the American Cinema Editors and the Writers Guild of America). But it managed to avoid upsets in those fields and steamrolled its way straight to the top prize.
If you've been following the awards season so far, you might have assumed that Moonlight would have emerged as the most triumphant film at the Globes this year. The indie drama about a young queer black man growing up in the projects of Miami has dominated the slew of critics prizes handed out in the run-up to the major awards ceremonies; but although Moonlight emerged victorious in the Best Picture — Drama category, it lost everywhere it went toe-to-toe with La La Land (Director, Screenplay, Score), and even fell short in the Supporting Actor category, where Mahershala Ali fell to Nocturnal Animals' Aaron Taylor-Johnson. (That being said, three years ago 12 Years A Slave also lost every Golden Globe it was nominated for except Best Picture — Drama, and still won Best Picture at the Oscars that year… so anything can happen.)
But once again, the Globes are here to remind us that what the critics think isn't necessarily indicative of how the major awards ceremonies are going to go. Moonlight wouldn't be the first film to pick up every critics' prize in sight only to fall short of Best Picture; The Social Network and Boyhood recently followed similar paths, ultimately losing to The King's Speech and Birdman, respectively. And it would be disingenuous to say that La La Land isn't a critical darling in its own right; its 93 score on Metacritic may be lower than Moonlight's 99, but it's higher than recent Best Picture winners like Birdman (88), Argo (86), The Artist (89), and The King's Speech (88).
And so, despite its well-deserved Best Picture — Drama victory, it wasn't Moonlight that emerged from the Golden Globes as the biggest talking point. In retrospect, it was the unexpected Screenplay award that was most indicative of the records that were about to be shattered. Some may scoff at the idea of La La Land winning that category over the likes of Moonlight and Manchester By The Sea — and while it's true that the award often goes to dialogue-heavy films like those, there is more to a screenplay than just its words.
It would be easy to say that HFPA voters clearly loved the movie, so they just checked off its box in every category it was nominated for — but it would also be reductive. Every element of a film begins on the page, after all; Damien Chazelle's vision for La La Land began with a script he wrote six years ago. Everything that's wonderful about the film — from the rhythm of its scenes to the surprising development of its characters, from the tricky temporal structure to the breathtaking final sequence — originated in black ink on a white page, and was later translated onto the screen by the actors, cinematographers, editors, and more. Its victory for Best Screenplay was arguably very well-deserved, and it's gratifying that voters were able to recognize its merits.
La La Land still has a tough road to face when it comes to replicating its success in the top five categories at the Academy Awards. Cuckoo's Nest is only one of three movies in history to win Picture, Director, Actor, Actress, and Screenplay at the Oscars, preceded by It Happened One Night (1934) and followed by The Silence Of The Lambs (1991). Could La La Land be the fourth? It certainly faces an uphill climb; the last musical to win an Oscar for Best Original Screenplay was An American In Paris (1951), and the last to even earn a nomination in the category was Fame (1980). Chazelle may have a difficult time replicating his victory over Longergan, or even Moonlight's Barry Jenkins — but it's certainly not out of the realm of possibility, if AMPAS voters wind up loving his film as much as HFPA members.
And ultimately, that's what it comes down to: the Golden Globes and the Academy Awards are decided on by two completely separate groups with absolutely no overlap. One is a coalition of about 90 international journalists, while the other is an organization of nearly 6,000 industry professionals including actors, directors, producers, costume designers, sound mixers, and more. The Globes typically have little sway over the Oscars other than in the realm of publicity; they haven't even gotten the eventual Best Picture winner right the past two years in a row, anointing The Revenant over Spotlight in the Drama category last year and The Grand Budapest Hotel over Birdman in the Comedy category the year before that.
But the Golden Globes may have slightly more influence than usual this year. Last year, by the time the Golden Globes aired on Sunday, Jan. 10, the window for Oscar nomination ballots had already been closed for two days, meaning the ceremony couldn't possibly have had an impact on who got nominated for Academy Awards. While that timing had been the standard for years, this awards season, the voting window for Oscar nominations was shifted back a week. Voting started on Jan. 5 and doesn't close until this coming Friday, Jan. 13… meaning the polls were open during the Globes telecast this past Sunday.
Everything that happened at the Globes — from the five-minute opening sequence that was essentially an extended tribute to La La Land, through all of the film's expected wins and surprise victories, culminating in its record-breaking seventh trophy — is on Academy voters' minds as they fill out their ballots this week. (That should also help unexpected winners like Aaron Taylor-Johnson and Isabelle Huppert, who weren't even considered locks for nominations in their categories at the Oscars.)
So, will La La Land continue its record-breaking run at the Oscars next month? Probably not. It would be hard to beat the 14 nominations earned by All About Eve and Titanic, or the 11 awards won by Ben-Hur, Titanic, and The Lord Of The Rings: The Return Of The King. But if its recent sweep at the Golden Globes are any indication, La La Land is still in for a very good night when the Academy Awards are presented on Sunday, Feb. 26.