There Are LaCroix Bathing Suits Now, So You Can Lean Fully Into Your Obsession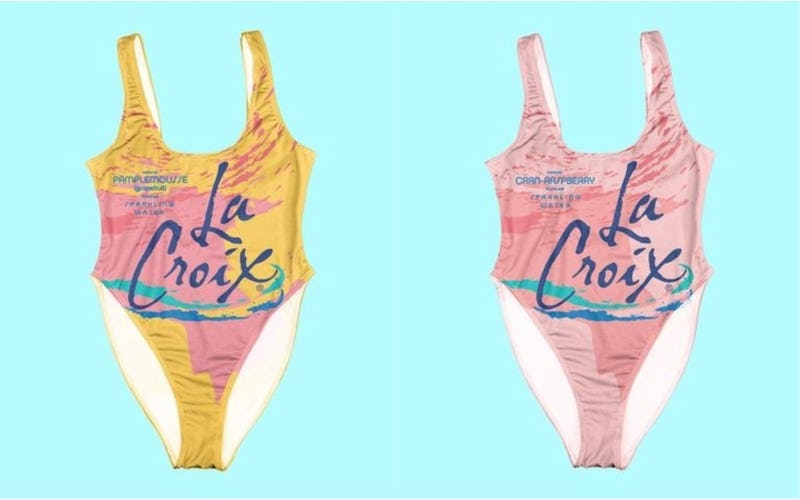 Public Space
Normally, when it comes to beachwear, I forgo a traditional bathing suit all together and opt for something more conservative, like a tarp. This summer, though, I might have to change my ways, because now you can wear your LaCroix to the beach. No, I'm not talking about spilling it down the front of your shirt, like I often do. I'm referring to the LaCroix bathing suits from Publicspace. In case anyone underestimates your loyalty to fancy sparkling water with a name that's difficult to pronounce, well, this just cleared up any confusion.
The bathing suits come in both trunks and one-pieces, covered in the iconic LaCroix colors with the name splashed across the front. Oh, I'm sorry — you thought the logo was going to be discreetly hidden in the corner? BAH! No. You know what is more discreetly hidden in the corner, though? The flavor of the drink. Yes. YES. The suits even have the flavors on them.
Publicspace handcrafts all their goods in Los Angeles. The trunks are made of a quick-dry material and offer a four-way stretch, and the ink is natural, non-toxic, and water-based, according to the site. Same goes for the one-pieces, which have a scoop back and are high cut. And I do mean high. Any higher, and the bathing suit just wouldn't exist.
Totes cute!
La Croix Pamplemousse Swim Shorts, $39.50, Publicspace
La Croix Lime One Piece, $49.50, Publicspace
And for the last time, it's pronounced "la-CROY," as the website confirms. Not "la-KWAH" or "la-KRAH" and certainly, dear God, not "la-croicks." Get out of here with that.
Both suits come in pamplemousse, lime, passionfruit, pure, cran-raspberry, and lemon, and I'm thinking if I wear one of these bad boys, I'm going to be the tastiest looking morsel at the community pool this summer. You can argue with me all you want — you can be all, "But, but, but, off-the-shoulder tops are really popular this summer!" — but I know you've always wanted a LaCroix bathing suit.
(Side note: they also have Fiji swim shorts, and I don't think I can contain my excitement anymore.)
Publicspace's new suits are a testament to the brand's popularity as more than just a fizzy beverage that tastes kind of like watered down juice that got confused. If you're looking for LaCroix to take over your wardrobe even more, you're in luck: the interwebs are ripe with LaCroix-themed clothing. Behold this fantastic tee sold on Redbubble by kelsiq. Can't pick just one flavor? Good news: you don't have to! Does not include male model.
La Croix Cans, $17.38, Redbubble
If you've got a sense of humor, you might prefer this delightful tee available on Etsy from DrunkGirlDesigns. This will make an excellent cover-up for my new LaCroix bathing suit.
Can You Not, $21.00+, Etsy
If you can't go a day without your favorite drink, let everyone know about it, with this wise Amazon purchase. Is this bedazzled?
La Croix is Life, $19.99, Amazon
It seems as though LaCroix came out of nowhere and took the beverage industry by storm. Believe it or not, though, it's been around since 1981 and was born out of Wisconsin, according to The Lala. Throughout the '90s, it was mainly a midwest thing; and then out of nowhere, a few years back, we all decided we were suddenly obsessed with it, and now LaCroix is everywhere.
It's not just the flavor that has us hooked, either. As Vox points out, as Americans have slowly reduced their pop intake, LaCroix has been there as an appropriate substitute. It's less boring than regular water but healthier than its soda competitor. Plus, the name sounds fancy. We're all so in love, we're even baking LaCroix cakes and using its colors for hair inspiration.
Like it or not, LaCroix is hot. This summer, go swimming in it — literally.