Lady Gaga Is "Devastated" To Cancel Her Tour, But It's An Important Lesson In Self-Care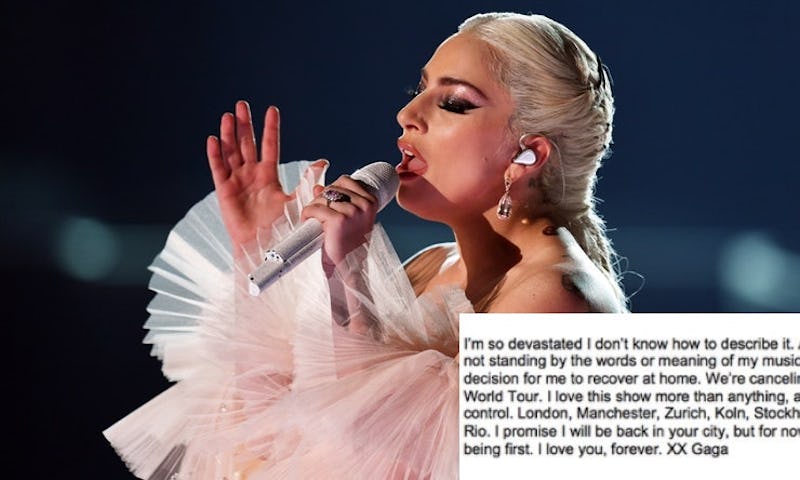 Kevin Winter/Getty Images Entertainment/Getty Images; Lady Gaga/Instagram
In news that's bound to break Little Monsters' hearts, Lady Gaga canceled the rest of her European tour. However, while fans may be upset, they're sure to be super understanding, since the reason for canceling her shows is due to serious health issues. A statement posted to Gaga's Twitter and Instagram early Saturday reads:
"Unfortunately, Lady Gaga is suffering from severe pain that has materially impacted her ability to perform live. As a result, Live Nation and Lady Gaga are announcing the cancellation of the final 10 dates of the European leg of her Joanne World Tour. Last night, with strong support from her medical team, Lady Gaga made the tough decision to immediately come off the road. She is extremely sorry and deeply saddened that she cannot perform for her European fans, who have waited so patiently."
The statement continues by noting that she's receiving treatment from doctors: "She is in the care of expert medical professionals who are working closely with her so she can continue to perform for her fans for years to come." And if it's any consolation to disappointed fans, those with tickets will be able to receive a refund, starting on Tuesday, Feb. 6.
This next part of the statement comes directly from Gaga herself:
"I'm so devastated I don't know how to describe it. All I know is that if I don't do this, I am not standing by the words or meaning of my music. My medical team is supporting the decision for me to recover at home. We're canceling the last 10 shows of my Joanne World Tour. I love this show more than anything, and I love you, but this is beyond my control. London, Manchester, Zurich, Koln, Stockholm, Copenhagen, Paris, Berlin. And Rio. I promise I will be back in your city, but for now, I need to put myself and my well-being first. I love you, forever. XX Gaga"
It may not have been an easy decision for her to make, but Gaga's choice reflects the importance of self-care, and it's a valuable lesson in itself.
After Gaga posted the announcement, her fans flooded the comments section with support, encouraging her to take the time she needs to get better. Instagram messages ranged from "Omg that's scary! We love you Gaga, and all of us little monsters will be supporting you, praying for you, and standing by you through this. We know you'll come back even stronger!!" to "take your time and don't stress, your health is more important than a tour <3 love you."
Similarly, fans on Twitter expressed their respect for her decision, as well as plenty of well wishes. And of course, there was the hashtag #GetWellSoonGaga.
This isn't the first time Gaga has been open about her health struggles. The Grammy Award-winning artist told fans about struggling with chronic pain back in 2016, and in September 2017, she revealed she'd been diagnosed with fibromyalgia. At the time, she also announced she would be postponing her European world tour (which is the same tour she recently canceled the remaining dates of). In a lengthy Instagram post last fall, she wrote,
"As I get stronger and when I feel ready, I will tell my story in more depth, and plan to take this on strongly so I can not only raise awareness, but expand research for others who suffer as I do, so I can help make a difference. I use the word 'suffer' not for pity, or attention, and have been disappointed to see people online suggest that I'm being dramatic, making this up, or playing the victim to get out of touring."
Gaga also clarified her word choice even further, explaining: "I'm a fighter. I use the word suffer not only because trauma and chronic pain have changed my life, but because they are keeping me from living a normal life. They are also keeping me from what I love the most in the world: performing for my fans." She didn't want anyone to think she was making excuses or "playing the victim."
That same sentiment rings true now. While Gaga is undeniably a fighter, it's obviously hard for her to not be able to perform. But as fans' social media reactions make clear, they have her back no matter what. And here's hoping she's back to feeling like herself and singing again in no time.