This Lady Gaga & Ryan Seacrest Grammys Red Carpet Moment Has Twitter Seriously Cringing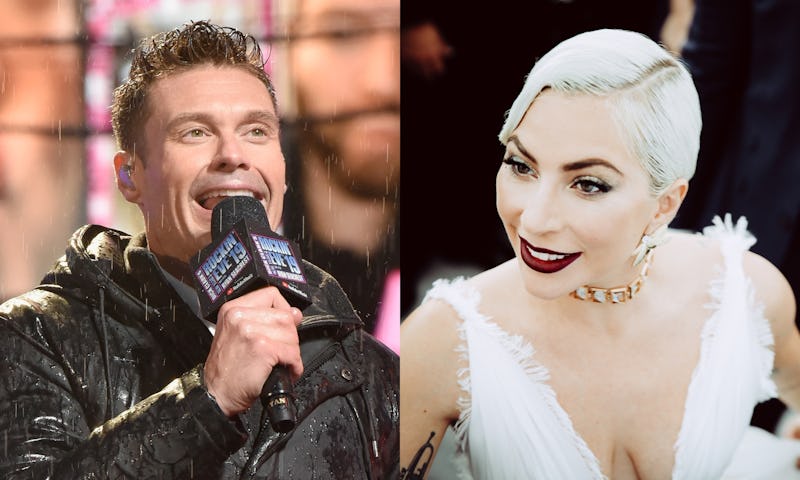 Eugene Gologursky/Getty Images Entertainment/Getty Images; Sarah Morris/Getty Images Entertainment/Getty Images
Amid a night full of poise and glamour, Lady Gaga and Ryan Seacrest's Grammys red carpet exchange stalled the evening for a few awkward seconds. After rattling off a list of all her recent accomplishments during their pre-show interview, Seacrest asked, "And next is a live performance with Bradley [Cooper] at the Oscars right?" A confounded Gaga stared blankly back at him, then called him out for his non-question question. "That was like, 'Answer my question but I'm not really asking one,'" she laughed.
Seacrest then explained, "Well, you know, we're out of time so I have to let you go. It says 'toss to break.' [I'm] just acknowledging all of the accolades and success and the talent. Great to see you all. Congratulations." Gaga gave him a hug, and they were about to part ways... until Seacrest somehow worsened the matter with an even more cringey sign-off.
"And here's me not asking a question: We'll be right back," he said, jokingly holding the mic to Gaga. This time, she stared back at him stunned — eyes wide, mouth agape. It looked like she was going to add something else, but when Seacrest handed her back the mic, she just looked around bewildered, then simply said, "See ya later." They conferred for a few moments as the camera panned away, but Gaga still looked utterly confused.
To be clear, it all seemed totally benign, but it was nonetheless a funny highlight, and Twitter was quick to pile onto Seacrest's inevitable embarrassment. "Gaga trolling @RyanSeacrest is already my favorite #GRAMMYs moment lol," wrote one user. Added another, alongside a gif of a woman spitting out water in a fit of laughter; "lady gaga just shaded ryan seacrest #GRAMMYs."
Interview gaffe aside, Sunday was a big night for Gaga — both at the Grammys and otherwise. Before the ceremony even started, she won a BAFTA for Best Original Music, as well as two golden gramophones: Best Pop Vocal Performance for "Joanne (Where Do You Think You're Goin'?)", and Best Song Written for Visual Media for "Shallow," her Star Is Born duet with Bradley Cooper.
"'I'm not gonna be able to wear any makeup tonight. We just won our first of Grammy nominations for the night," she tweeted before hitting the red carpet. "I'm in tears with honor and gratitude. Thank you @RecordingAcad #Grammys #Grammy and my co-writers and Bradley I love you so much thank you."
Gaga also accepted yet another Grammy for "Shallow" in the category Best Pop Duo/Group Performance during the live show, giving an emotional speech about mental health.
"If I don't get another chance to say this, I just want to say I'm so proud to be a part of a movie that address mental health issues," she told the audience. 'They're so important. And a lot of artists ... a lot of artists deal with that. And we gotta take care of each other. So, if you see somebody that's hurting, don't look away. And if you're hurting, even though it might be hard, try to find that bravery within yourself to dive deep and go tell somebody ... and take them up in your head with you."
Needless to say, her baffling exchange with Seacrest will probably be the last thing Gaga is thinking about when she goes home tonight.