Lady Gaga Looked Tough On The Grammys Red Carpet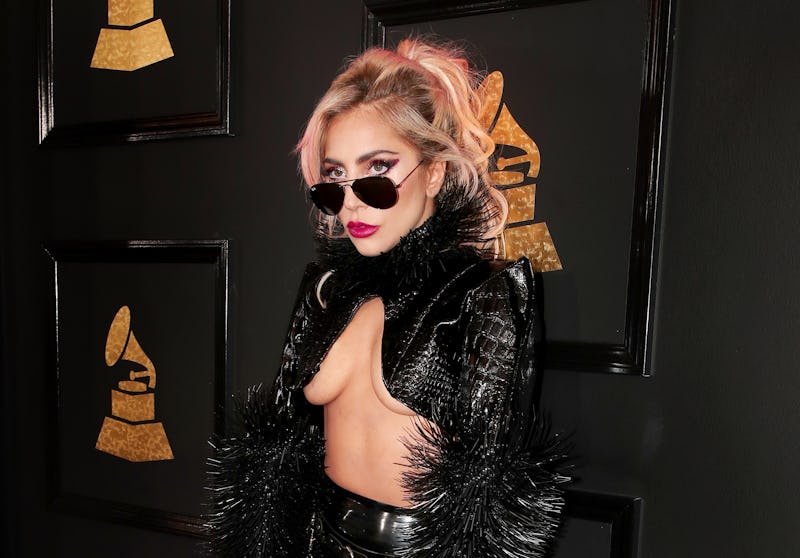 Christopher Polk/Getty Images Entertainment/Getty Images
This has truly been Lady Gaga's month. On Feb. 5 she casually dove onto the Super Bowl halftime show stage to blow us all away with her amazing voice, killer outfits, and badass dance moves. And then, mere days later, Gaga wowed us again at the Grammys.
On the red carpet, the singer stunned everyone by strutting the carpet in pleather short shorts, chains, and sky-high boots. She paired this with a spiky black top, which showed off some major cleavage. And her hair? It was bright pink and worn in a high ponytail. NBD.
The look echoed the outfits Gaga wore at the halftime show, which were all equally badass. In case you forgot (but, really, how could you forget?) the singer started her glam show by repelling down to the stage in a metallic long-sleeved leotard — complete with giant shoulder pads. She then completed a shocking amount of wardrobe changes, which included a gold sequin coat and a white football outfit with even bigger glitter-covered shoulder pads. (Obviously.)
If there's anyone who can do it up during a performance, or while walking the red carpet, it's Gaga. If there's anyone cooler on the planet, please let me know.
Too cool.
And such a badass.
And that hair? Amazing.
Seriously. Only Gaga could pull off this look.
She won the night.
Especially when she came on stage to perform with Metallica — while wearing a Metallica t-shirt.
Seriously, what a rock star.