Every Outfit Gaga's Backup Dancers Wore For SB51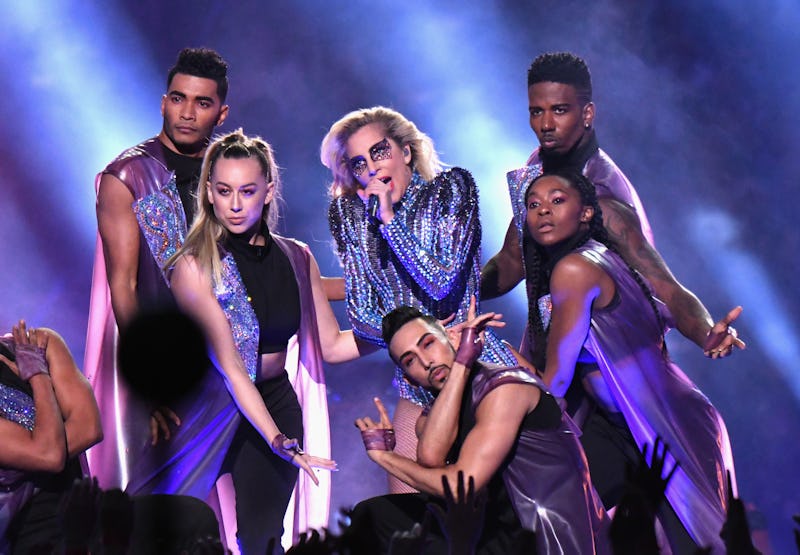 Larry Busacca/Getty Images Entertainment/Getty Images
If you remember the famous "left shark" from Katy Perry's performance back in 2015, then you already know the Super Bowl halftime dancers are almost as important as the main act. Sure, they're there to back up some of the biggest names in music. But they're also there to bring it.
And that's exactly what Lady Gaga's backup dancers did. During the halftime show, her dancers turned it out in pretty much every look under the sun. During "Born This Way," her crew rocked black crop tops and iridescent capes. They then stepped it up a notch for "Telephone" with patent leather tops for the ladies and silver pyramid jackets for the guys. (Yes, they were covered in 3D pyramids.)
Throughout the show, more and more dancers took to the stage in almost overwhelming numbers. While Gaga was at the piano, or doing her thing at the front of the stage, her dancers were wowing us with more crop tops and even more short shorts. And, of course, their amazing dance skills.
Her stunning show culminated in a synchronized swimming-type move with Gaga and her dancers in white football gear and shoulder pads, which were covered (of course) in rhinestones.
The show really was everything we've come to expect from the over-the-top singer. If Gaga is known for anything (apart from her amazing voice), it's definitely her stage presence. The girl can rock some looks — and it's clear she expects nothing less from her dancers. Here's a peak at all the glitz and glamour.
Amazing capes being amazing.
Can't forget the leather tassels.
It really was all about the short short.
Amazing.
Not sure where to buy a pyramid jacket, but...
Makin' it football-themed in the most glam way possible.
Seriously, it was such a good show.