Lady Gaga's Super Bowl House Was Perfect For Her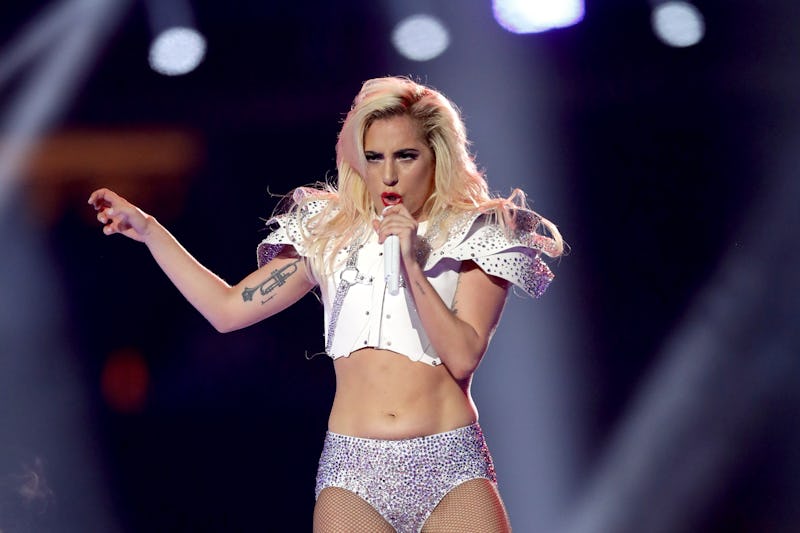 Ronald Martinez/Getty Images Sport/Getty Images
On Sunday, Lady Gaga delivered an epic Super Bowl halftime performance that quite blew many of us away. And according to TMZ, during the Super Bowl, Lady Gaga stayed at a super glamorous, 10,000 square foot, classically styled, Mediterranean-style mansion in Houston, Texas that rents on Airbnb for a cool $10,000 per night.
Although she didn't necessarily say anything overtly political or controversial, Gaga's Super Bowl halftime show was undoubtedly filled with messages of hope, tolerance, and togetherness. Gaga's patriotic intro — which combined classic U.S. anthems "God Bless America" and "This Land Is Your Land" — brought tears to the eyes viewers around the country (*raises hand*), and as she belted out the lyrics to "Born This Way" it became clear that Gaga wanted to bring people together through entertainment.
So it should come as no surprise Gaga she teamed up with Airbnb for her Super Bowl accommodations. Because why check into a busy hotel when you can stay at a luxurious mansion away from the paparazzi? No, I'm totally joking. The reason I say it should "come as no surprise," is because of Airbnb's vocal stand against Trump's recent order regarding immigrants and refugees.
Shortly after news of the executive order broke, CEO Brian Chesky committed to offering free housing for refugees and immigrants who were affected. And following their iconic #WeAccept Super Bowl commercial, the company announced its intention to contribute $4 million to the International Rescue Committee.
The house is totally gorgeous, but it's also quite fitting that Gaga decided to stay at an Airbnb as their advertising campaign around bringing people together definitely overlaps with the themes in Gaga's music and Super Bowl performance.
Clearly Gaga and Airbnb are a match made in heaven!
The property itself features a "resort inspired pool and jacuzzi," a gym, a sauna, a "chef's kitchen" (whatever that is), a writing room, a movie theater, and a wine cellar — hay! Supposedly the home is worth $10 million.
Seriously, just look at that pool — it's like something you'd see at a five-star tropical resort!
Yeah, this place is stunning. Nuff said.
Oh, and in case you missed it, be sure to check out Airbnb's powerful #WeAccept commercial (above) that aired during the Super Bowl.