The Reason Lady Gaga Cried Her First Day Filming 'A Star Is Born' Might Surprise Fans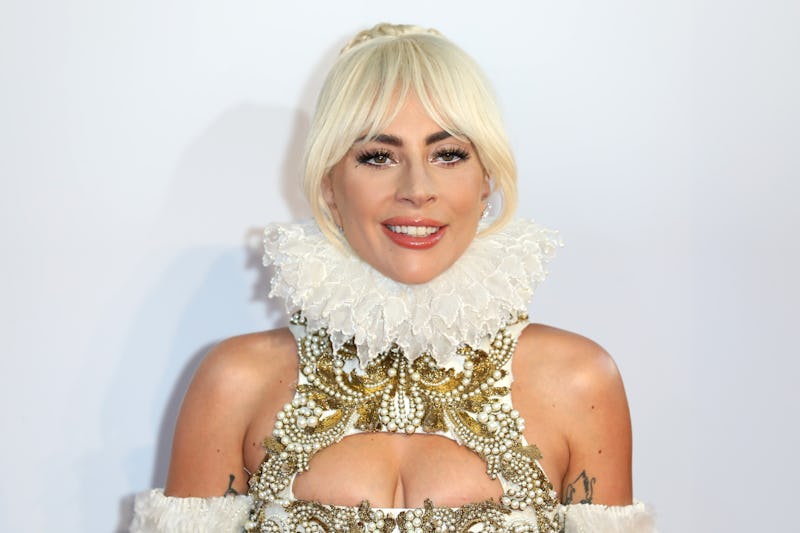 Tim P. Whitby/Getty Images Entertainment/Getty Images
Her performance is already raking in the accolades, but it turns out that Lady Gaga's transition to acting was tougher than you might think. In a recent interview with ELLE, the platinum-selling artist revealed that she was so overwhelmed on the first day of shooting A Star Is Born that she actually burst into tears on set. It was in front of her costar and director, Bradley Cooper, and technically it was because of something he did, but don't worry! By the sound of it, the whole thing was a misunderstanding stemming from Gaga's relative inexperience on film sets. And even better than that, she found a way to turn her fear and emotion into an advantage, which is a total pro move.
The newly-minted actor is one of ELLE's cover stars for their November 2018 "Women in Hollywood" issue, in which she talked about her experience on the set of A Star Is Born. Gaga told the outlet that she came up against her greenness during the very first day of filming with Cooper, and admitted that the interaction defined the rest of the project for her. "I will never forget the first scene we did together in this Mexican restaurant. Bradley got some tacos and brought them to the table," she began. It sounds pretty basic, but this is where things became complicated. Gaga continued:
"Then he said something to me, but it wasn't what was in the script, and I didn't know what to do, so I just said my line. Then he said something else, and I didn't know what to do because I thought I was just supposed to be saying what was on the page. So I just said another line — the next line. Seeing that I wasn't going off-script, he said, 'Are you okay?,' and I just started to cry."
Basically, Cooper was wanting his co-star to improvise, to push her past the lines she'd memorized and further into the character of Ally. And while it's possible that a more seasoned actor could have understood what the Oscar winner wanted, this was still just Gaga's first dip-of-the-toe into the film acting world, so she was paralyzed to the point of tears.
It could have been a traumatic experience — and it probably was, to a certain extent — but instead of pushing past it, Gaga decided to use it. As she told ELLE, she turned that insecurity into a technique that she could employ whenever she needed to really empathize with Ally:
"When we sang 'Shallow' together at the concert, after he runs over and starts to pull me on the stage, I didn't think, 'I haven't made it yet as a singer.' All I had to do was go, 'I haven't made it yet as an actress.'"
The Joanne singer has acted before, of course, most recently in Ryan Murphy's American Horror Story: Hotel, a performance so impressive that it actually netted her a Golden Globe. But starting from scratch in a new arena when you've already made it big in another one must be incredibly uncomfortable. Going from being at the top of your field, knowing your strengths and weaknesses and how to counteract them, to learning a brand new skill is never easy. And with the knowledge that any of her accomplishments in acting will be held up against her accomplishments as a singer, Gaga must have been feeling an incredible amount of pressure.
That's what makes it all the more impressive that she was able to channel those feelings into the role in a way that deepened instead of lessened the character. The singer is turning into a true triple threat, where not even her own insecurities can stand in her way.