Lana Del Rey Reveals Her Album Cover For 'Lust For Life'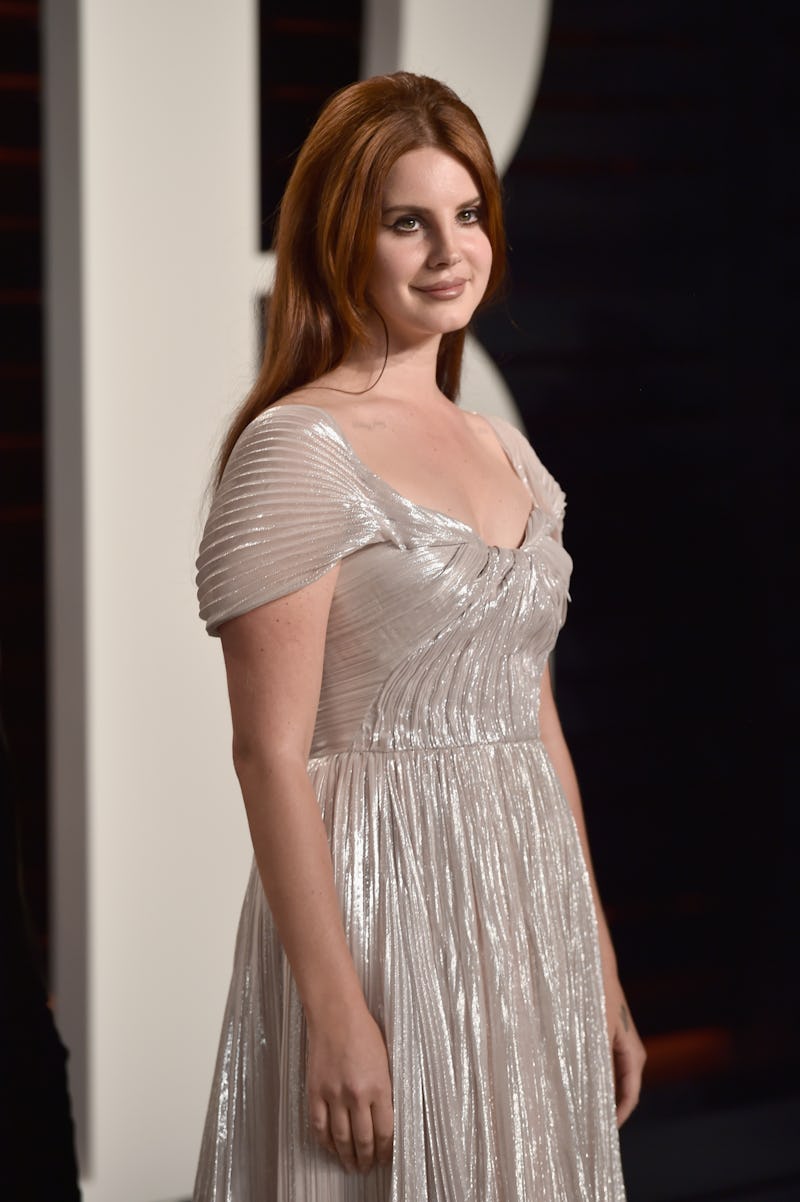 Pascal Le Segretain/Getty Images Entertainment/Getty Images
Lana Del Rey is at it again, redefining the slay. It's been a minute since the artist's last studio album Honeymoon was released in Sept. 2015. Fans are hungry for more, and slowly but surely, she's giving it to them. On Tuesday, Del Rey revealed the album cover for her upcoming album Lust For Life, and fans are understandably losing it. (She also showed her followers in true Lana Del Rey form, by sharing three separate Instagram posts with the cover, which I love.) The artwork is not only beautiful, but sets the tone of what fans can expect from the singer's highly anticipated fifth studio album.
The first notable element fans may recognize is that Del Rey is smiling ear-to-ear, which she has never done on an album cover before. Depecting her in front of a truck with flowers in her hair, the cover seems to capture a brightness like the album's first single "Love" (released in February). However, this cover is also a noticeably stark contrast to the bleak album teaser videos that the singer posted over a week ago. Under Del Rey's smile in the album cover seems to also be conflict, uncertainty, sadness, and hope — all of which are themes which will likely be captured in Lust For Life.
The black and white teaser videos start in a mysterious field, which ultimately winds up at the Hollywood sign. Here, she makes commentary about taking a break from the twisted, challenging nature of Hollywood and the overall real world — ironically while dwelling in the H of the Hollywood sign, overlooking it all, unable to really escape it.
She explains why this process was most necessary in providing fans with the most heartfelt and profound album she could, given what's going on in her life and the world:
You know, in this town, an artist really needs a lot of space when they're trying to create something special. A place to cultivate a world of their own, far away from the real world that's around them... But truthfully, when I'm in the middle of making a record, especially now, when the world is in the middle of such tumultuous period, I find I really need to take this space for myself, far away from real life to consider what my contribution to the world should be in these dark times... You and the music and this place are my love. My lust for life.
Thus, Lust For Live will likely provide a fascinating dichotomy of the dark uncertainty from the teaser videos and happiness from the album cover. The album release date is still uncertain, but the good news is that each day is getting fans a little bit closer to this slayage.