Here's How Much Laura Ingraham Is Apparently Worth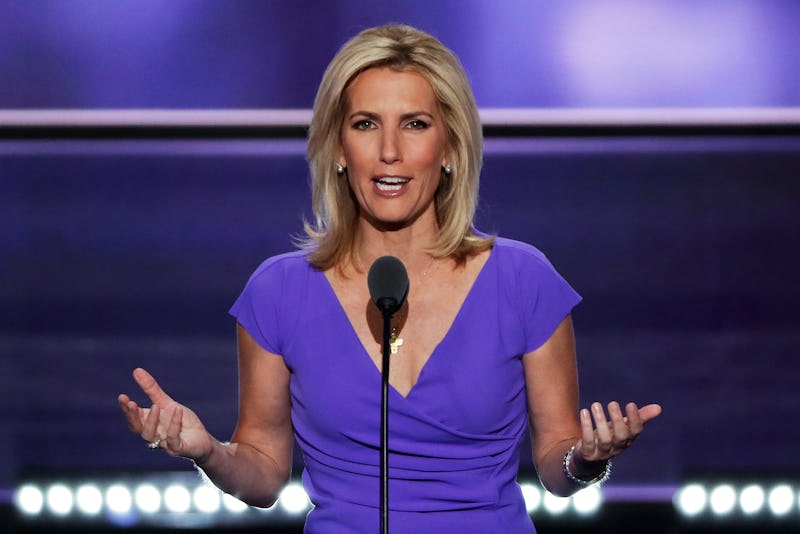 Alex Wong/Getty Images News/Getty Images
Laura Ingraham has come under fire for a tweet mocking a Marjory Stoneman Douglas High School student. Ingraham, who hosts The Ingraham Angle on Fox News, had tweeted about David Hogg getting rejected from four universities he applied to. As major advertisers pull from her show amid the backlash, you might be wondering what Laura Ingraham's net worth is. The conservative TV personality is estimated to be worth a whopping $45 million, according to COED.com.
Ingraham started off as a middle class kid, per COED. She attended high school in Glastonbury, Connecticut, according to her IMDb page, and later on Dartmouth College, where she worked as an editor for The Dartmouth Review. Ingraham was the college's first female editor while she was there in 1985, according to COED. Later on, she was employed as a speechwriter on domestic policies in the Ronald Reagan regime.
In 1991, Ingraham earned a Juris Doctor degree from the University of Virginia's law school. This degree helped her in later on finding work as an attorney.
It's likely that most of her net worth comes from her television career as a political pundit. In the mid 1990s, Ingraham became the host for the MSNBC program Watch It!. In 2008, Ingraham won Fox News' attention and briefly appeared on the show Just In. Prior to that, in 2001, Ingraham had started her own radio talk show called The Laura Ingraham Show on XM Satellite Radio. She has also appeared on The O'Reilly Factor.
In 2017, Ingraham got her own hour-long show on Fox News called The Ingraham Angle. It is unclear how much her salary at Fox News is, but one of the network's most popular hosts, Sean Hannity, for reference, is estimated to earn some $29 million.
This week, Ingraham found herself in a remarkable controversy over her tweet about Hogg. Hogg is one of the young students who survived the recent horrific school shooting at Marjory Stoneman Douglas High School in Parkland, Florida. The shooting killed 17 students and teachers on Feb. 14 and has led to massive political protests led by young students throughout the United States.
Hogg and his Parkland peers were the organizing force behind the March for Our Lives protest on March 24 in Washington, D.C. On Wednesday, Ingraham tweeted about the Stoneman Douglas student and shared an article that said Hogg had been rejected by four colleges. The student responded to Ingraham's tweet by calling companies to pull their advertisements from her show. He listed the advertisers behind Ingraham's show, including TripAdvisor, Nestle, Hulu, Wayfair, Liberty Mutual, AT&T, and others.
A handful of companies have responded. Hulu pulled its from Ingraham's show, saying in a statement, "We'd like to confirm that we are no longer advertising on Laura Ingraham's show and are monitoring all of our ad placements carefully." Nestle, too, has removed ads from Ingraham's show. A spokesman for the candy-manufacturing company told CNBC that Nestle does not "condone the inappropriate comments made by this broadcaster." The spokesman added, "In our view, these statements focused on a high school student, cross the line of decency. As such, we have made a decision to stop advertising on that program."
In addition to Nestle and Hulu, TripAdvisor, Nutrish, and Wayfair, too, have stepped away from the conservative commentator's show.
On Thursday, after a number of companies announced that they would no longer advertise on her show, Ingraham apologized for her tweet about Hogg. She wrote on Twitter, "On reflection, in the spirit of Holy Week, I apologize for any upset or hurt my tweet caused him or any of the brave victims of Parkland."
She added, "For the record, I believe my show was the first to feature David immediately after that horrific shooting and even noted how 'poised' he was given the tragedy. As always he's welcome to return to the show anytime for a productive discussion."