Lena Waithe's New Horror Series Sounds Socially Relevant & Terrifying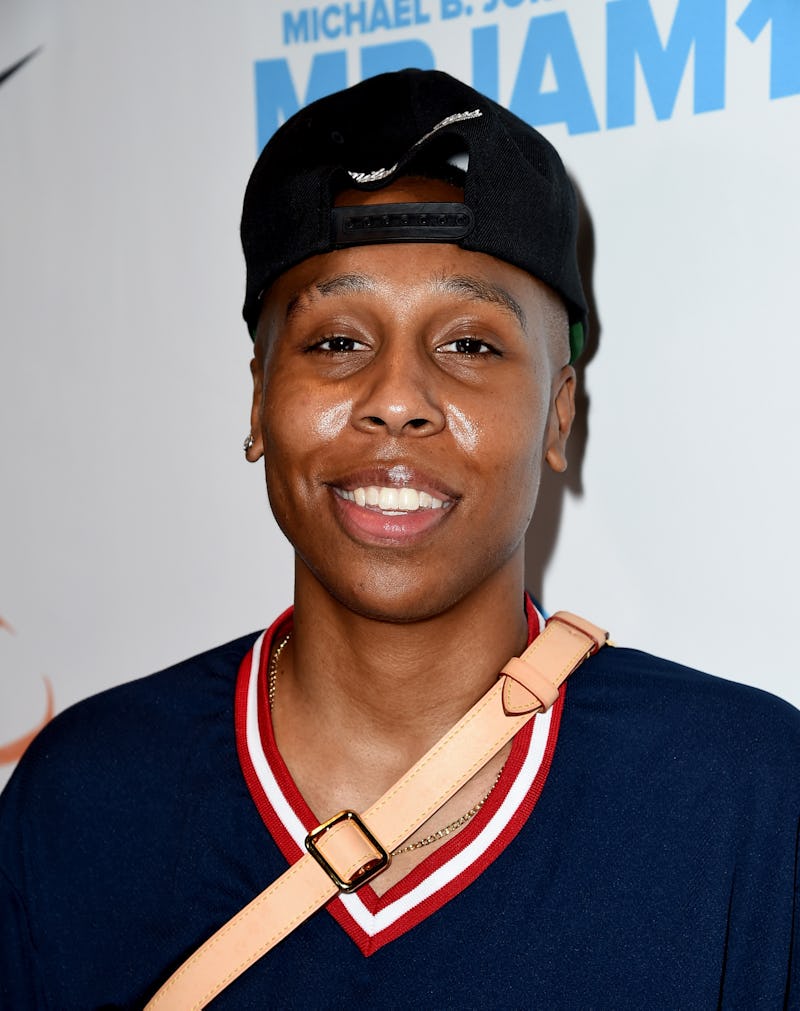 Kevin Winter/Getty Images Entertainment/Getty Images
Calling all horror fans: Do you appreciate a chilling round of social commentary in conjunction with your jump scares? Those who do will probably want to tune in when Lena Waithe's new horror series, THEM, debuts on Amazon sometime in the foreseeable future. And, to those who don't? You might want to reconsider. Because, according to a medley of reports out Sunday, July 29, THEM was just recently picked up by Amazon for a two-season, straight-to-series run. (Which hopefully means fans will be seeing the gripping anthology project come to life onscreen sometime reasonably soon.)
And, judging by the slew of comments from Waithe — who serves as one of the series' executive producers — as well as Amazon Studios itself, it seems pretty clear that the upcoming series will not be one to miss. "My heart was still pounding an hour after I heard this pitch," said Jennifer Salke, who heads Amazon Studios, in a statement to TVLine. "The show is edge-of-your-seat scary and addictive while also being provocative and socially relevant." As Waithe enthusiastically noted in a Sunday morning tweet celebrating the news, THEM's actual script was penned by Little Marvin, who serves as the series' head writer and Waithe's co-EP on the project.
Suffice to say, a quick scan through the series' plot description — or, those details that have been released, anyway — makes it clear why Amazon is so excited. Per TVLine's report, the series' first season, ominously titled THEM: Covenant, will turn the clocks back to 1953 Los Angeles. The season revolves around Alfred and Lucky Emory, a couple who's just recently uprooted their lives in North Carolina and relocated their family to an all-white L.A. neighborhood.
Not much has been revealed as to specific plot points that stipulate the film's "horror" distinction. That being said, a brief teaser description (as reported by both TVLine and Deadline) from the studio is more than enough to convince audiences of the series' capacity for scaring the bejeezus out of most everyone who's going to watch it. For anyone who missed it, that description reads,
"The family's home on a tree lined, seemingly idyllic street becomes ground zero where malevolent forces both real and supernatural threaten to taunt, ravage and destroy them."
Talk about foreboding, no? If that's not enough to convince horror fans that this one is definitely a must-see, take it from Waithe. The series' EP, for her part, described its script as both "provocative" and "terrifying," according to TVLine. "Little Marvin's script stayed with me for weeks after I read it," she said. As far as its storytelling merits are concerned, that's pretty high praise, coming from Waithe, the powerhouse writer, producer, and creator who's been making serious waves in Hollywood over the last year or so, courtesy of her exceedingly smart Showtime series, The Chi, as well as her standout work on Netflix's Master of None. The latter endeavor, Waithe's fans will be hard-pressed to forget, earned her a historic Emmy award for Outstanding Writing in a Comedy Series last September. (For the record, Waithe was the first black woman to receive the prestigious accolade.)
Trailing her compliments to Little Marvin, Waithe elaborated on the issue of why the script feels so ghastly, and — perhaps adding to its scare factor — so relevant, all at once. To that end, the EP gave audiences a taste of what to expect from the new series' inaugural string of episodes, explaining,
"The first season will speak to how frightening it was to be black in 1953. It will also remind us that being black in 2018 is just as horrifying."
Waithe concluded her comments with a powerful statement that manages to sum up the forthcoming series' import — not only as a standalone creative work, but a relevant social critique — in just a handful of words. "This anthology series will examine the cultural divides among all of us," Waithe said, adding that the narrative will "explore Us vs. Them in a way we've never seen before."
Little Marvin extrapolated on that point a bit in his own comments, which shed a bit more light on the overall tenor of the series, and what it's meant to stand for. "I've always felt that dark, surreal times deserve dark, surreal mirrors to show us ourselves," he said, according to TVLine. "And at this point in time one of the best ways to examine fractures in our world through the visceral and raw lens of horror."
At this point, Amazon hasn't set a definitive premiere date for THEM: Covenant. But, whenever Waithe and Little Marvin's new series does eventually land on Amazon's streaming queues, audiences with a penchant for all things smart and scary should probably be watching.