These Pics Of Cole Sprouse & Lili Reinhart At The 2018 Teen Choice Awards Will Make You Swoon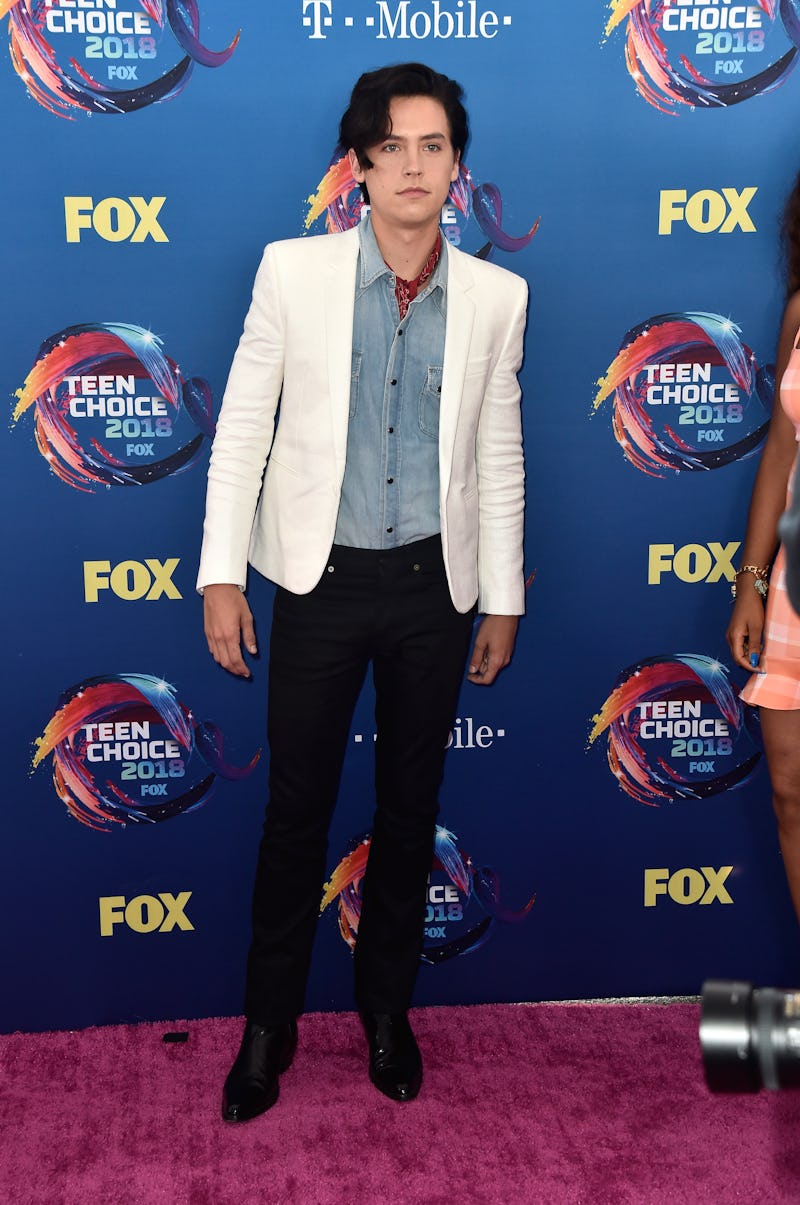 Frazer Harrison/Getty Images Entertainment/Getty Images
Betty and Jughead have a confirmed romance on Riverdale, but the same can't exactly be said for their real life counterparts. Riverdale stars Cole Sprouse and Lili Reinhart walked the Teen Choice Awards red carpet separately on Sunday night. Of course they've been to several red carpet events together since they work together on a hit TV show, but this time it's different since so many fans were expecting them to walk together as a couple after they made their red carpet couple debut at the Met Gala just a few months earlier. Yes, they are at the same event, but they are not there "together," at least not officially. Ugh.
Even though these two did not walk hand in hand on the Teen Choice Awards red carpet, they both stood out on their own. Of course, all eyes were on them to see if they would come together for some sort of public display of affection. Unfortunately, that did not happen.
Nevertheless, they both brought their A-game to the award show, in their own unique ways, of course. Dressed to the nines, Reinhart sparkled in a knee-length, pink sequin dress and her hair parted to the side.
Sprouse went the completely opposite route with a decidedly more casual look. He kept things interesting by wearing three different tops: a blazer, a denim shirt, and a T-shirt underneath.
To be fair, the expectations for these two to walk the red carpet together were a little high since Reinhart has never actually referred to Sprouse as her boyfriend, but she very much alluded that they are more than just co-workers when she posted about his birthday on Aug. 4. This only amplified the anticipation for the Teen Choice Awards red carpet. Considering that Riverdale is nominated, their fans hoped that both actors would show up to the event, but would they be there as co-stars or boyfriend and girlfriend?
It sure seemed like it would be the latter. Just a few days before the TCAs, Reinhart shared a solo shot of Sprouse for his birthday along with a sweet caption: "It seems as if the world would still be a stranger to me, if not for you. I'm so thankful that our paths intertwined to form this beautiful adventure ~ Happy birthday, my love."
The photo is great and the entire caption is eloquently written, but it's that last part that really stands out to the Riverdale fandom: "my love." That pretty much confirms that Bughead is a thing in real life, right?
The comments on the post from Sprouse and Reinhart's co-stars only fueled the speculation that these two are more than just friends. Even if they are not a couple, at least they knew they would have a lot of cast support if they ever did decide dating, or at the very least if they finally confirmed that they are in a romantic relationship. Camila Mendes, who plays Veronica Lodge on the show, commented a cry face emoji and a heart on the post.
Meanwhile, Casey Cott, who plays Kevin Keller on Riverdale, asked the question that everyone wants an answer to. He commented, "R u guyz d8ng?" Reinhart actually did hit him with response, but she did not actually confirm a romance, yet again. She just replied with a "shh" face emoji. That's not a confirmation, but it's not a denial.
Reinhart's on-screen mother, Mädchen Amick, gave her approval of the post, writing "So sweet" along with a heart eye emoji.
Skeet Ulrich, who portrays Sprouse's character's father on the show, gave his blessing by commenting with a couple heart emojis.
Riverdale co-star Vanessa Morgan commented, "I love you guys," accompanied by several red heart emojis and a crying face emoji.
The fans have been shipping their interaction for a while, but neither of the actors has confirmed that they are actually in a romantic relationship. Clearly they are very close and whatever their status is, they have support from their co-stars and the fans, of course. After so much lead-in to this red carpet appearance, all eyes will be on their social media accounts and Teen Choice Awards after-parties to see just how these co-stars interact with each other.