Lili Reinhart & Cole Sprouse's New Instagram Photo Is SO Swoonworthy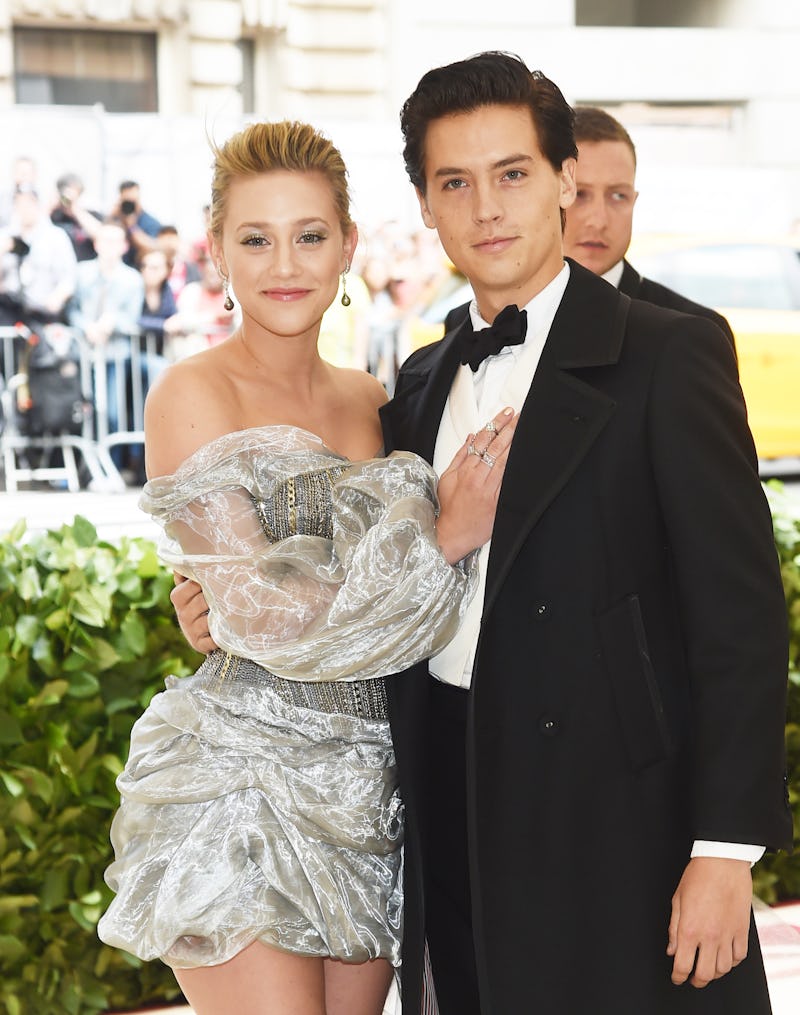 Jamie McCarthy/Getty Images Entertainment/Getty Images
They don't serve up PDA too often, but Cole Sprouse and Lili Reinhart's first lovey Instagram photo was worth the wait. The couple, who's been torturing Riverdale fans and Bughead shippers with their reported low-key romance for months, finally revealed a sweet photo of themselves for fans to swoon over. Although Sprouse is the object of countless fans' desires, audiences are supportive of the real-life couple. In fact, they can barely handle the cuteness.
Sprouse posted the photo on Monday with the caption, "It's pretty, pretty late." We'll say. Although it's a bit blurry, the moment captures the actors embracing each other either seemingly pre or post-kiss, with Sprouse playfully sticking his tongue out at his rumored girlfriend and Reinhart smiling from ear to ear.
The two have played coy about romance rumors ever since they first surfaced in March 2017, when Sprouse posted this gorgeous photo of Reinhart on his Instagram. Although they've made public outings together and have posted photos with one another on their Instagrams, none have been as swoon-worthy as this. Now, Bugheads are understandably losing their minds.
"Cole you just broke the internet," one fan commented. Others wrote remarks like, "I'm quaking," "MY HEART," "*internally screaming," and "I hope they don't break up after the show ends. I want them to get married." Is the cuteness overload enough to call of out of work or school for the day? Because people are considering it. One fan wrote, "my friends and I were having a mental breakdown at school today because of this so thanks a lot."
Until this point, the two have only posted photos of one another, like this photo of Reinhart that Sprouse shared in April. Or this one Reinhart shared for Sprouse's birthday. Note it's adorable caption: "It seems as if the world would still be a stranger to me, if not for you. I'm so thankful that our paths intertwined to form this beautiful adventure~ Happy birthday, my love."
Since Riverdale premiered in January 2017, fans have been so heavily invested in Sprouse and Reinhart's chemistry, both on and off screen. "Since the show began, people have wanted Lili and I to be together," Sprouse told EW last September. "Truthfully, it's very pleasing that people talk about Lili and I in that way because it means that we're resonating so strongly that people really want that to be true."
Flash forward to November of last year, and Sprouse admitted he wouldn't confirm his relationship with Reinhart. "Whether you dismiss those rumors or whether you encourage those rumors, it's giving people who are, in my opinion, a bit entitled to your personal life more power," he told People. After playing coy for nearly a year, they kind of made it official with their red carpet debut at the 2018 Met Gala in May.
And let's not forget when Sprouse was awkwardly put on the spot by a fan who shamelessly asked about their romance at a panel earlier this year. (To which he replied, "No comment.") Finally, it seems that the real proof is here and Bughead fans have learned that good things do come to those who wait.