Lili Reinhart & Cole Sprouse's Adventures Sound Way More Chill Than Betty & Jughead's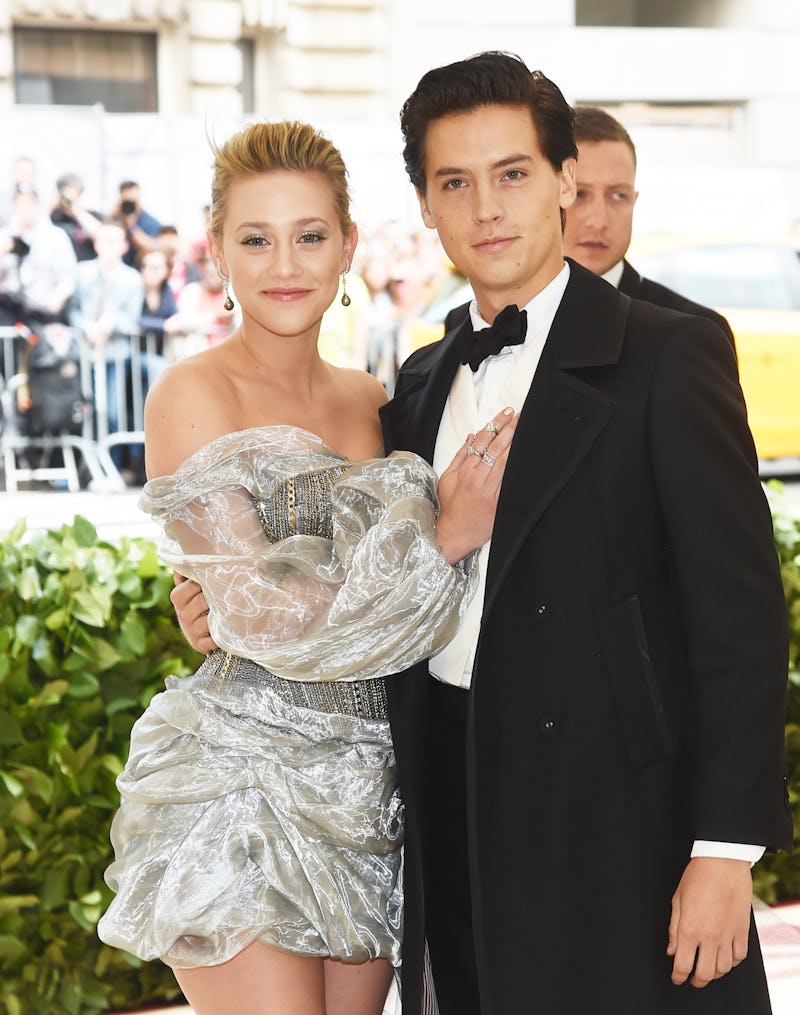 Jamie McCarthy/Getty Images Entertainment/Getty Images
If you adore the stars who play Betty Cooper and Jughead Jones on Riverdale, then you're going to enjoy this. Lili Reinhart and Cole Sprouse go on adventures together, the actor who portrays Betty revealed as Teen Vogue's October cover star. Believe it or not, but the 22-year-old briefly opened up about her romance with her costar, which, of course, includes extraordinary adventures.
"I like to go on adventures with Cole," Reinhart said. "Truly, adventures. He takes me to places where I'm like, 'How did you find this?' He's made me see these things that I would have never seen otherwise. It's escapism, which is so beautiful and wonderful."
What makes their journeys together even more special is how significant they sound. You can tell how much they enjoy spending time together, not to mention how they make sure to take in every single second of exploration. Sprouse helping Reinhart discover new things also shows exactly the type of relationship that they have — a meaningful one. To be with someone who opens your eyes and helps you see the world differently is a partner you should definitely keep close.
As Reinhart pointed out, they are also able to escape as boyfriend and girlfriend, which is probably a much-needed break from paparazzi and the rumors these two constantly face. You're probably surprised that Reinhart dished as much as she did about Sprouse and their travels together, especially since they are an extremely private couple.
As she told Seventeen as the magazine's May/June cover star about dating the former Disney Channel star,
"Every time someone asks me about it, I make a decision then and there about whether I'm comfortable. It's not like I'm in some kind of contract, but I'm not in the place where I want to talk about it, and that's totally fine. It's called a private life for a reason — it's mine, and it's special and sacred. My relationships are between me and whomever I'm with, not between me and the world."
She also told Teen Vogue about keeping their privacy, "I keep my relationship private because it's just between two people, and that's the way it should be."
Both CW stars have made it clear they'll discuss their relationship on their own terms, which is exactly what Reinhart did with Teen Vogue. It's important to note, she also kept her responses about Sprouse short and sweet. That said, 'shippers shouldn't complain because the couple has repeatedly opened the door on Instagram and allowed their followers to take a peek inside their romance, like when Sprouse posted this Instagram for Reinhart's birthday.
It's definitely nice to hear Reinhart talk about Sprouse, but it's also understandable why she remains mum at times. Oh, and it's good to know their adventures are vastly different than Bughead's, which usually involve some type of mystery, bloodbath, jail, or, you know, a student being murdered and her dead body put on display during Riverdale High's musical production of Carrie.
Yeah, Reinhart and Sprouse are doing adventures the right way.