The "Immigrants (We Get The Job Done)" Video Is So Important Right Now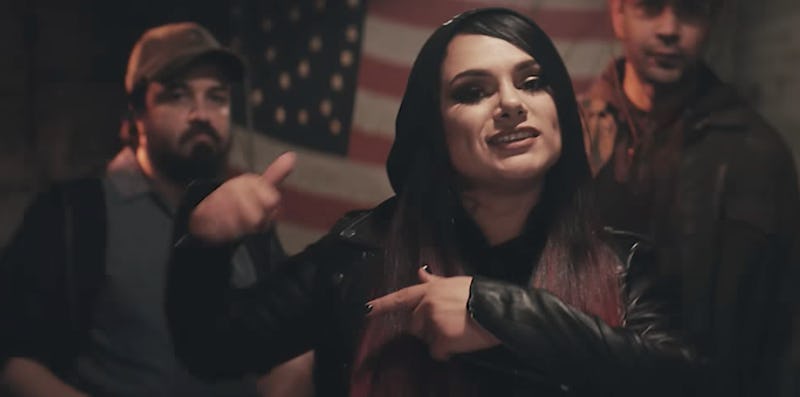 Hamilton: An American Musical on YouTube
Hamilton: An American Musical is beloved for a lot of reasons, but none more so than how the Broadway show has increasing parallels with modern day issues. On Wednesday, Lin-Manuel Miranda released a "Immigrants (We Get The Job Done)" music video that is already being held up as powerful for many of the same reasons as the stage show has impacted viewers and fans. The song from The Hamilton Mixtape, which remixes and enhances one of the show's most famous lines, was already a standout track for its strong and relatable lyrical discussions of the immigrant experience in the United States. But the music video takes that a step forward and not only shows that experience, but also visually highlights how that experience goes underappreciated and ignored.
The music video features K'naan, Residente, Snow Tha Product, and Riz MC, the latter best known to many as Riz Ahmed. Daveed Diggs also appears over the end credits, leading a line of immigrants in a march down the street. We see construction workers, nurses, butchers. We see people riding the subways, people crossing the border, people standing proudly shoulder to shoulder challenging you to stop ignoring them. We see people escaping war-torn countries, people being arrested in ICE raids, people being reunited with their families... or ripped away from them.
Basically, we see people. At a time when immigrants are frequently dehumanized and banned from the United States based on inaccurate stereotypes painting them as terrorists or a drain on resources, this music video couldn't be more important.
But the video isn't the only piece of activism that the creators are engaging in. Miranda also launched a Prizeo contest to benefit the Immigrants: We Get The Job Done Coalition:
Launched in 2017, the coalition is comprised of 12 partner organizations that work throughout the United States to provide services to immigrants, refugees, and asylees, including legal representation, advocacy, and awareness campaigns.
On first listen of the song by itself, the lyrics seemed to be speaking specifically to me. As an immigrant who came to America as a child from Jamaica, a phrase from one verse, "America's ghostwriters," really resonated with me. But there's something to be said for seeing the same song visually represented as well — because now it seems to be speaking to the wider world, immigrant or otherwise.
These are America's ghostwriters. These are the people chasing the American dream, same as everyone else. These are the people looking for a refuge, a haven, a home where they can have the same rights, security, stability, and chance to succeed as everyone else. It's way past time to stop sleeping on this, and this video makes that very clear.