Lin-Manuel Miranda Basically Wrote A New 'Hamilton' Scene To Announce His New Baby Boy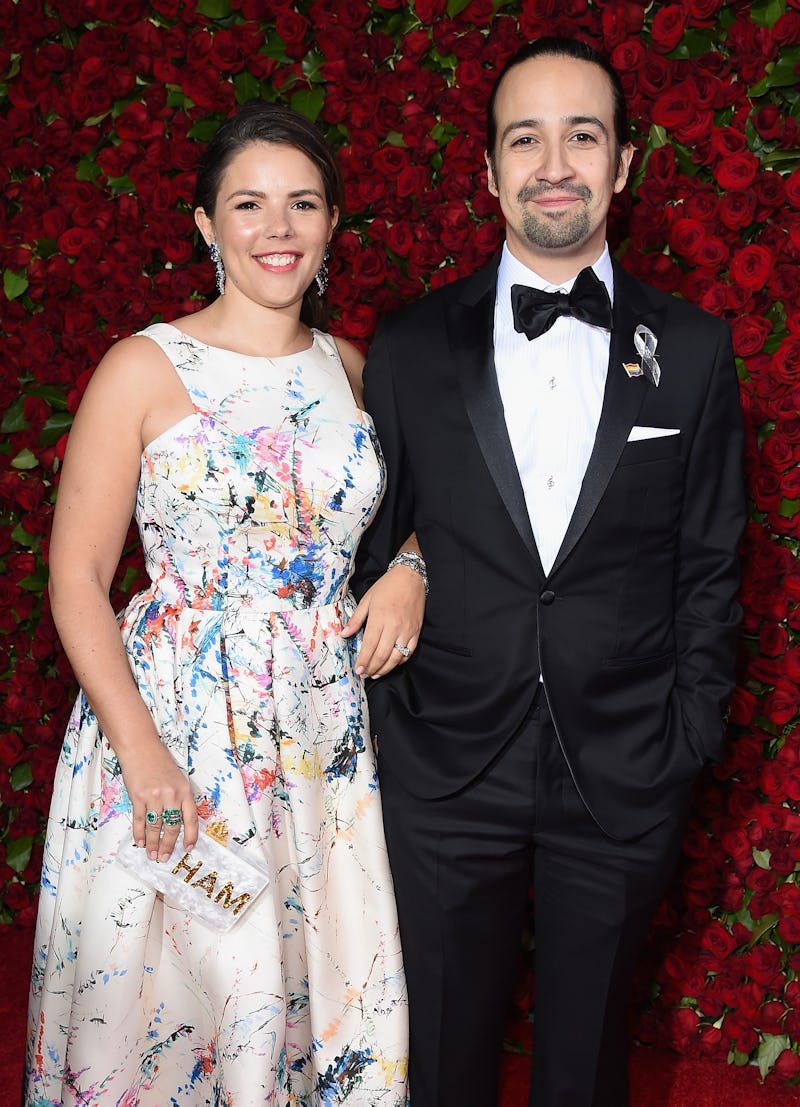 Larry Busacca/Getty Images Entertainment/Getty Images
Hamilton fans, don't throw away your shot to celebrate the birth of Lin-Manuel Miranda's second son with wife Vanessa Nadal. The couple welcomed baby Francisco Miranda into the world with a Twitter announcement on Friday, Feb. 2. Alongside a black-and-white photo, Miranda wrote,
"Int. Hospital Room. Night.
[The screams reach a delirious crescendo. FRANCISCO MIRANDA enters. He is 7 pounds and 13 ounces.]
Intermission."
Leave it to Miranda to write a flawless introduction for his son's entrance into the world. Francisco joins his big brother, Sebastian, 3, officially making the Miranda-Nadals a family of four. According to People, Miranda confirmed on Twitter that Nadal was expecting in December. Now Francisco has arrived, and he's seemingly already inspiring his father's creativity. Only Miranda would think to announce the birth of his child as if it were the first scene in his next hit Broadway play — although it creates such an epic picture that more parents should probably consider it.
Francisco may not realize it yet, but he's one lucky kid. Not only is his father an award-winning playwright, his mother is a scientist and an attorney. With those kinds of genes, there's no doubt that Francisco is destined for the kind of great things befitting a baby whose birth announcement is written like the beginning of a hero's journey.
In addition to having a wonderful family, Francisco likely won't have to wait long before he has his first BFF. Not only does he have his big brother Sebastian to look out for him, Nadal's close friend America Ferrera is expecting her first child, and Ferrera's baby is pretty much destined to hang out with Francisco. Shortly after Ferrera announced her pregnancy on Twitter, she shared a photo of Nadal and tagged it #twinning, because these famous friends are too adorable for words.
Nadal is even responsible for Ferrera playing Miranda's wife in an episode of Curb Your Enthusiasm. According to The Hollywood Reporter, when Miranda asked her if there was someone she wanted to play her, she reportedly told him, "Just get America." Yeah, there's no way their kids aren't going to end up being best friends.
Of course, Francisco also has an extensive family that already has his back. While Miranda has yet to share how Sebastian feels about the arrival of his little brother, Francisco's cousins appear to be psyched to have another boy in the family. In a video that Miranda shared on Twitter, three of his nephews enthusiastically welcomed their new baby cousin to the family.
It's beyond lovely to see that Francisco is already surrounded by so much love when he's only just a few hours old. His proud dad is likely already looking forward to the day that he can share Hamilton with his youngest — it's an experience he recently had with Sebastian, and it sounds like the outing was a success for both father and son.
Miranda tweeted Sebastian's review of Act I (he's still a little young for Act II, according to his dad), and the 3-year-old gave the musical high praise. According to Miranda, Sebastian said,
"In summary, he liked it. His favorite part? 'The scary parts.' (Yorktown) But also 'the kissing and fighting and singing.' Thank you."
Sebastian might just have a future as a theater critic ahead of him at this rate.
Right now, he has his hands full with big brother duties, and there's no rush, since his dad is doing such a magnificent job of reinventing the medium. Who else besides Miranda would think to turn something as simple as a birth announcement into a play heralding the arrival of a hero? Francisco's introduction to the world is nothing less than legendary thanks to his two superstar parents.