Lindsay Lohan Claims She Was "Racially Profiled"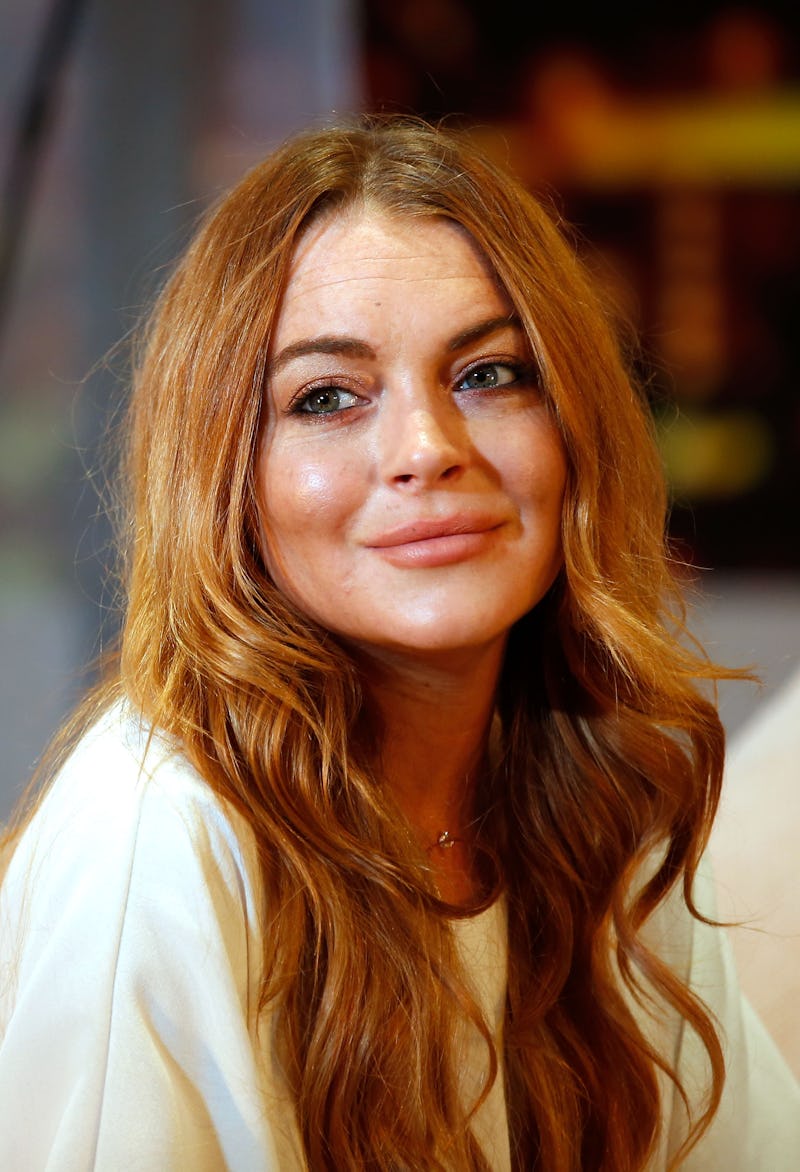 Tim P. Whitby/Getty Images Entertainment/Getty Images
Navigating the airport seems to always be a challenge for celebrities. Usually, they're just trying to get to their cars without being photographed, but one celeb recently had a slightly more invasive and eye-opening airport experience. Lindsay Lohan claimed she was "racially profiled" while wearing a headscarf at London's Heathrow Airport. During an interview with the British talk show Good Morning Britain on Tuesday, Feb. 21, the Mean Girls star said said was traveling to New York from Turkey and made a stop in London where an airport worker allegedly asked her to remove her headscarf.
A rep for Heathrow told The Huffington Post:
"Heathrow respects the cultural and religious needs of all passengers traveling through the airport. We work hard to provide our passengers with great service while ensuring everyone remains safe and secure."
According to Lohan, who is white, "I got stopped at the airport and racially profiled for the first time in my life ... She opened my passport and saw Lindsay Lohan and started immediately apologizing, but then said, 'Please, but take off your headscarf."
For unknown reasons, a video of the interview circulating around the web "appeared to have edited out the mention of Lohan being 'racially profiled,'" according to the The Washington Post. But the British tabloid The Sun has posted the original clip with the full quote.
Lohan explained she didn't know why she was alleged "double checked" and didn't elaborate on how her race played a role. It seems that she means she was allegedly profiled because of the scarf, rather than "racially profiled." Bustle has reached out to a rep for Lohan for additional comment, who had no comment.
The 30-year-old said she complied with the woman's alleged request, but she found the alleged experience to be "really jarring." Lohan told Piers Morgan and Susanna Reid, "What scared me was in that moment — how would another woman who doesn't feel comfortable taking off her headscarf feel."
To Lohan, the alleged situation opened her eyes to the type of discrimination Muslim women endure for being covered. In her case, the New Yorker was covering not only "out of respect" after traveling from Turkey, as she explained, but also to avoid being recognized. "When I see certain people I feel more comfortable acting the same way as the other women — that's just a personal respect issue for me that I have," Lohan said. Despite facing criticism for her interest in Middle Eastern culture, the actor has been quite vocal about her support of Syrian refugees and reverence for Islam.
Although she hasn't converted, Lohan told Morgan and Reid that she's "found a solace" in learning Arabic and studying the Quran. "Also working with kids in Syria, it's something that — I want to learn the language so that I can discuss situations with them," Lohan said. "I want to be on the same page as everyone."