Here's Lisa Rinna's Response To Denise Richards Joining The 'RHOBH' Cast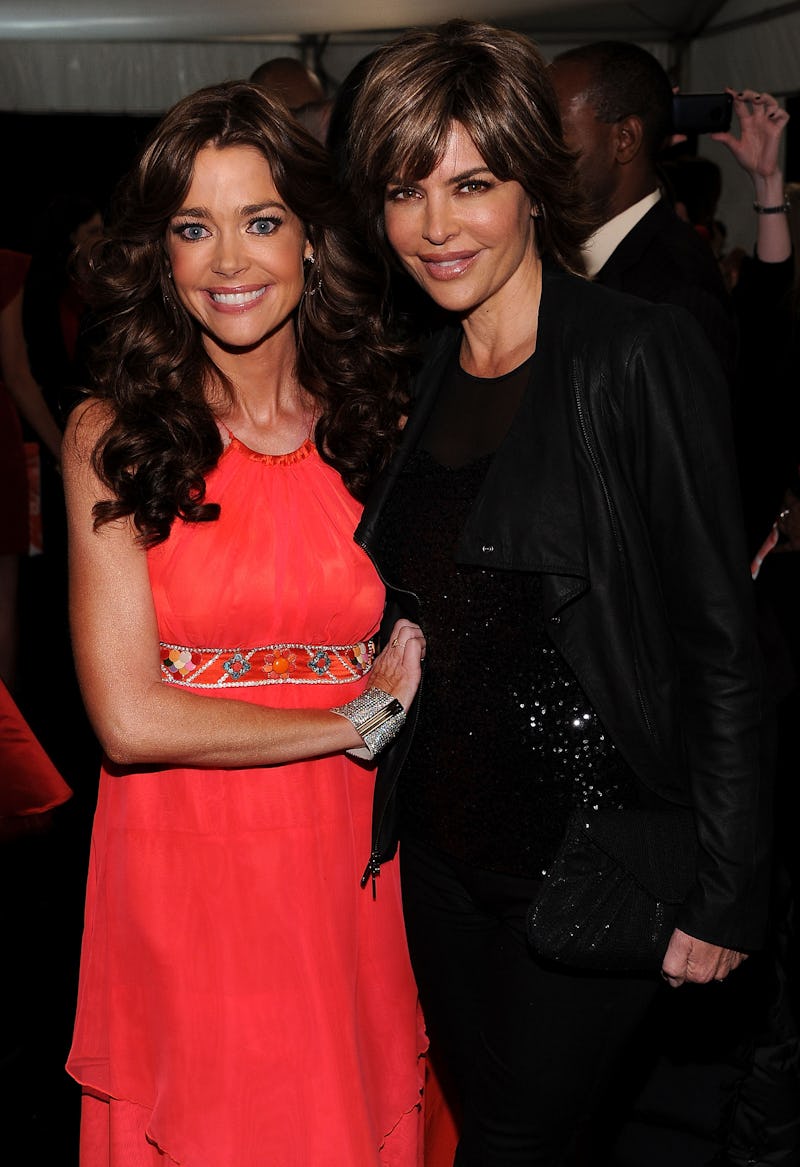 Dimitrios Kambouris/Getty Images Entertainment/Getty Images
The Real Housewives of Beverly Hills Season 9 is already shaping up to be a wild one. Series veteran Lisa Rinna welcomed Denise Richards to RHOBH the old fashioned way: she posted about it on social media. On Friday, Aug. 10, the Rinnavation: Getting Your Best Life Ever author wished her followers a "Happy Friday," shared a picture she took while hanging out with Richards, and posted the diamond emoji. (Or should we say the the RHOBH emoji?) Yes, Richards has officially received her RHOBH diamond, and yes, Rinna seems to be very here for it.
But what's this photo from, you ask? Why does it seem so familiar, you wonder? Why do you feel as though you stumbled upon it on July 20 after People reported Richards may finally join RHOBH?
Because on July 20, you did stumble upon this picture of Rinna and Richards hanging out with their pals (and Tori & Dean: Home Sweet Hollywood regulars) Bill Horn and Scout Masterson at Casa Vega. This is not a new pic; Rinna and Richards did not take this while filming the upcoming season of RHOBH. Heck, they did not even take this picture in 2018. They took this picture over a year ago.
Rinna shared this very photograph on Instagram on Feb. 8, 2017.
And a year and some change later, and Rinna and Richards are on RHOBH together. (Well, Bravo still has not officially unveiled the rest of the cast, but according to People, Rinna is reportedly one of the Beverly Hills Housewives who is expected to return for Season 9.) (Also, come on. You can't bring on Denise Richards and not keep Lisa Rinna. It seems like a safe bet.)
On July 20, People shared a most scintillating scoop: Richards was reportedly in talks for RHOBH Season 9. And a few days after People released the Real Richards Rumor, E! News asked longtime Bravo superfan and future Bravo talk show host Jerry O'Connell about it. He cleared his throat, smiled, and showed the reporter a photo he and wife Rebecca Romijn took with Richards and Richards's boyfriend, Aaron Phypers. He teased that they snapped the picture "the eve before Denise is starting her new endeavor that we're very excited for her to be starting." Oh, you don't say.
The King of Bravo kept the Real Richards Rumor running. When Entertainment Tonight asked Andy Cohen about the Real Richards Rumor at Fox's TCA event on Aug. 2, he replied, "Wouldn't it be so cool to see Denise Richards as a Housewife?" While he wouldn't confirm or deny the Real Richards Rumor, he did tell ET that it would be "awhile" before the Season 9 cast was revealed.
Well, well, well. It looks like we RHOBH viewers did not have to wait too long after all. On Wednesday, Aug. 8, Richards announced she is now part of the Real Housewives of Beverly Hills roster. In a statement provided exclusively to People, Richards said,
"I am so excited to join the cast of [RHOBH] as I am a huge fan of the show. I am looking forward to spending time with all the ladies… and hopefully meeting Boy George!!"
Man, is this going to be good.
Drop dead good, that is.