Lisa Vanderpump's Tom Tom Tour Video Included A Major 'Vanderpump Rules' Throwback Moment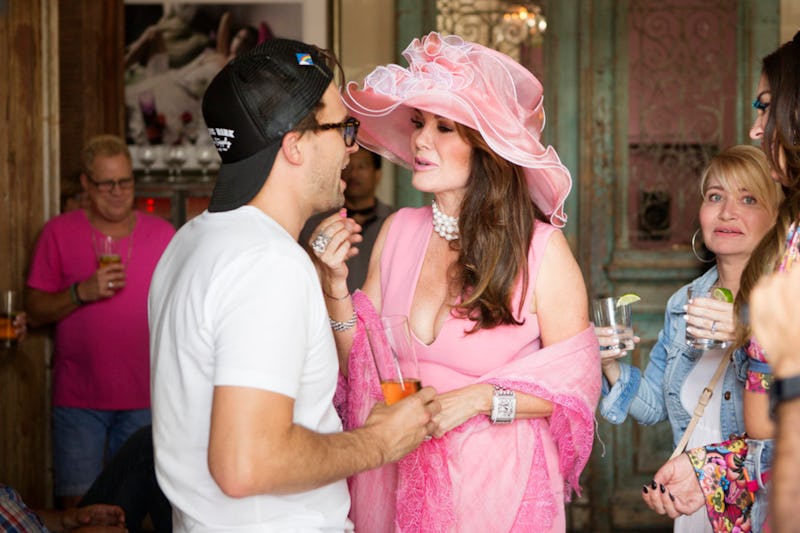 Isabella Vosmikova/USA Network
You may not see Tom Schwartz pouring Kentucky Muffins behind the main bar at Tom Tom, but don't rule out the poss-SUR-bility if of catching him behind the West Hollywood tavern's second bar. In Bravo's The Feast's new video tour of Tom Tom, Vanderpump Rules matriarch Lisa Vanderpump and designer Nick Alain show off some of the eatery's features and offerings. At one point, LVP and Alain stop by the smaller bar just to the right of the main bar. And that's when we learn LVP calls the space "Schwartzy's shot bar."
As Vanderpump stands next to the shot bar's industrial romantic alcohol bottle display, industrial romantic ladder, and industrial romantic fog machine, she explains,
"So this is our shot bar. So this is possibly the only bar that Schwartzy could go behind and feel safe, because if you saw him have a panic attack at PUMP, then you know he doesn't know how to make a drink. So here he can just pour a shot. So this is his little bar. Schwartzy's shot bar."
LVP can laugh about it now, but she has not forgotten about that one time Schwartz abandoned his post at PUMP in the middle of a rush. Mr. Bubba won't ever live that one down, will he?
All the way back in Season 3, Schwartz landed a job at the birthplace of the Pumpopolotan, but uh, his PUMP debut went about as smoothly as Jax Taylor and Laura-Leigh's breakup. In the middle of his first workday, the pressure that came with the gig got the better of him. So he bounced.
After the episode aired back in 2014, Schwartz wrote in his BravoTV.com blog that he was "grateful" for the opportunity, adding the he "actually enjoy[s] making drinks." However, once the shift was underway, he was "crippled with the fear of not being able to keep tabs/make drinks/make service drinks/chat with customers," and this fear "eventually led to shallow breathing, which soon escalated into a full-on panic attack." Though he "tried to tough it out," the panic would not pass.
Schwartz continued,
"I asked to take a break to catch my breath, but understandably they told me 'Hey man if you walk outta here don't come back.' I asked for just a bit to catch my breath but they weren't having it. I get it because we were busy on opening night, you can't just bail. Anyways once I was out there breathing some fresh air, I had an epiphany: I don't want to bartend anymore. I don't want to small talk with customers and laugh at their stories. I don't want to muddle mojitos under the gaze of their impatient, thirsty, demanding eyes. I've been working in the service industry since I was 16 and I've reached my expiration point. This is quite an unfortunate and selfish time to have this realization, but there was no denying it. The toothpaste was out of the tube."
It looks like Schwartzy wasn't done working in the service industry after all— or with LVP, for that matter. A little less than four years after the panic attack episode aired, Schwartz opened a bar with Tom Sandoval, LVP, and Ken Todd right down the street from PUMP.
Time is a wild thing, isn't it? How fitting that the clock behind the main Tom Tom bar (and to the left of Schwartzy's shot bar) runs backwards.