Why Lisa Vanderpump ONLY Wanted To Work With Tom Sandoval & Tom Schwartz On Tom Tom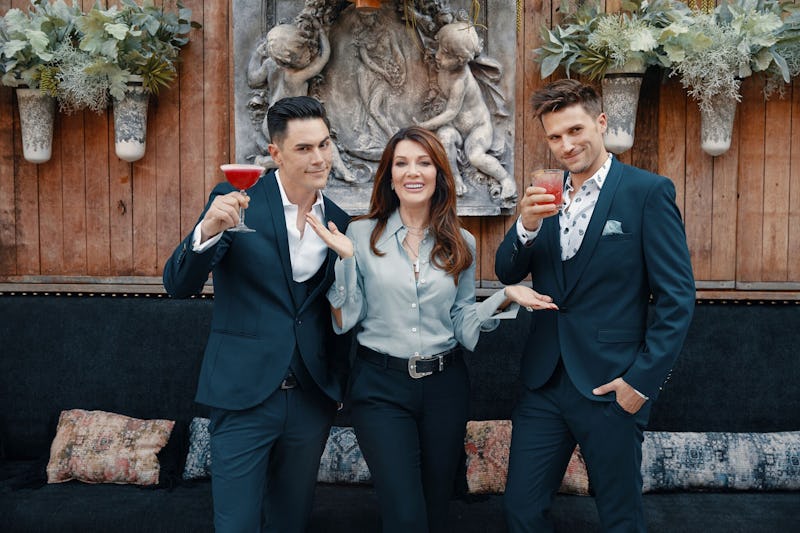 Courtesy of Tom Tom
The Tom Tom Era has officially begun, and the Queen of Villa Rosa is, well, pumped. When Bustle spoke with Lisa Vanderpump at the Tom Tom preview on Monday, Aug. 6, she said she is "really proud" of the West Hollywood bar she created with Ken Todd, Nick Alain, Tom Sandoval, and Tom Schwartz. Be that as it may, it sounds like the Bravo icon won't be plotting out another bar named after a Pumper anytime soon.
"No," laughs Vanderpump when Bustle asked if she sees herself opening another watering hole with any of the other Vanderpump Rules stars. "No, you know, it was just a moment where I suddenly thought, these guys, they were part of the show for a few years so I'd gotten to know them very well."
The accomplished restauranteur says both of the Toms "bring forth such a likable character," adding, "And I just thought, 'Wouldn't it be great to open a bar with a different, kind of very young energy?'"
Vanderpump continues,
"They bring something different to it. Even the way they show up with their little motorcycle and the sidecar, they're a little crazy. They are junior partners, as we saw, they bought in 10% and everything. I think it was a learning experience for them. They watched us and they— you'll see on Vanderpump Rules how it plays out."
What a cliffhang-SUR.
Vanderpump really does make the most out of the platform that comes with starring on Vanderpump Rules and Real Housewives of Beverly Hills. She tells Bustle,
"[Viewers have] seen me officiate a gay wedding, and they've seen me march about the Yulin dog meat festival ... And opening the dog rescue center. So being on reality television is not just a fickle experience for me. It's something I've used to really promote my businesses, of course, I'm not an idiot, but promote some of the social causes that have been at the forefront of my mind."
If there's one thing that Pump fans can SUR-tainly count on, it's that Tom Tom will be one of LVP's businesses that gets camera time on Season 7. Pump Rules is currently filming, the bar launched just this week — you do the math. "It's been wonderful, really, because Bravo's given me this platform, and even like with this, with Vanderpump Rules, you see the development of this restaurant," says Vanderpump. "And I think that's an incredible story as well, to actually watch the progression and watch the struggles, and to see it grow and mature. It's wonderful."
The saga of Tom Tom really has been one for the ages. On Aug. 17, 2016, Vanderpump pulled the Toms aside at Schwartz and Katie Maloney's wedding reception and made them a Sexy Unique Offer they couldn't Sexy Unique Refuse: She wanted to open a bar called "Tom Tom" with the Toms. The Pumpers put a lot of booze, sweat, and tears into the project. And as of Thursday, Aug. 9, just under two years after Vanderpump proposed the idea to Sandoval and Schwartz, Tom Tom is open to the public. The latest entrant in LVP's empire is ready to SUR-ve food and drinks to the Sexy Unique Masses.