LVP Finally Explained Schwartz's Job At Tom Tom, But You Might Still Have Questions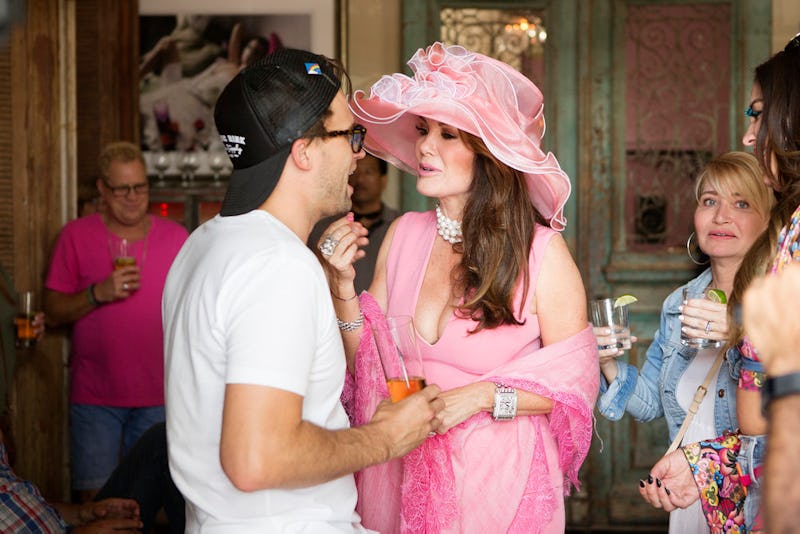 Isabella Vosmikova/Bravo
After an entire season of wondering, Tom Schwartz's job at Tom Tom has been revealed. During Bravo's Vanderpump Rules After Show, Lisa Vanderpump opened up about exactly what Schwartzy will be doing. Based on how Schwartz left mid-shift the one and only time he worked at PUMP, it's clear he won't be a bartender, so what is his role? Well, LVP tried to clear it up, but even the Bravolebrity doesn't seem totally sure what he's contributing to the bar.
After a producer asked Vanderpump, "What do you expect Schwartz to do at Tom Tom?" she replied with her famous British humor, "Show up." The Real Housewives of Beverly Hills star elaborated further by explaining how the 35-year-old reality star "has a love for life, a zest for life", which apparently is key for Tom Tom.
"He's possibly one of the most likable people that most of this group ever met," the SUR owner said, before adding, "I don't know why he gets everything back to front, inside out, and upside down. He doesn't know his a**hole from breakfast time, but he's got a very likable quality."
That's one way to put it. But, she's right, Schwartzy does have a "very likable quality" that will surely be inviting whenever anyone steps inside Tom Tom. Plus, he and Tom Sandoval are also famous and fans have heard so much about Tom Tom that they will certainly show up to see the bar's namesakes and the finished product.
Vanderpump, who owns several bars and restaurants with her husband, Ken Todd, knows what it takes to make a business successful, so if she believes Schwartz will help Tom Tom thrive, then she's probably right.
"You know, a lot of magic of a restaurant and bar is the people that greet you, you know, as you come through the door. The kind of energy of the place." She also added about the model, "You're going to be greeting and be very present." However as soon as Vanderpump called Schwartz a "greeter", he didn't seem to agree. He disputed, "Well, I'm not a greeter, per se. Not like a Walmart greeter."
To that, LVP replied, "You're gonna be a partner that's standing there looking after your customers and business. You're gonna make sure the music's right, listen to everything and make sure that, you know, it's a success."
While Vanderpump explained his different jobs, Schwartz either nodded in agreement or repeated "Uh-huh". He didn't seem too sure of his many Tom Tom roles or maybe he started to panic thinking about how much he was actually going to have to do, but he better start accepting his position at the bar, because LVP is boss.
For awhile, Pump Rules viewers have expressed confusion over Schwartz's contribution to Tom Tom. Well, now everyone knows Schwartz will be welcoming people and doing whatever else Vanderpump tells him to do.
As for his partner, Sandoval is creating cocktails and will act as a bartender. Speaking of cocktails, during the After Show, Schwartz tried to convince LVP he was working on the drink menu with Sandoval. She scoffed, "Yeah, but you just drinking it isn't really working on it."
Sandoval backed his buddy by saying, "No, he's helping. He's helping. He's been doing a lot of research." Schwartz then chimed in, "I love making cocktails, I'm just not good at it." He even admitted he's capable of bartending, but he "can't handled high volume" and prefers to serve only a couple people at a time. So, yeah, he'll never be a bartender, because Tom Tom will most likely always be busy.
And even though Vanderpump called them "junior partners" during the Season 6 finale, at the reunion she made both Schwartz and Sandoval uneasy about their overall business contribution. Not only has she not cashed their checks yet, but the two haven't even signed a contract. "I definitely want them involved 1,000 percent, but if they're not happy with what we're doing, then a partnership has to be a marriage," LVP said. Later on, she even said, "If they don't like [how she's managing things], they can suck it."
Based on what was said at the reunion, Tom Tom details seem to be up in the air. There still isn't an official opening date for the West Hollywood bar, but Sandoval revealed on Watch What Happens Live With Andy Cohen in April that Tom Tom will probably open in late May or early June.
Who knows what's going on with the highly-discussed bar, but at least fans can rest easy in knowing Schwartz will basically be a greeter — not to be confused with a "Walmart greeter".