Little Mix's Jesy Nelson Has A New Tattoo That's Drawing Major Controversy Online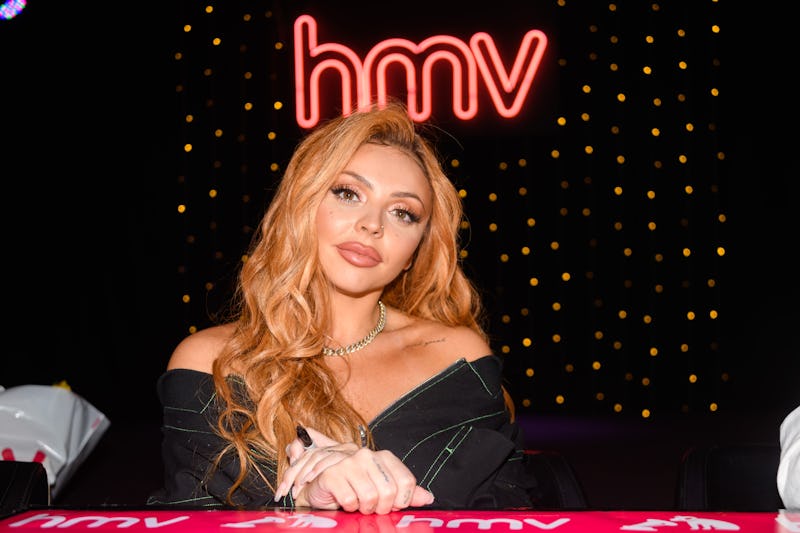 James McCauley/Shutterstock
The thing with tattoos is that once you get one, you're constantly thinking of what your next one's going to be. It's a pretty slippery slope — I upset my parents just last week by getting another one — and Little Mix's Jesy Nelson seems to be on the same train as she just added new ink to her collection. Her tattoo artist Zaya Hastra posted a couple of pictures of the pop star to Instagram and revealed Jesy Nelson's face tattoo, as well as another ribcage piece which is drawing some controversy on the internet.
Zaya Hastra, a tattoo artist based at South City Market, posted two pictures of Nelson's fresh ink yesterday. Nelson joined the tiny tattoo trend brigade with a little red tattoo next to her left ear, which appeared to be based on the Queen of Hearts playing card going by the emojis in Hastra's caption. If you look closely, it's of a heart with a Q sitting on top of it.
Nelson also showed off her other finger tattoos which made for nearly a full suit, as she flaunted another heart on her littlest finger, a club on her fourth and a spade on her second. I also can't just sit here and dissect that photograph without mentioning her mani. Neon green Hot Wheels flames? I'm here for it.
Hastra also posted a separate picture of another tattoo Nelson had inked: a small gun on her ribcage. According to the Daily Mail, Nelson previously regrammed the gun tattoo on Instagram however it unsurprisingly spurred a ton of backlash online. The outlet screencapped a number of comments criticising her decision with one saying that they'd "lost a little bit of respect" for the singer and called the gun "the worst ever man made invention".
Another user said via The Daily Mail, "Was there really a need to get a tattoo of a gun? I mean come on, the millions of girls who look up to you who now think guns are ok or cool because you've tattooed one on your body…."
The post no longer exists on Nelson's Instagram, however it remains up on Hastra's account where the comments are more tame.
While Nelson has yet to respond to the outrage, I've reached out to her representative for further insight.
Although Hastra has posted two of Nelson's tattoos, it seems like the singer may have gotten a third one that we still don't know about. In her first post of Nelson's face tattoo, Hastra said that it was the "first of three" and given that we've only seen two - there could be a third ink reveal on the way. Here's hoping it's not as divisive as her last one.
This isn't the first time that Nelson's asked Hastra to tattoo her, as the artist previously inked her back in January. Hastra, who worked under the name Gabby Colledge at the time, tattooed four small pieces on the singer including the words "girl power" on her left shoulder.
She also added three small finger tattoos, one of which read "amour".
I'm not going to lie, I'm kind of keen on chatting to Zaya Hastra to book in for an appointment. What to get next though...