"Fantastic Beasts" New Cover Will Make You Want To Buy A Copy ASAP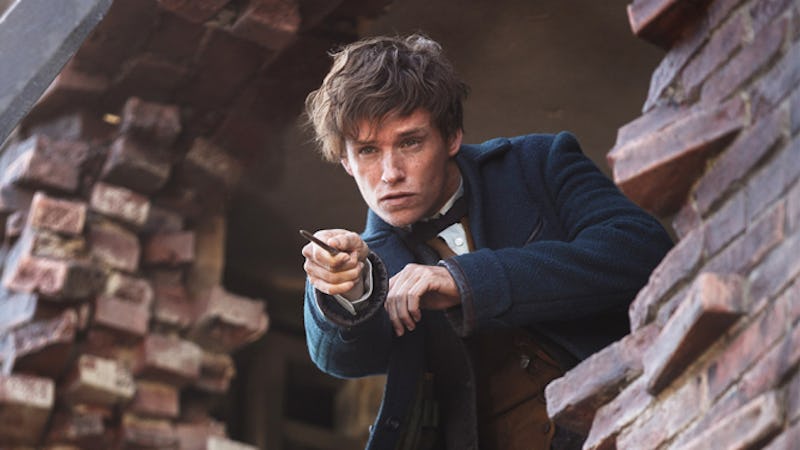 Warner Bros.
There's nothing Harry Potter fans love more than an excuse to repurchase and collect their favorite series in a multitude of gorgeous editions. And the special Hogwarts textbooks are no exception to that rule. The Hogwarts Library has been in varying states of publication since 2001, but all three books, Quidditch through the Ages, The Tales of Beedle the Bard, and Fantastic Beasts and Where to Find Them, were recently reissued in gorgeous hardback editions. And now, following the success of the main series' illustrated reissues, Fantastic Beasts is getting its own gorgeous full-color and fully illustrated treatment.
Fantastic Beasts and Where to Find Them first appears in the Harry Potter books as an approved textbook at Hogwarts School of Witchcraft and Wizardry. Newt Scamander's famed tome has taught generations of students, giving them an indispensable introduction to the magical beasts of the wizarding world. Some of the beasts will be familiar to readers of the Potter books, including the Hippogriff, the Basilisk, and the Hungarian Horntail. And others will surprise even the most ardent amateur magizoologist. And with Olivia Lomenech Gill's vibrant illustrations, you'll definitely feel like you're sitting on the grounds with Hagrid and the rest of your House, feeding Flobberworms and identifying the best way to bow to a Hippogriff.
OK, before we go any further, it's probably time to check out the insanely gorgeous cover.
Fantastic Beasts and Where to Find Them by J.K. Rowling, $25, Amazon
And it only gets better. Because for every sale of this book, Scholastic will donate 10 percent of the suggested retail price to two charities selected by the author J.K. Rowling: Comic Relief, a U.K.-based charity that strives to create a just world, free from poverty, and Lumos, a charity founded by J.K. Rowling that works to end the institutionalization of children. Getting a new edition of one of our favorite HP books while supporting two incredible charities? It definitely feels like we've thrown back some Felix Felicis.
The illustrated edition of Fantastic Beasts will hit shelves on Nov. 7, 2017.