Here's Why Fans Are Upset About Logan Paul's Instagram Comment To Cardi B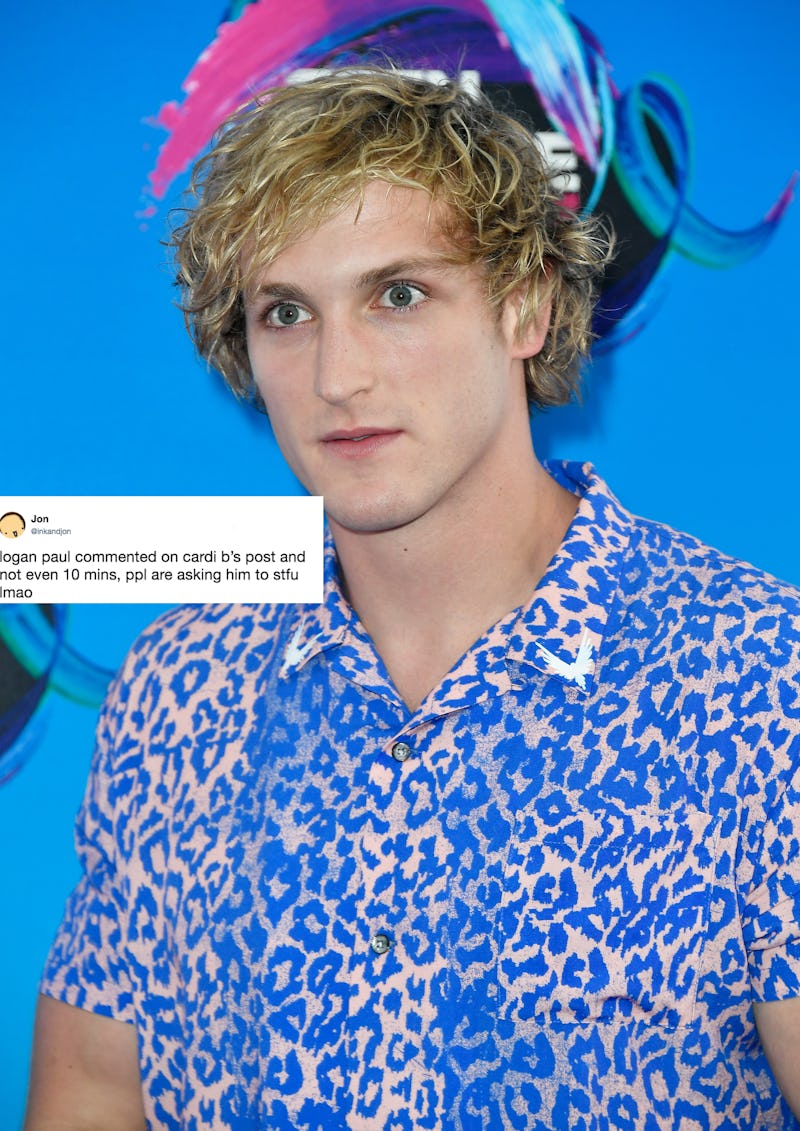 Frazer Harrison/Getty Images Entertainment/Getty Images/Twitter
After receiving a firestorm of criticism after he posted a video that featured the dead body of a man who committed suicide in a Japanese forest, Logan Paul is at the center of another media controversy. A recent reported comment made by Paul on Cardi B's Instagram has made fans angry at the Youtuber all over again. (Bustle reached out to Paul for comment, but did not receive an immediate response.)
The latest issue began when rapper Cardi B posted a photo of herself from the 2018 Grammys along with a caption, "They trinna crucify me like they did Christ," a Kanye West lyric from his 2012 remix of "Don't Like." Fans became furious when they spotted a response in the comments section from Paul that reportedly read: "Lawlz u tellin me." They took this comment as a reference to the backlash Paul received from the controversial suicide video and began admonishing the 22-year-old internet personality for his insensitive commentary.
One user questioned why Paul is even allowed to be on Instagram in the first place, writing: "@loganpaul why are you still allowed on social media you clown." Another also had some choice words for the YouTube star saying, "@loganpaul it's clear you aren't even sorry for what you did, you're only sorry that you're getting sh*t for it, and that's truly disgusting." A third said, "@loganpaul probably not your wisest move...not that many of them are." And another had a simple dismissal: "@loganpaul boy bye."
In late 2017, Paul posted a now-deleted clip entitled "We found a dead body in the Japanese Suicide Forest," to his YouTube page, which, according to Us Weekly, featured him laughing after saying to a friend, "What, you never stand next to a dead guy?" Paul deleted the video and tried apologizing several times before being removed from YouTube's Google Preferred platform, according to Daily News.
He resurfaced on YouTube on Jan. 24 with a suicide prevention video and would later conduct his first interview about the incident on Feb. 1 with Good Morning America. During the sit down, Paul explained, "I am a good guy who made a bad decision … I will think twice in the future about what I post." He continued, "I can and will and am going to learn from it and be a better person."
The internet personality would also attempt to explain the intent behind sharing the controversial video, telling GMA:
"The idea was to do another fun vlog … go camp for a night and make an entertaining piece of content in a forest and things obviously changed pretty drastically and quickly. So, it was 100 yards away from the parking lot. It doesn't make any sense. And I believe it happened for a reason, and I think that reason is so I could take this experience, learn from it, spread the message — the right way — about suicide prevention and suicide prevention awareness."
But this latest incident has made fans feel that his apologies were insincere — and they were not shy about their displeasure in the comments section of Cardi B's photo. What the YouTubers intention was when posting the reported comment hasn't been confirmed by him, and the true meaning is a mystery as well. However, it's at least clear that the comment came across as tone-deaf at best and offensive at worst.
It's unclear how this will affect Paul's career in the long run. But it goes without saying that the nature of his reported comments has certainly left a bad taste in the mouths of those who were once supportive of the YouTube star.
If you or someone you know is dealing with suicidal thoughts, call the National Suicide Prevention Hotline at 1-800-273-8255, or go to their website, suicidepreventionlifeline.org.