Yup, Facebook Just Picked Up 'Loosely Exactly Nicole' S2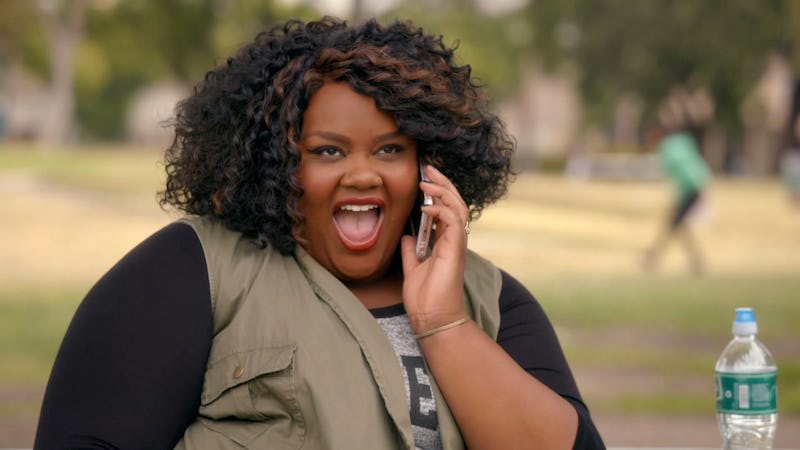 Courtesy of MTV
The horizons of what constitutes "television" continues to expand with this Monday's news that yet another outlet is getting in on the original content game for the first time: Facebook is saving MTV's Loosely Exactly Nicole from cancellation four months after the network cancelled the freshman comedy, as reported by The Hollywood Reporter. The fact that the social networking site is making its first foray into scripted programming with a revival echoes moves previously made by the likes of Netflix and Hulu, which also picked up cancelled shows (A&E's Longmire and FOX's The Mindy Project, respectively) before going on to make a name for themselves with original TV series.
According to THR, Facebook is taking a two-pronged approach when it comes to streaming content, which includes "shortform series from digital producers such as BuzzFeed and Vox Media and a handful of signature, television-quality series that Facebook is calling 'hero' projects." While rumors of Facebook's scripted programming push started late last year, this sudden news of Loosely Exactly Nicole's pick-up shows how serious — and eager — the website is about the plan.
Here are 13 other cancelled shows the social network should consider resurrecting as long as they're in the market — and I've even given them a Facebook-friendly "twist" to make them more appealing for this new era of TV streaming.
1. Freaks And Geeks (NBC)
Cancelled: March 2000
Revival: Things pick up almost two decades after the events of Season 1, with the show's core cast either parenting or teaching a whole new crop of students… and things are thrown for a loop when an old home video of their own high school exploits gets passed around on Facebook.
2. Pushing Daisies (ABC)
Cancelled: November 2008
Revival: Ned, Chuck, and Emerson Cod are back to solving mysteries while Olive Snook crowdsources their new cases from her viral Facebook page, "The P.I. Hole." (Recipes for pie… and murrrderrr.)
3. Harper's Island (CBS)
Cancelled: July 2009
Revival: 20 years have passed since the slaughter on Harper's Island, and the events of that fateful weekend have become the stuff of urban legend. But it all starts happening again when a bunch of college students use the getaway for their graduation party… and an anonymous Facebook stalker starts offing them one by one.
4. Terminator: The Sarah Connor Chronicles (FOX)
Cancelled: May 2009
Revival: In the present day, Sarah Connor (a post-Game Of Thrones Leda Headey) and her son John learn that the apocalyptic future they're trying to prevent has its roots in the growing global web of Facebook — which will one day give rise to none other than Skynet.
5. Party Down (Starz)
Cancelled: June 2010
Revival: The whole gang is back as they struggle with life, love, and their worst enemies: their own inflated sense of self-worth… and the scathing reviews left on Party Down's Facebook page.
6. Ringer (The CW)
Cancelled: May 2012
Revival: When someone pops up on Facebook claiming to be a third Bridget/Siobahn doppelgänger, the twins must work together to either disprove the imposter's claims… or grapple with the even stranger truth that they really do have a long-long triplet.
7. The Secret Circle (The CW)
Cancelled: May 2012
Revival: The Chance Harbor coven forms a private Facebook group to arrange their meetings and spell-castings; their very own secret circle. But when their group of six is interrupted by a seventh anonymous and malicious online presence, they learn that evil has evolved to adapt to this new technological age.
8. Don't Trust The B— In Apartment 23 (ABC)
Cancelled: January 2013
Revival: Much to her chagrin, June finds herself embroiled in Chloe's latest scheme: to use Facebook to lure strangers to Apartment 23 under the auspices of becoming roomies, only to steal their credit card information to buy booze and hit the town with BFF James Van Der Beek.
9. Happy Endings (ABC)
Cancelled: May 2013
Revival: Drama erupts within the group when Jane deletes her Facebook account and the other five dissolve into chaos trying to figure out why and how she continues to exist without social media.
10. Smash (NBC)
Cancelled: May 2013
Revival: The Big Apple is gripped by Facebook fever when Julia and Tom announce they're work-shopping a new musical based off the 2010 film The Social Network.
11. Hannibal (NBC)
Cancelled: June 2015
Revival: After surviving their plummet off the cliff at the end of Season 3, Hannibal and Will go on the run together, luring victims to their deaths via Facebook. (Will targets them based on the psychology of their profiles, Hannibal does the butchering. Then they make out.)
12. Limitless (CBS)
Cancelled: May 2016
Revival: Brian's chemically-enhanced skills when a popular Facebook page begins to solve mysteries through crowdsourcing faster than even Brian's NZT-expanded mind can keep up… often closing cases through troublingly unethical means.
13. Sense8 (Netflix)
Cancelled: June 2017
Revival: Our favorite cluster find themselves targeted by their most potent enemy yet: Facebook — which fears that, in an evolved world where everyone's a sensate, nobody would need their services to connect anymore.
Just four short years ago, Netflix made history when it became the first online video provider to win an Emmy, for its original drama House Of Cards. Soon, we could be saying, "And the Emmy goes to… Facebook!" as well.