Lorde's New Album Has A Hidden Lesson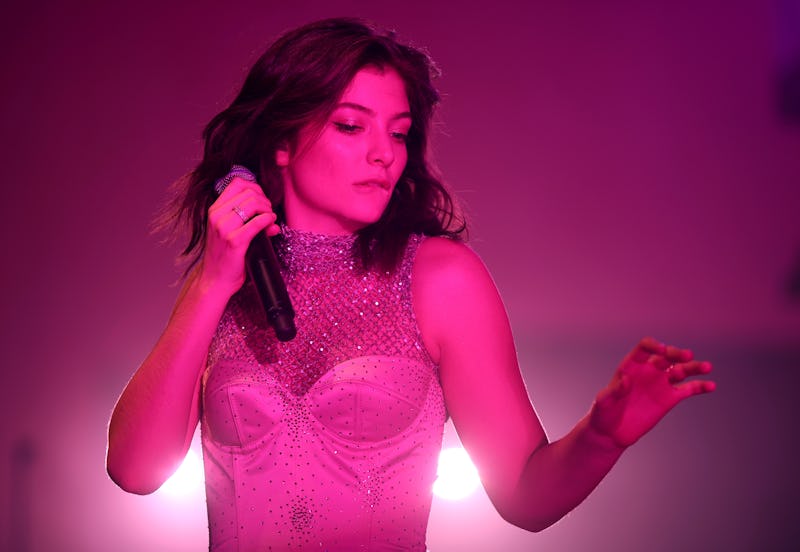 Christopher Polk/Getty Images Entertainment/Getty Images
It felt obvious from the moment that "Royals," the debut single from 17-year-old Lorde, was released that the singer could be the voice of her generation. On Lorde's new album, Melodrama, however, the artist has taken the collective "we" of "Royals" and changed it to the singular "I," in confessional songs that preach of the importance of self-discovery and autonomy. But it's definitely not a bad thing. In doing, so she's proven that Lorde might not be a voice for every millennial, but instead provides something better in lieu of it: the empowering idea that every millennial can find and use their own voice, no matter the mistakes they make along the way to finding it.
As a generation, we're regularly chastised for being "lazy, entitled, selfish and shallow," as Time Magazine put it in a 2013 article titled, "Millennials: The Me Me Me Generation." In actuality, as any millennial will tell you, we're just young and still figuring things out. With that in mind, Melodrama isn't just a millennial album, but an album about youth and growth. It also works as a ferocious clapback to the criticisms of youth culture that fail to account for how essential these seemingly narcissistic or self-serving indulgences are to growing up.
On "Homemade Dynamite," for instance, the song is full of the youthful abandon and sweet decadence of excess. Lorde reframes potentially dangerous imagery with wonder and lightness, like when she sings, "all the broken glass sparkling, I guess we're partying," with a cadence that sounds like the vocal equivalent of a carefree shrug. However, by the time we reach Melodrama's final song, "Perfect Places," it's almost as if the singer is calling back to that question and answering it with confidence as she sings, "I'm 19, and I'm on fire, but when we're dancing, I'm all right."
Here, as seems to be the case on so much of the album, shallow and superficial acts like dancing, partying, or deciding to have fun during a particularly bad moment are elevated as being acts of power. On Melodrama, Lorde makes the case that such hedonistic behavior, both the blissful and the savage parts of it, can be chaotic but also cathartic. The album celebrates the highs of those moments as much as it highlights the brutality of the lows that follow them. Overall, Melodrama also presents these behaviors as being integral, constructive parts of being young and growing up. And, most importantly, the album doesn't offer a single apology for any of it.
This is also evident in the way that Lorde addresses her breakup on Melodrama. Her heartbreak is a weight that impresses upon the tone of Melodrama, and which even has Lorde confessing, "I understand, I'm a liability" in one song. But when she manages to pull through and gain perspective on her relationship, she draws power, not sorrow, from it. She reclaims her identity and celebrates it, providing the powerful message that it's far better to be focused on yourself than to be utterly lost in someone else's idea of you. We hear her struggle, her quest for self, her search for peace, and her unmitigated thirst for life all across Melodrama. And when we finally hear Lorde reach a conclusion on it all, it's satisfying as hell.
As an album, Melodrama is narrow in its focus, but sprawling in its raw intimacy and confessional pain — and so is the overall message that the album appears to deliver. On the one hand, Lorde celebrates the idea of being able to focus on yourself and of the autonomy required to do that. But on the other hand, she also suggests that it's totally fine to sprawl yourself out through life, as messily, painfully, stupidly, and intimately as you need to, in order to reach that point.
For millennials, as lazy, entitled, selfish, and shallow as we apparently are, this is a critical message to share. We all deserve the permission to be lazy enough to not want to tidy up those champagne glasses, entitled enough to want our own slice of happiness, selfish enough to party for days on end, and shallow enough to write, or listen to, an album about such things. Because, guys, when you're young, these things are all invaluable to our overall experience of the world and our journey to figuring out who we are.
Lorde might not be speaking for us or speaking on our behalf, but she's definitely encouraging us to own this melodramatic journey for ourselves. And that's pretty damn inspirational.