Lorde Published A Letter To Fans In A Newspaper & It's Wonderful For So Many Reasons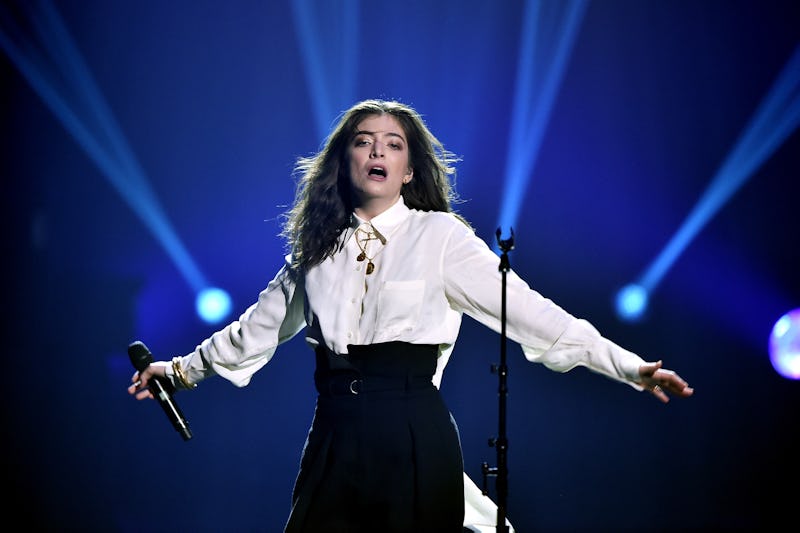 Steven Ferdman/Getty Images Entertainment/Getty Images
Lorde was the only woman with an Album of the Year nomination at the 60th Grammy Awards, and fans were frustrated that she didn't get to perform at the ceremony. But, as Rolling Stone reports, on Tuesday, Lorde shared a letter about the Grammys in a New Zealand newspaper that let her fans know what a great night she had and how thankful she is for them.
In the handwritten letter published in the New Zealand Herald, Lorde explained the night she had at the ceremony, adding some doodles about the people she was excited to see at the event and the "crazy and wonderful things" that happened.
The "Green Light" singer drew a crown next to SZA's name. She also wrote "met Stevie Nicks & almost cried," so it's safe to say Lorde was starstruck at least once that night. Another surprising note from the margins? According to Lorde, "JAY-Z's hands are really soft."
The letter didn't shade the Recording Academy for not nominating more women or not having her perform. Instead, Lorde focused on her relationship with her fans, thanking them for "loving and embracing Melodrama." Lorde wrote that her Album of the Year nomination "belongs" to her fans, since they're the ones who first supported it. The whole letter is super sweet:
I'm writing this from New York City. Angelo and I sat in Madison Square Garden last night, and saw a lot of crazy and wonderful things. I just wanted to say thank you, from the bottom of my heart, for loving and embracing Melodrama the way you did. My nomination belongs to you. Thank you, also, for believing in female musicians. You set a beautiful precedent! All my love, Lorde.
Angelo refers to Lorde's younger brother, Angelo Yelich-O'Connor, whom she brought with her to the awards show. On her other side, sat Jack Antonoff, who produced Melodrama with her.
Lorde's letter keeps things positive about her Grammys night, but it can't be an accident that she underlined the word "believing" when thanking her fans for supporting women. Her letter comes after Recording Academy President Neil Portnow told Variety that women should "step up" when asked about the #GrammysSoMale situation. Portnow later apologized for his choice of phrasing. He released a new statement acknowledging that "women who dream of careers in music face barriers that men have never faced."
It's great that Lorde is thanking her fans, but the underline is a powerful reminder that the Grammys still have a long way to go. If, say, the Recording Academy had also had more faith in women musicians, there might have been more gender diversity among the nominees. Kesha's Rainbow, for instance, was nominated for Best Pop Vocal Album, as were Lady Gaga's Joanne and Lana Del Rey's Lust for Life. But Lorde's fellow Album of the Year nominees included Bruno Mars, Childish Gambino, JAY-Z, and Kendrick Lamar, all men.
Lorde also posted a tweet on Monday that many fans interpreted as being an act of subtle shade toward the Grammys. "IF YOU'RE DEBATING WHETHER OR NOT I CAN MURDER A STAGE... COME SEE IT FOR URSELF," she tweeted, along with a link to her tour information. The tweet came after rumors swirled that Lorde wasn't asked to perform solo at the ceremony. (Lorde was reportedly invited to sing alongside other artists during a tribute to Tom Petty at the Grammys.)
It's sweet of Lorde to thank fans from her home country and to share her favorite moments from what's sure to have been an unforgettable night. But there's still way more work to be done to achieve gender equality in the music industry — and Lorde's message hints at that, too.