People Are Pissed That Kesha Lost A Grammy To Ed Sheeran & This Tweet Explains Exactly Why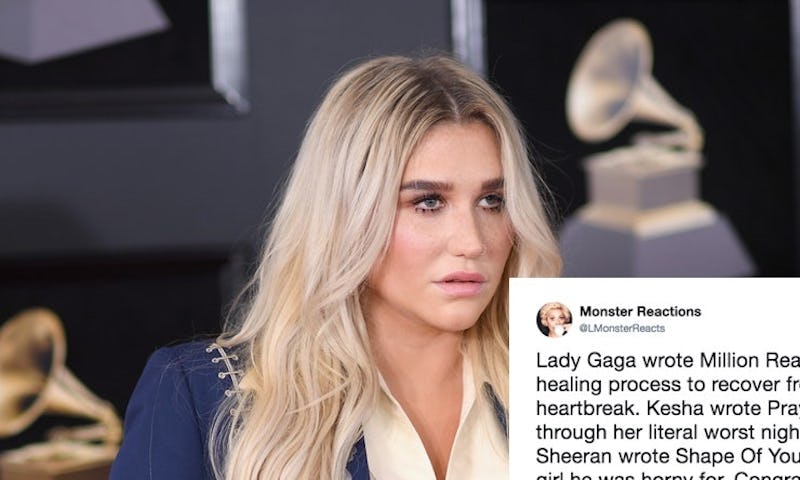 Dimitrios Kambouris/Getty Images Entertainment/Getty Images; lmonsterreacts/Twitter
After it was revealed that Ed Sheeran beat out Kesha at the Grammys in the Best Pop Solo Performance category, fans on Twitter immediately started sharing their frustrations. But there was one tweet that perfectly summed up why Kesha's Grammys loss was so heartbreaking, coming, as it did, on a night in which attendees wore white roses to support Time's Up — a movement that supports anyone who's faced sexual assault and harassment.
"Lady Gaga wrote 'Million Reasons' in a healing process to recover from a severe heartbreak. Kesha wrote 'Praying' after being through her literal worst nightmare," one fan tweeted about the nominees for this particular award. But, as they pointed out, "Ed Sheeran wrote 'Shape Of You' about a club girl he was horny for. Congratulations Recording Academy. Thank you for this."
This tweet gets at the sadness many felt upon seeing Kesha lose, knowing how much pain she had endured to get this nomination, her very first. Kesha's "Praying" was off Rainbow, her first album since 2012, which was released after an intense legal battle with producer Lukasz "Dr. Luke" Gottwald, who she accused of sexual and physical abuse. (Gottwald has repeatedly denied the allegations, and no criminal charges were filed.) Rainbow is her triumphant return, and "Praying" was Kesha's official comeback single. But it wasn't about Dr. Luke; it was about her finding the strength to keep going and encouraging others to do the same.
Kesha wrote about "Praying" for Lenny Letter, saying that she hoped the song "reaches people who are in the midst of struggles, to let them know that no matter how bad it seems now, you can get through it." She added then, "If you have love and truth on your side, you will never be defeated. Don't give up on yourself." She clearly never did, which is why so many wanted to see her get up on that Grammy stage and get a chance to celebrate that.
But giving Kesha that award would have been a sign that the music industry was ready to do more for the #MeToo and Time's Up movement than wearing a white rose on their lapel. When Sheeran won for "The Shape Of You," for many, it was a sign that the Grammys weren't interested in any real change; they were were only interested in the headlines they would get for supporting the Time's Up movement.
"I guess it's a good thing Kesha didn't win over Ed Sheeran," The Daily Beast's Ira Madison III tweeted, "since the music industry doesn't seem to care about examining its abuses of power."
While there was a lot of talk about the Grammys having a special #MeToo moment, there was little discussion of how to make the music industry safer for everyone in it. That was until Janelle Monáe came out to introduce Kesha's performance of "Praying" and delivered a speech that laid out what the Time's Up movement really means. It means that it is time to end pay inequality, discrimination, and "harassment of any kind." In her words, this includes the "abuse of power" that exists within the industry.
"And just as we have the power to shape culture, we also have the power to undo the culture that does not serve us well," Monáe said. "So let's. Let's work together, women and men as a united music industry committed to creating more safe work environments, equal pay, and access for all women."
With those words, Kesha finally took the stage for her performance it was with other women — Cyndi Lauper, Camila Cabello, Julia Michaels, Bebe Rexha, Andra Day, and the Resistance Revival Chorus — by her side supporting her. All in white, she sang "Praying" and fans on Twitter understood how much strength it took to get up there. "#Kesha is singing to an audience of people who were complicit in her abuse rn and that is rly brave," one wrote.
It's why despite not taking home a Grammy, Kesha is the biggest winner of the night. She was brave enough to share her story with the world and show that, as a survivor, she has a voice and she's not afraid to use it. It's time for the Grammys and the rest of the music industry to start listening.
If you or someone you know has been sexually assaulted, call the National Sexual Assault Telephone Hotline at 800-656-HOPE (4673) or visit online.rainn.org.